"Focus on Finals" Provides Students Assistance
Published Date: Dec 2, 2019 12:30:00 PM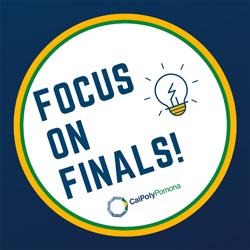 Cal Poly Pomona is offering students a series of services and resources as part of "Focus on Finals" starting Monday, Dec. 2.
The University Library and the Bronco Student Center will extend their hours to provide additional study time during the week before finals and during the week of finals. For details, visit https://www.cpp.edu/~focus-on-finals/index.shtml.
For students with children, the Children's Center will offer free evening child care on four dates.
In addition, there will be giveaways, food, therapy dogs and other events.
The Huntley College of Agriculture also will have extended hours in its Building 2 Computer lab.
Good luck to all the students on their final exams!