2020 Pumpkin Festival Canceled; Pumpkins Will Still be Sold
Published Date: Aug 17, 2020 2:45:00 PM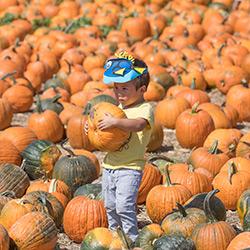 Cal Poly Pomona is canceling the annual Pumpkin Festival scheduled for this fall because of the coronavirus pandemic, but will still have pumpkins for sale.
Festival organizers are growing the pumpkins at Cal Poly Pomona's Spadra Farm and will make them available for sale to individuals and in bulk to groups.
"New this year, we are growing pie pumpkins for all of you who have rediscovered your kitchen during the lockdown," festival Director Craig Walters said.
However, organizers still working out the details about how the public can come pick out and buy pumpkins, he said.
Organizers also plan to share recipes for pumpkin pie, pumpkin bread, and pumpkin soup. They also will hold some fun virtual contests, activities, and live broadcasts, including a pumpkin carving contest.
Details will be posted on the Pumpkin Festival website, Facebook page, Instagram account, and email list.
"We welcome your input and ideas to make this a fun, but safe, October," Walters said.
Started more than 25 years ago, the Pumpkin Festival has evolved from a humble patch to weekend fair featuring a corn maze, petting farm, hay ride, and Insect Fair that draws thousands from across Southern California.
"Your support in the past is greatly appreciated, and we look forward to seeing you all again soon at the Pumpkin Festival," Walters said, "and all of the other activities and events at AGRIscapes and Discovery Farm."
For more information, visit https://www.cpp.edu/~pumpkinfestival/.