Research Programs & Facilities
Research takes place in many centers and facilities on campus, with a number of research partners and sponsors. In addition, College of Agriculture students have laboratory sections for coursework in agriculture, food, and apparel.
Our research partners and sponsors include: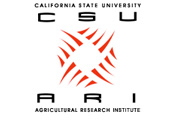 The California State University Agricultural Research Institute (ARI) combines the research expertise at the CSU system's four colleges of agriculture (Chico, Fresno, Pomona, and San Luis Obispo) with collaborators at other campuses in the CSU and University of California System. If a college receives external funding to conduct research on a high-priority issue facing California agriculture, ARI can provide matching funding for the project. 

The U.S. Department of Agriculture sponsors research, faculty fellowships, and scholarships.
Research Facilities
The Apparel Technology & Research Center (ATRC)
Center for Antimicrobial Research and Food Safety (CARFS)
Center for Turf, Irrigation and Landscape Technology (CTILT)
In addition, the College of Agriculture has research facilities and laboratories around campus, including: 
laboratories in Buildings 2, 7, and 45 
a Model Agriculture Education Classroom in Building 2. This "smart" technology classroom is for application-based, hands-on learning activities. This classroom is dedicated to developing the skills of students preparing to enter agricultural education professions.
production units including a complete citrus packing house and a honey extraction unit.
700 acres devoted to pastures, vineyards, crops, groves, and ornamental plantings.
greenhouses in the AGRIscapes Outreach Center.
Pine Tree Ranch, a 53-acre citrus and avocado ranch in Ventura Country.
Westwind Ranch, a 1,000-acre farm in the city of Chino, which is a center for forage and grain production for our livestock and the local dairy industry. This high-tech farm utilizes GPS-driven tractors, modern linear irrigation technologies, and serves as a valuable open space for birds and wildlife of the Chino Valley .
the Spadra Ranch, 125 acres located approximately one mile from campus, is devoted to vegetable and fruit production as well as a home to numerous student and faculty research projects. A new organic production enterprise encompasses 10 acres of this ranch producing certified organic fruits and vegetables for the farm store and farmers markets.
Faculty Research Areas
Although primarily known as teachers, the faculty in the College of Agriculture are also known for their research activities. Students often participate with faculty or undertake their own research projects, which provide them with valuable, hands-on learning experiences.
Here are some of our faculty and their research interests.
Professor Valerie Mellano and Assistant Professor Anna Soper (Plant Science): research into the Asian Citrus Psyllid, an insect that spreads a bacterial disease that is fatal to citrus trees. The psyllid and the disease, Huanglongbing, have devastated the Florida citrus industry and threatens California citrus. To stop the psyllid from spreading the disease, researchers are breeding the Tamarixia radiata wasp, which feeds on the psyllid. Mellano and Soper supervise research into ways to maximize production of the wasp.
Professor David Still (Plant Science): growing lettuce that uses less water and nitrogen. Water is particularly scarce given recent droughts, and nitrogen in fertilizers emits greenhouse gasses and can cause groundwater pollution. Still also hopes to develop lettuce that has more nutrients and adapts to changing climate conditions.
Professor Shelton Murinda (Animal & Veterinary Sciences): exploring the usage of algae to clean up cow manure and dairy waste water and then feeding the algae to livestock. California dairies produce about 30 million tons of solid and liquid waste every year, which release ammonia into the air and pollute water sources, killing fish and spreading pathogens harmful to other animals and humans. 
For more information, please see the Faculty Research Interest page.