Scholarships and Awards
Your department and the College of Agriculture offer a variety of scholarships and awards. 
Don B. Huntley College of Agriculture Scholarship Booklet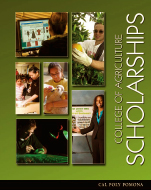 A number of scholarships are offered by apparel, food and agriculture-related companies, organizations and government entities.  To learn more about scholarships in your major, download the brochure.  Additional scholarships are also available through the Financial Aid Office.
College of Agriculture Scholarships Brochure (PDF)
Note: You must have Adobe Reader to open and view all PDF files with full functionality. To download Adobe Reader, visit http://get.adobe.com/reader/.
Other Resources
Cal Poly Pomona General Scholarships
The Robert Noyce Scholarship Program
---
The Don B. Huntley College of Agriculture presents a number of awards to faculty, students, alumni, and those who have made significant contributions to the agricultural industry. For a full description of the honors and a list of the latest recipients, please visit this page.