Poly Pantry
COVID-19 NOTICE: The Poly Pantry, located in the BSC, is temporarily closed. Please visit the community resources listed on the right sidebar for access to food resources in your area.
Further updates related to the operation of the Poly Pantry will be communicated to the CPP community. Thank you.
About the Poly Pantry
The Poly Pantry was established in 2019 to serve students impacted by food insecurity.  By providing access to food and basic necessities and referrals to campus and community-based resources, the Poly Pantry hopes to maximize student success.
The Pantry is available to all who feel they are in need. As a customer-choice pantry, individuals are empowered to shop for what they need and want, in order to meet their dietary needs. 
Hours and Location
Closed until further notice.
Eligibility

The Poly Pantry is available to those who feel they are in need.  There are two primary sources of donated foods that are available at the Poly Pantry – general donations from the public and USDA commodities through The Emergency Food Assistance Program (TEFAP). 
When visiting the Poly Pantry, recipients will be asked to review and self-certify that they fall at or below the income guidelines, established by the California Department of Social Services, to receive TEFAP items. 
For more details about the TEFAP qualifications, see below. For more info and additional community based resources, visit the LA Regional Food Bank website.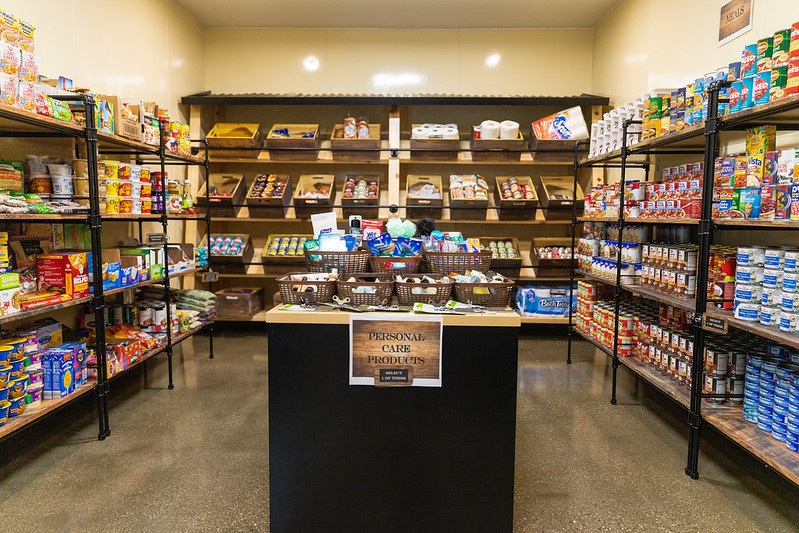 The Emergency Food Assistance Program (EFAP) is a federally funded food program which distributes USDA commodities to nonprofit and government agencies. These agencies in turn distribute commodities to income-eligible individuals free of charge.  
Individuals who self-certify that they fall at or below the income guidelines, established by the California Department of Social Services, are eligible to receive TEFAP items. Recipients will not be asked for proof of income or residency. Household eligibility may be determined on either monthly or annual income; it is not necessary to qualify on both. 
In order for a recipient or household to be eligible for TEFAP items, they must reside in the geographical area of Los Angeles county, regardless of length of residency. Documentation of residency is not a requirement to receive food. A recipient who lives outside of the county may receive commodities, however the client should utilize a site in their own service area to pick up commodities in the future.
The purpose for collecting Bronco ID's is to know how many students are accessing the resource, at what frequency and who the students are that are using it the most, to ensure that we are targeting those populations that need to be served. All data is confidential, we are not looking at names or specific information. This data is used to track usage and advocate for more resources.
Students may visit the Poly Pantry once a week and select 5-10 items* per visit.
*It is highly encouraged to take an assortment of items for a well-balanced meal.
Customers are encouraged to engage in sustainability practices. Upon request, customers will be given a reusable bag during their first visit (while supplies last). If they return, customers are asked to bring their reusable bag back with them.
The Poly Pantry carries products that contain or may contain allergens. Customers are responsible for reading all product labels carefully before consuming any item. It is recommended that students select items that meet their dietary needs and restrictions.
Support
Due to COVID-19 and the closure of ASI facilities, the Poly Pantry is not accepting in-person drop-off donations at this time. To help us provide reliable access to sufficient quantities of nutritious food, please consider our list of suggested healthy donations at the links below:
Contact
For any questions about the Pantry, please contact: