Request Assistance
There are several types of assistance you may be eligible for. Please review the information below to determine what type of application you should complete. If you have questions about either of these grants please contact basicneeds@cpp.edu
Assistance Application Forms
Broncos Care Basic Needs Assistance Application
Use this form to apply/request:
Basic Needs Emergency Grant
Emergency Housing
Meal Assistance
General Basic Needs Resources for Food and Housing
Career Clothes Closet Stipend
Eligibility Criteria: 
Be an enrolled student during the current academic year. Students in "active status" enrolling in the upcoming semester may be considered.
Ability to demonstrate urgent financial need with supporting documentation
Experiencing an unforeseen emergency/crisis that impacts student success such as:

Displacement/homeless: living in your car, living in motel/hotel, shelter, streets or temporarily staying with friends or family
An uninsured medical or dental emergency
Victim of a crime or accident

Committed to working on an action plan with the Broncos Care Basic Needs Program Care Services Coordinator
For more information about this emergency grant click here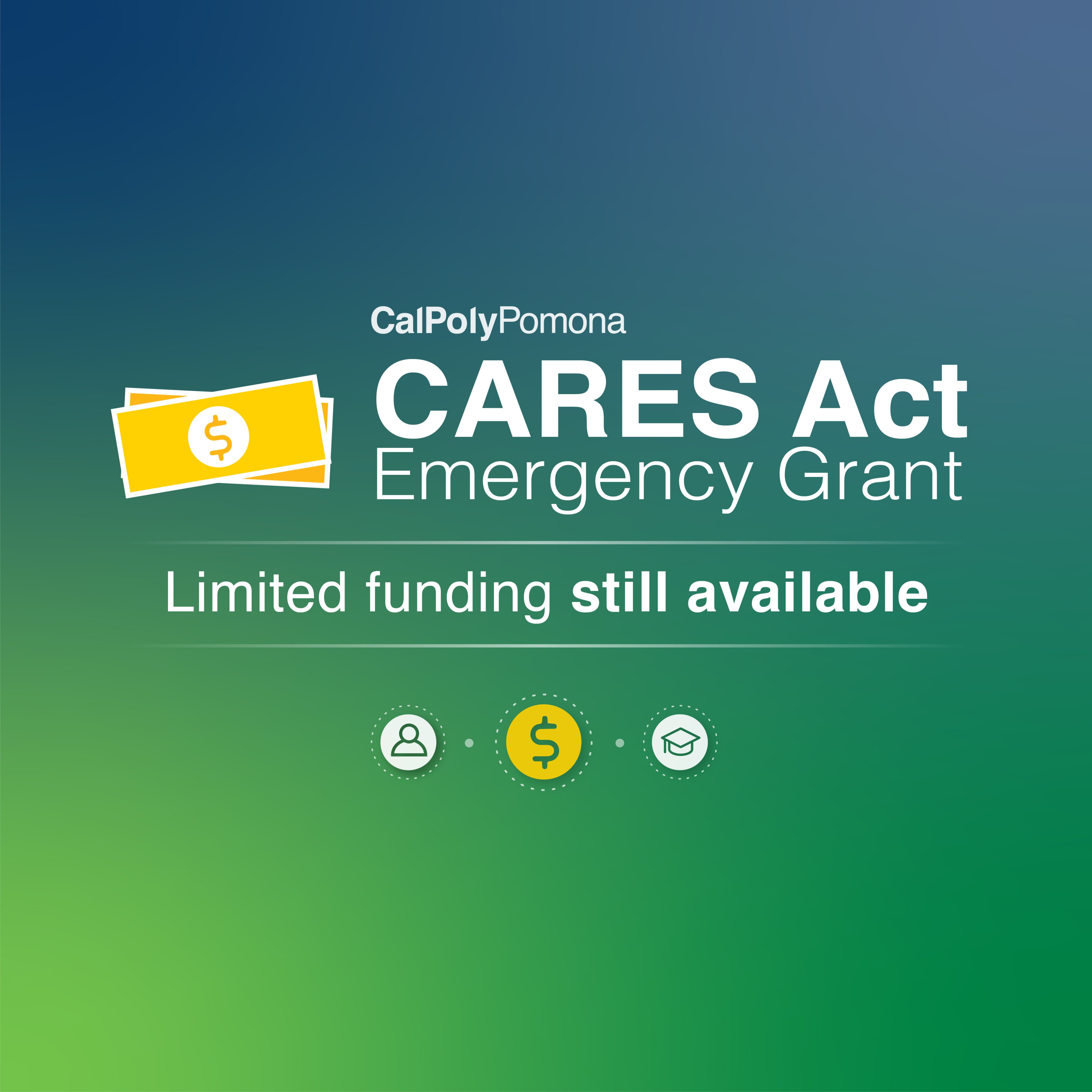 Coronavirus Aid, Relief and Economic Security (CARES) Act - Emergency Grant
UPDATE: 8/20/2020
All funds have been awarded and the application for this grant is now closed. If you are a student who is still in need of funds please review the eligibility for the Broncos Care Basic Needs Emergency Grant and apply. 
If you have any questions please contact basicneeds@cpp.edu
---
The Coronavirus Aid, Relief and Economic Security (CARES) Act was passed by Congress and signed into law to provide economic relief from COVID-19. One section of the CARES Act established the Higher Education Emergency Relief Fund (HEERF) and provided money for emergency financial aid grants to students for expenses related to the pandemic. Limited funds are available.
Eligibility Criteria: 
Experiencing unexpected financial hardship related to COVID-19
Currently enrolled in the Fall 2020 semester
Filed a Free Application for Federal Student Aid (FAFSA) form for 2019-20
Are part-time or full-time students
Are U.S. citizens or permanent residents
Newly admitted students may apply however, students enrolled in the Spring 2020 semester will receive priority