Cal Poly Pomona College of Business Administration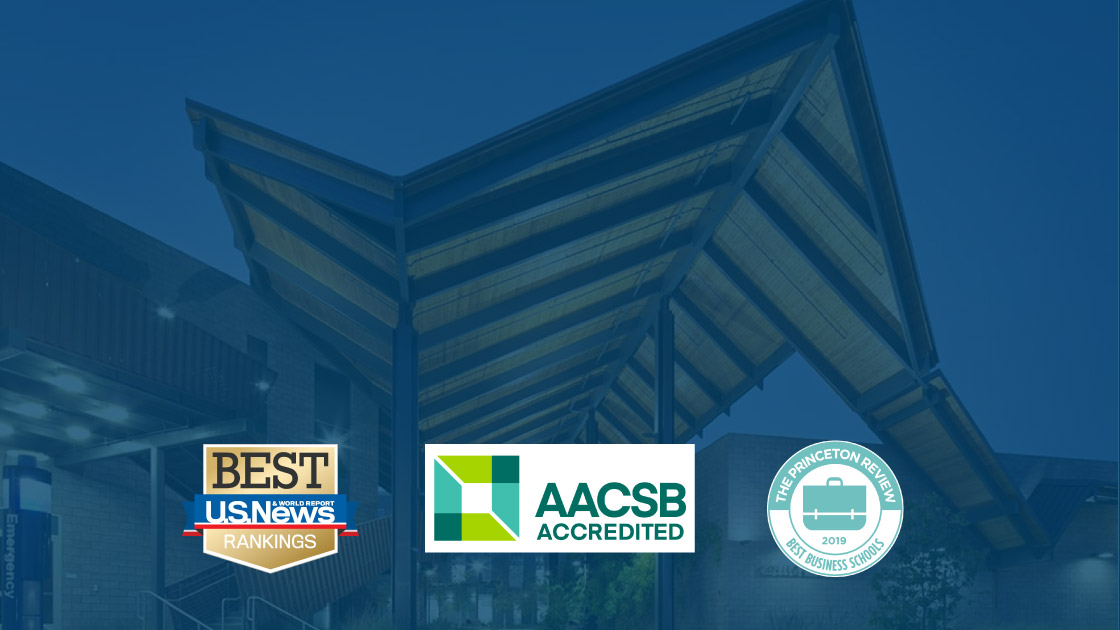 Slide1
CBA Canopy with a US News and World Report Rankings logo, AACSB Accredited Logo and Princeton Review Best Business Colleges logo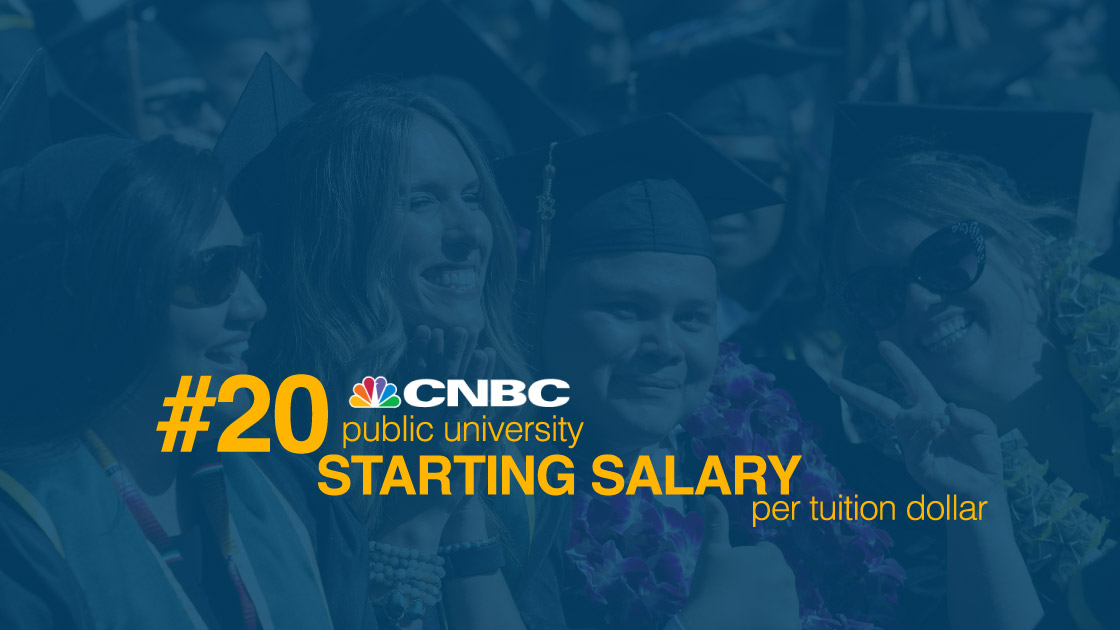 Slide2
Graduating students during Commencement, smiling at camera with CNBC 20 in the nation imposed average starting salary per tuition dollar over the image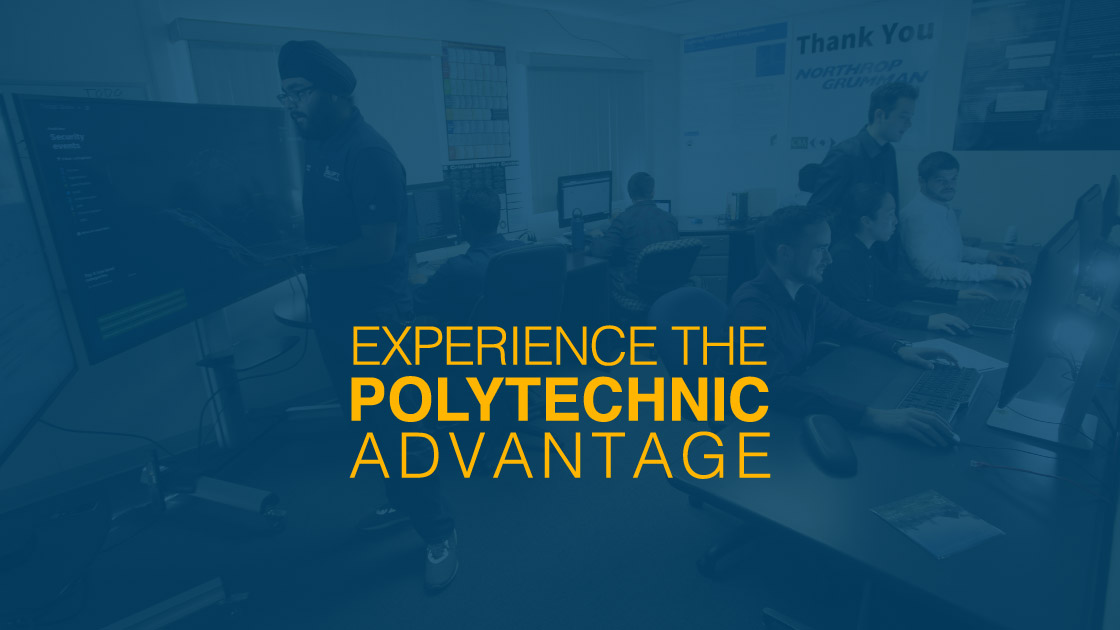 Slide3
Group of students in a computer lab looking at monitors with experience the polytechnic advantage spelled out
Previous
Next
Academic Mission
Our business programs cultivate success through diversity, experiential learning, discovery, and innovation.
Academic Vision
The CBA will be a model for experiential, innovative and global business education that transforms lives, organizations, and societies.
About the CBA
The College of Business Administration at Cal Poly Pomona is an AACSB-International accredited institution committed to providing students with the knowledge, skills and experiences to become global leaders.
Dean's Office
Building 164, Room 2001
Monday-Friday 8 am - 5 pm
(909) 869-2400
CBA Quick Info
U.S. News ranked Cal Poly Pomona No. 2 among "Top Public Schools" focused on undergraduates in the western region and No. 14 on the "2020 Best Regional Universities – West" list, from a pool of 128 universities in 15 states. The university was also recognized as one of the "Most Innovative Schools" in the region at No. 3. 

In Money Magazine's 2019 ranking of "The Best Colleges in America, Ranked by Value" by quality, affordability and alumni success, Cal Poly Pomona rose to No. 41, up six places from a year ago. In Money's "Most Transformative Colleges List" for 2019, which was based on the magazine's "value-added scores for graduation rates, earnings and student loan repayment," Cal Poly Pomona was ranked No. 14.

Cal Poly Pomona ranked No. 3 in the nation among the universities that help low income students find financial success, according to the "2018 Social Mobility Index." The university is one of only five that has ranked in the ranking's top 20 for five consecutive years.
Forbes' third annual America's Best Value College list ranks Cal Poly Pomona among the best in the nation for a student's return on investment. The university was No. 59 among the 300 schools that made the list.
PayScale names Cal Poly Pomona one of the nation's "Best Value Colleges" in its 2018 College ROI Report. The university is ranked No. 96 nationally based on in-state tuition, moving up from No. 124 in 2017.


Money Magazine listed Cal Poly Pomona at No. 25 nationally among the 2019 "Best Colleges for Transfer Students." The outlet started with educational quality, affordability, and alumni success then looked at four and six-year graduation rates as well as the share of transfer students on campus.


Cal Poly Pomona is among the nation's leaders for first-year student retention in schools with acceptance rates above 50 percent, according to The Chronicle of Higher Education. The university ranked No. 30, with 89 percent of Pomona's first-year, full-time, undergraduate students in fall 2015 returning to campus for the 2016-2017 academic year
College of Business Administration
Cal Poly Pomona
3801 West Temple Avenue
Pomona, CA 91768
The CBA Complex
The College of Business Administration moved into a new three-building complex before fall 2012 boasting the latest technology to help create an optimal learning environment.
For instance, students working on group projects can meet in one of eight breakout rooms that are equipped with the strongest wireless connection on campus and a 42-inch flat-screen monitor. Students working on a laptop, tablet or smartphone can wirelessly project their work onto the monitor to share information.
Inside the Bloomberg Financial Lab, students can monitor markets in real-time via the electronic ticker or on machines running Bloomberg Terminal. The complex holds a LEED Silver certification.