CPP Advances to National Stage of Top Cybersecurity Competition
Oct 16, 2019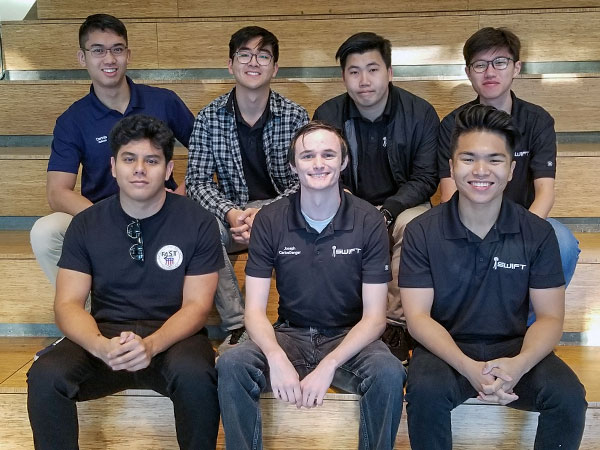 For the second consecutive year, Cal Poly Pomona students will face off against the nation's top cybersecurity programs to find out which is best at staging attacks to discover, then close, system vulnerabilities malicious hackers could exploit.
Computer information systems student Joseph Dillon, Silas Shen, Andy Chiang, Dennis Tran, Angelo Alviar and David Ly along with computer science major David Davila needed every minute of the two-day Western Regional Collegiate Pentesting Competition to compile its report on how a company should improve the network it infiltrated. Accompanied by a verbal presentation, the team found itself finishing second behind event host Stanford in a repeat of 2018.
"Obviously, we wanted to beat Stanford this year," advisor and computer information systems Professor Ron Pike said. "We did well enough to finish second and survive to live another round."
The importance of cybersecurity and demand for trained professionals was reflected in this year's participant list as students traveled from distant schools like RTI Dubai and iconic universities such as the United States Air Force Academy.
A more diverse field proved to be no match for the two perennial cybersecurity powerhouses. Stanford dominated its way to victory and Cal Poly Pomona flexed its strengths while exposing its Achilles' heel.
"Penetration is where we excel – we do it better than anybody," Pike said. "We need to improve at exploring and discovering what is in the environment once we are inside."
With tickets to the Nov. 22-24 finals in New York already secure, Pike and the team look to improve on a 2018 performance where third place was missed by fractions of 1 percent. The group has already started training in the Mitchell C. Hill Center for Digital Innovation and California Center for Cyber Risk, two of Cal Poly Pomona's many distinguished cybersecurity facilities.