Regional Economic Conference Forecasts Optimism
March 29, 2022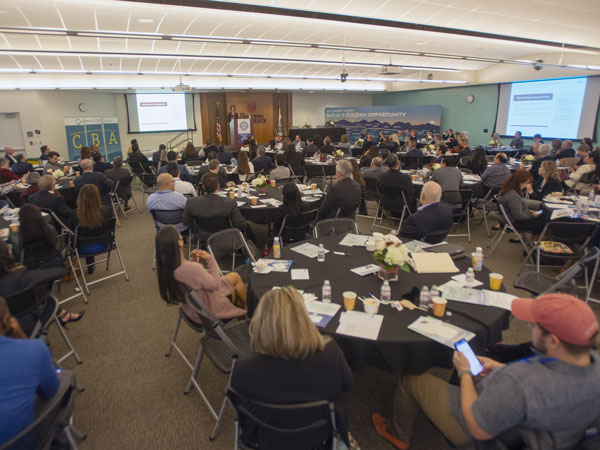 Returning after a year hiatus, the 2022 San Gabriel Valley Economic Forecast Summit on March 22 welcomes back industry executives, elected officials, and education leaders for an update on the state-of-business in Southern California.  Presented by the College of Business Administration (CBA) and the San Gabriel Valley Economic Partnership (SGVEP), the Summit's theme, "Open for Business" envisages the region's economy has turn the page on the pandemic and ready for a rebound. 
Kicking off the Summit were detailed global, national, state, and local economic reports and forecasts given by Baie Netzer, Managing Director at Bank of America and Dr. Robert Kleinhenz, an CBA Executive Fellow and Principal Economist at Kleinhenz Economics.  Netzer's and Kleinhenz's insights are the leading economic benchmarks are heading in the right direction, with some sectors on-track to exceed pre-pandemic levels before the end of the year.  Their expert conclusions are while challenges such as labor and housing remain, another recession is unlikely and a gradual recovery is underway. 
Recognizing the importance of the hospitality and tourism, a special collaboration involving the Collins College of Hospitality Management brought together five industry experts who gave presentations on their respective sectors and joined on a Q&A session.  Lea Dopson, Dean at the Collins College of Hospitality Management, serving as the panel moderator, fielded questions to Bryan Churchill of Los Angeles Tourism Bureau, Christine Susa of Visit Pasadena, Junior Tauvaa of Visit Anaheim, Alan D. Wapner of Ontario International Airport, and Brandon J. Feighner of CBRE Hotels Valuation and Advisory Services.  Their collective appraisals are that hospitality & tourism is experiencing recovery, the recovery is faster than other sectors of the economy, and the industry is poise for significant growth in preparing for the 2028 Olympics. 
"It was an absolute honor and a pleasure to both learn of and share the momentum and optimism associated with the Southern California integrated regions and their collective recovery trending."  Said Churchill of his experience at the Summit and the panel's joined positive outlook.
The full 2022 San Gabriel Valley Economic Forecast Report can be downloaded here.  More detailed global, national, state, and local economic reports as well as the tourism & hospitality panel presentations can be found here.