The College of Education and Integrative Studies is a learning community focused on meeting the present and future needs of students in our communities. We educate students to become highly qualified and significant leaders in our society. We are committed to the principles of diversity, ethics and social justice, and life-long learning. Central to our mission are innovative and integrative thinking, reflective practice, collaborative action, and learning by doing.
CEIS Professor Emeritus Participates in Leadership Institute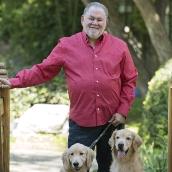 Education Professor Emeritus Aubrey Fine was selected to participate in the Wallis Annenberg PetSpace Leadership Institute, which congregated academic experts from around the world to collaborate on further understanding the value of the human-animal bond. 
The Wallis Annenberg PetSpace Leadership Institute seeks to promote multi-disciplinary scholarship, participate in high-level academic research partnerships and develop curricula that supports education related to the human-animal bond.
"Being selected as a fellow for the Annenberg Leadership Institute was a tremendous honor," said Fine. "The weekend provided a dynamic opportunity to work with global leading scholars as a "think tank." We shared ideas that bridged research and practice with the intent to inform public policy as it pertains to human canine interactions." 
As a follow up to the retreat, the fellows will work together to create a collection of their current research papers and begin collaborating on ideas that were developed during the two-day retreat. The collection of research papers, which will be co-edited by Professor Emeritus Fine, will be made available to those interested in learning more about the human-animal bond.
"Dr. Fine continues to demonstrate how academic scholarship can influence public policy deliberations," said CEIS Dean Jeff Passe. "His work will make life better for animals and humans alike."
Fine, who formally retired in 2019 from Cal Poly Pomona, currently teaches classes on educational psychology and the human-animal bond on a part-time basis in the College of Education and Integrative Studies. He has authored over 20 books and served on several national boards including the American Veterinary Association.
He also established the CP Metropolitan Scholarship for CPP students interested in studying the human-animal bond. The scholarship funds are derived from his book sales. For more information about his research and collection of books, please visit www.aubreyhfine.com.