The College of Education and Integrative Studies is a learning community focused on meeting the present and future needs of students in our communities. We educate students to become highly qualified and significant leaders in our society. We are committed to the principles of diversity, ethics and social justice, and life-long learning. Central to our mission are innovative and integrative thinking, reflective practice, collaborative action, and learning by doing.
EWS Professor Completes New Book on Disability Justice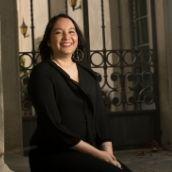 Assistant Professor Shayda Kafai in the Department of Ethnic and Women's Studies has completed her first book titled, "Crip Kinship," which examines the art activism of Sins Invalid, a San Francisco based performance project that focuses on the well-being of queer, transgender and gender non-conforming people of color with disabilities.   
"I wrote this book to document over a decade of disability justice organizing, art-activism, and community creation by Sins Invalid," said Kafai. "I also wrote this book so that we--the disabled, queer, trans of color many--could find ourselves, our worth, and our value in a world that tells us that our bodyminds are less than. In a world that seeks to eradicate us, Crip Kinship re-roots us in recognition and collective liberation."  
Kafai began writing the book in 2016 after seeing an increase in murders in the disabled community. She wanted to help the queer and disabled population find love and appreciation for their bodies and minds.   
"This book teaches us how to collectively move forward and craft futures that honor all our bodyminds while accessing and applying crip, queer, decolonial wisdom and knowledge from disability justice activists," she said. "There are lessons of survival and resilience in disability justice that the world needs right now."    
Utilizing disability justice framework, Kafai examines the critical teachings of disabled and queer people of color that offer transformational lessons for survival. The topics range from beauty and sexuality to social networking and crip-centric liberated zones.   
In her book review, disability activist Alice Wong called "Crip Kinship" a must-read for anyone who wants to understand the origins of disability justice. "As a long-time admirer of Sins Invalid, I am grateful for Dr. Shayda Kafai's Crip Kinship," said Wong. "Crip wisdom and disability justice are what we need right now."   
Following the release of her book, Kafai plans to host a book launch event. "Crip Kinship" is currently on presale through Arsenal Pulp Press.  
Kafai began teaching in the Department of Ethnic and Women's Studies in 2012 as a lecturer and was hired as an assistant professor in 2020. She teaches a variety of intro and upper division courses.   
She has published peer-reviewed articles in the area of disability studies and queer studies as well as three book chapters. She has given talks, keynotes and led workshops in academia as well as through mainstream media sources such as SoulPancake and TEDx.  
She was recently inducted into the Susan M. Daniels Disability Mentoring Hall of Fame for her mentorship of Cal Poly Pomona's disabled and neurodivergent student population. She will be recognized during a virtual ceremony on Tuesday, March 30 at 6:30 p.m. 
To learn more about "Crip Kinship" and to register for the virtual recognition event, contact Assistant Professor Kafai at skafai@cpp.edu.