Career Center Services
From classes to careers, we are here for our students. Our goal is to provide our students with guidance on setting career goals, job searching techniques, resume writing and interviewing skills. All CEIS students are able to meet with our college's appointed Career Counselor, Dr. Cheryl Love. She is the Liaison to CEIS in the Career Center and provides drop-in career advising for students and alumni from all CEIS departments. (note: in a rare case where Dr. Love is booked or unavailable, you can visit Cal Poly Pomona's other counselors in the Career Center.)
Office Hours - Bldg. 94, Room 291:
Thursday: 11 a.m. -12 p.m. & 3-5 p.m. (drop-in hours) 
You can also schedule an appointment with Dr. Love through the Career Center or by contacting your department. Click here for more information.
Meet Dr. Cheryl Love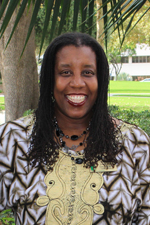 Dr. Love serves as a Career Counselor and Liaison to the College of Education and Integrative Studies.  She has been a member of the Cal Poly Pomona Career Center Team since the beginning of 2014. Cheryl has 25 years of experience as a counselor and teacher in all four higher education systems (UC, CSU, Private and Community) as well as the public school and non-profit sector.  This breadth of experience has provided her with the knowledge and skills  to work with diverse student populations to assist them with identifying their career goals. 
Cheryl has a bachelor's degree in liberal studies, master's degree in counseling, a multiple subject teaching credential and a pupil personnel service credential from California State University, Fullerton and a doctorate from the University of California, Los Angeles in educational psychology with an emphasis in counseling.   As part of the CPP Career Center Team she helps to oversee the Clothes Closet, assists with student development programming, and event/workshop planning.  Cheryl is also involved in her community through her volunteer work with the Inland Empire chapter of the Red Cross in the community involvement and outreach departments and her work with a food distribution organization that helps to feed families throughout San Bernardino County. Check out  Dr. Love's Education Resources.  
 Career Counseling Workshops & Events
Career Opportunities and Upcoming Events
Red Cross AmeriCorps Opportunity
The American Red Cross Desert to the Sea Region has 2 positions available for our next AmeriCorps term.  The term begins October 8th and members will have the opportunity to gain experience in emergency response, project management, teaching children and adults in emergency preparedness.  This is an 11 month term and all member's home base will be Orange County (although you can live outside of Orange County.)  We pay a fair living stipend as well as an education award at the end of the term.  Health benefits are provided to members and there are opportunities to travel and serve in disasters.  All applicants must have a valid California Driver's license and a good driving record.  All training will be provided. 
If you know of any viable candidates please have them e-mail me at Debbie.Leahy@redcross.org  I would be happy to call them and if they are interested arrange an interview.   The new term starts October 8th.  
Debbie Leahy: (714) 481-5348 -- Debbie.Leahy@redcross.org
Regional Disaster Officer:  Desert to the Sea Region
Serving Orange, Riverside and San Bernardino Counties
For more information, contact:
Career Center at (909) 869-2342 (Bldg. 97-100)