Jose A. Gomez CLASS Excellence Award
Four Awarded the CLASS Faculty Excellence Award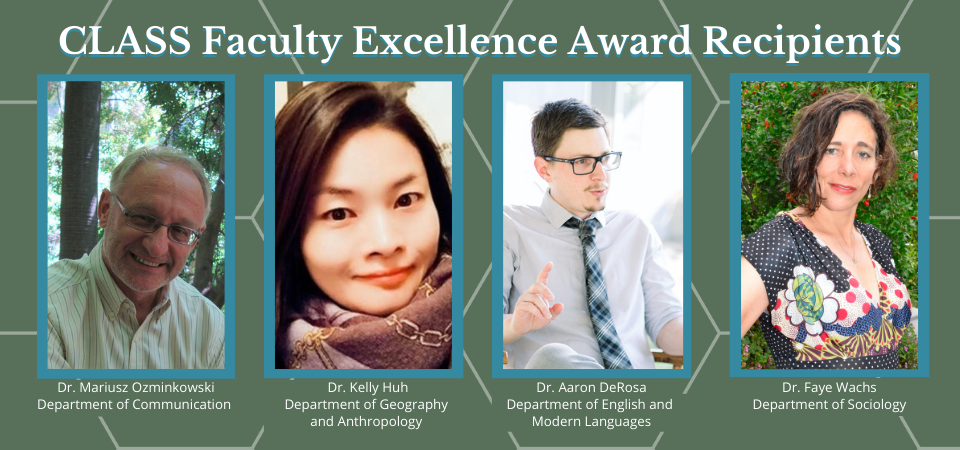 José A. Gómez ('93, Sociology) has established a fund to honor faculty who have made significant contributions to student success in the College of Letters, Arts, and Social Sciences.
"From day one, the educators I met at Cal Poly Pomona truly believed in me and my potential," said Dr. Gómez, today the executive vice president and provost at Cal State LA. "I'm privileged to have the opportunity to recognize those who similarly inspire today's students."
Each of the first four recipients of the Jose A. Gómez CLASS Faculty Excellence Award will receive a $1,000 stipend in recognition of their teaching, research and service. They are:
Aaron DeRosa, associate professor in the Department of English and Modern Languages
Kelly Huh, assistant professor in the Department of Geography and Anthropology
Mariusz Ozminkowski, lecturer in the Department of Communication
Faye Linda Wachs, professor in the Department of Sociology.
A first-generation college student, Gómez arrived at Cal Poly Pomona after growing up in nearby La Puente. On his way to earning his Bachelor of Arts in Sociology, he served as Associated Students Inc. president and chair of the 23-campus Cal State Student Association. Gómez went on to USC, where he earned master's degrees in political science and public administration and his Ph.D., also in political science. Cal Poly Pomona recognized him with its Distinguished Alumnus Award in 2019.
Gómez, who joined Cal State LA in 2009 after a career in California state government, describes the new CLASS award as his way to give back to his alma mater while encouraging faculty who represent the California State University's ideals and values. The first class of winners, who were nominated by their colleagues in CLASS, expressed gratitude to their colleagues and their students.
Aaron DeRosa


 

 

 

 

 

 

Dr. Aaron DeRosa is an associate professor in the Department of English and Modern Languages.


"The EML department is such a vibrant space and there's so much energy, from faculty, students, and staff alike. We've spent the last five years strengthening our curriculum and giving students a chance to put what they're learning in the classroom into practice through programs like the Harvest International literary magazine, a service-learning language program in the local community, or the Maker's Studio. It's been a delight working alongside such talented people," said DeRosa.

DeRosa's work reflects the times and is a testament to his research and teachings. Department Chair Dr. Alison Baker said, "Dr. DeRosa is a fantastic colleague and advocate for inclusively and social justice. He is a first-rate teacher in a contemporary field, so his professional work involves keeping his finger on the pulse of the times, and he works his research into his teaching in a truly symbiotic way. He is also just an excellent colleague and department citizen - hard-working, conscientious, and funny."

DeRosa is honored to receive the award, "It's humbling to be recognized, particularly by my colleagues in the college that I love and respect so much. I know how amazing my peers are, so being one of the inaugural winners of the award feels a bit surreal."
Faye L. Wachs

 

 

 

 

 

 

 

Dr. Wachs is a professor in the Department of Sociology.

When asked about how what this award means to her, Wachs stated, "It's always an honor to be appreciated, especially in a college with so many amazing people doing so many extraordinary things.  I am certainly not the most deserving, among the many who are, but I will do my best to continue doing my best to help produce empowered visionaries able to accept practical necessities."

Department of Sociology Chair and associate professor, Dr.Anjana Narayan shares how Dr. Wachs has impacted the department through her work.

"Faye Wachs has been a personal role model and a valuable source of motivation on several levels. In fact, it is impossible for me to imagine my CPP experience without her guidance. In addition to being a prolific and creative scholar who has published extensively on topics such as gender, sport, media and globalization, she is also an exemplary mentor who genuinely cares about the students and associates she works with.  Faye truly embodies the spirit of this award for the unfailing support she extends to students and associates alike, and for her tremendous ongoing contribution for fostering diversity and inclusion in the department, college and university."

Dr. Wachs credits her colleagues and most of all her students that inspired her in her work,

"The thing I most enjoy about being a professor at CPP in the Sociology department are my colleagues and students. My colleagues have worked unbelievably hard to create a less hierarchical, more inclusive, more supportive department.  And it's a real pleasure to work with such amazing people.  Our students are just phenomenal, I can't slack off, because they don't.  The things my students do in their commitment to social justice never ceases to astound me, and I just hope to live up to the high expectations they create."
Kelly Huh

             

 

 

 

 

 

 

Kelly Huh is an assistant professor in the Department of Geography and Anthropology. Dr. Huh work with students was also recognized earlier this year as she was awarded the 2020 CLASS Faculty Advisor of the Year.

"First, I would like to say thank you so much for giving me the award this year. I never imagined that I could get nominated by my colleagues in CLASS and later, even surprisingly, be given the award. I consider this award as a carrot and stick to become a better teacher, scholar, and colleague at Cal Poly Pomona. 

Department Chair and professor, Dr. Kristen Conway- Gómez commends Dr. Huh on her research efforts with students stating, "since her arrival on campus Dr. Huh has been an enthusiastic advocate for students and a dynamic and collegial colleague who has continued to develop her research on glacier melt in the Peruvian Andes. She has sought opportunities to involve students in more local research opportunities, like the air quality monitor atop Building 5, and she is a welcoming advisor to our majors and students in the Interdisciplinary GIS minor.  Kelly is a wonderful colleague who brings a suite of strengths to our department, and we're all the better for her presence."

"I have been very fortunate to work with such great colleagues who are generous with their time, energy, and hearts. I am so grateful for what they have done for me, and I am proud to accept this award in honor of all my colleagues," said Dr. Huh.
Mariusz Ozminkowski

 

 

 

 

 

 

 

 

 

Mariusz Ozminkowski is a lecturer in the Department of Communication. For Dr. Ozminkowski this is an award for all teachers. "Awards are always gratifying, and this one, too, was a pleasant surprise. But considering the fact how many great teachers we have at Cal Poly Pomona, one would want to paraphrase Roman statesman Cato the Younger and say, "I'd rather have people ask why I have no award than why I have one. So, let's say it is an award for all our teachers, and it just happened that I was the lucky one to get it this year."

Ozminkowski's work in the Department of  Communication is embodied in the values and ideals of the college. Nell Horowitz, Department of Communication Chair said, "professor Ozminkowski is the epitome of a renaissance person who embodies the core values of CLASS. He consistently incorporates engaging and creative activities in his classes that develop and challenge the critical-thinking and problem-solving skills of our students. In the near decade that I have been in the Communication Department, I have never heard a single negative comment about Professor Ozminkowski. Rather, to his colleagues, Mariusz is a man of integrity; to his students, Professor Ozminkowski is a teacher who encourages and promotes creativity and inclusiveness in the class environment, whether in-person or online. I am thrilled that Professor Ozminkowski is being awarded the Faculty Excellence award and being recognized for his contributions to our department, our college, and our university."

Ozminkowski is appreciative of the acknowledgement, "At the same time, it can be a recognition, among other things, of what I do in the Communication Department. I teach many different courses, and what I like the most is finding a unifying theme in all of them. No matter how specific are some of our subjects and classes, there is an incredible richness and continuity in the philosophical, cultural, and scientific progress throughout the ages."
Congratulations to the Jose A. Gomez CLASS Faculty Excellence Awardees. Their dedication to their craft and to our students reflects the CLASS values and ideals that they showcase through their teaching, research, creative endeavors, service, advising, mentoring, and collaboration.