High School Scene Festival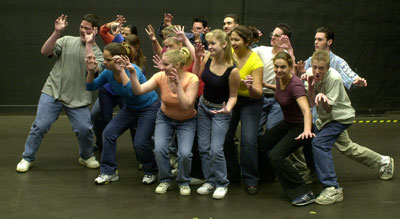 High School Scene Festival is an annual event for regional high school drama students. Festival highlights include scene competitions, workshops in all areas of theatre, technical theatre "Olympics" and auditions for Cal Poly Pomona scholarships. The festival serves hundreds of students every year.
The 2019 High School Scene Festival is scheduled for 9 a.m.-5 p.m. Friday, Feb. 8.

The event will feature a Scene Competition, Tech Olympics, as well as various workshops. Students are invited to participate in as many workshops as their schedule will allow, and students not competing in either the Scene Competition or Tech Olympics are welcomed to participate in our workshops.
Scene Competition
Participating schools are asked to consider bringing up to three scenes – from past or upcoming productions – with each scene lasting no more than 10 minutes in length. Scenes may be actual 10-minute segements of a work, or an edited scene, act or even play that fits within the 10-minute mark. Props, costumes and small scenery elements that can be easily placed and removed are permitted. There is no limit to the number of actors that can perform during a scene.
Tech Olympics
During the Tech Olympics, students will compete in performing technical theatre tasks such as flat-lashing, lighting, costume changes and other such timed events.
Workshops
In addition to our competitions, will offer educational workshops covering topics such as Acting for Auditions, Stage Combat, Improv, Costume/Makeup, Prop Design, Writing for the Screen and Stage, as well as Dance Theatre. These workshops are taught by our faculty members and lecturers who, in addition to being university-level educators, are working professionals in their respective fields.
Please contact our publicist, Chris Bashaw, at chbashaw@cpp.edu or (909) 869-3962 for more information and how to register.
Related Articles: