Commencement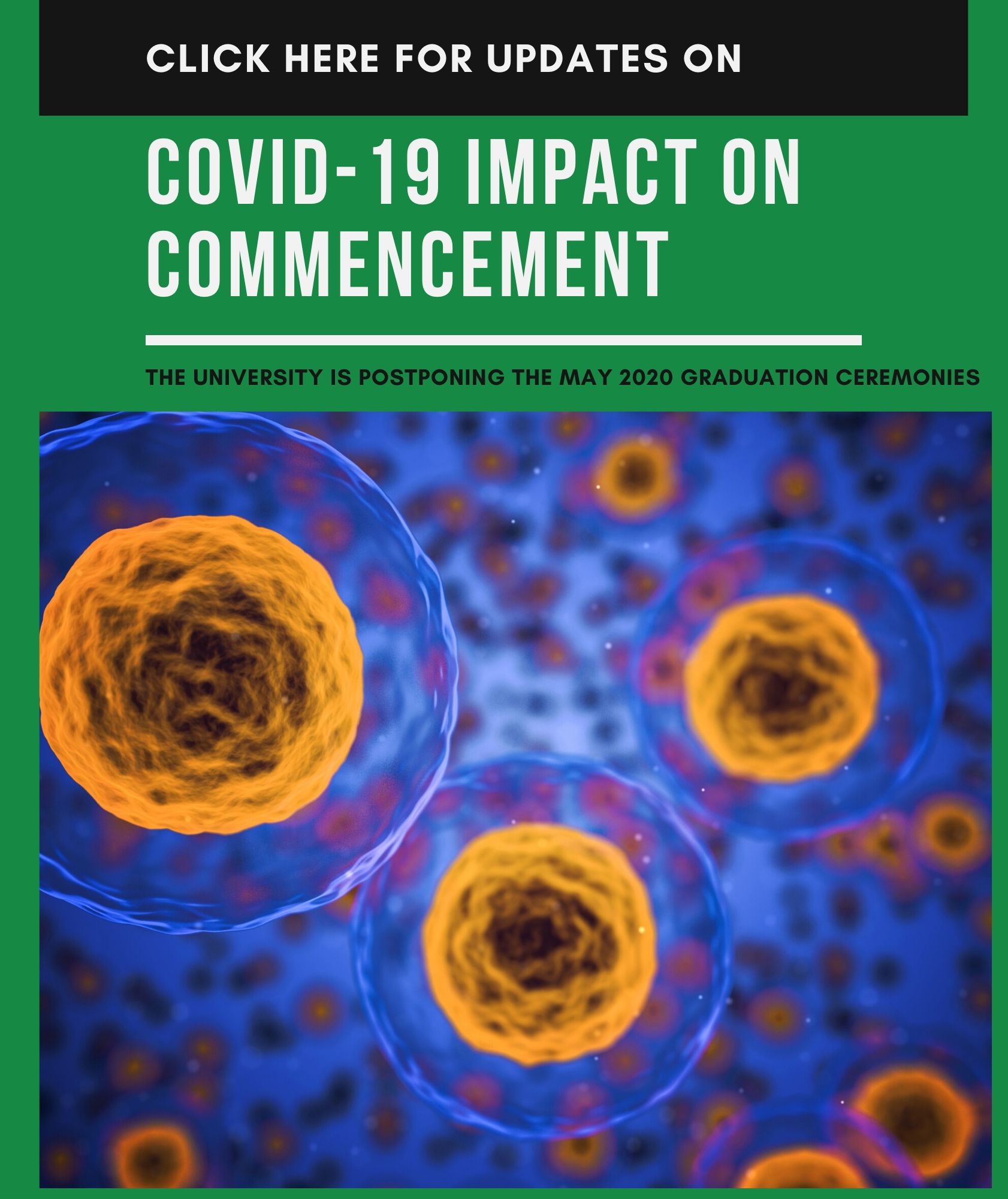 The Collins College of Hospitality Management's Commencement Ceremony will be postponed. Click the image above for full details.
Graduates must arrive by 3:00 pm on Mansion Lane (corner of University Drive and Mansion Lane, in front of Bldg. 1).
Parking Permits NOT Required
Limousine parking must be arranged in advance.
Please notify parking@cpp.edu by May 1, 2020 to request limousine parking.
Admission Tickets Not Required
Admission tickets are not required. First come first serve guest seating and there is no limit to the number of guests you may bring. Please advise your guests to try to arrive at least one hour prior to the ceremony.
Graduation Requirements
General questions about graduation requirements, applying for graduation and deadlines are available on the Registrar's Office web site.
Caps and Gowns
Caps and gowns will be available through May 17th at the main register counter at the Bronco Bookstore:
Bachelor's Complete = $69.95
Master's Complete = $89.95
Grad Fair - March 17 & 18: "One Stop Shop For All Your Commencement Needs"
Grad Fair 2020 will take place at the Bronco Bookstore on March 17-18 from 9 a.m. – 6 p.m.  Grad fair is a one-stop-shop for all commencement related items.
Bookstore Hours:
Monday - Thursday: 8 a.m. to 6:30 p.m.
Friday: 8 a.m. to 4:30 p.m.
It is recommended that you purchase a cap and gown in advance for proper fitting.  Limited quantities and sizes of caps and gowns are available at the Campus Center Marketplace on May 15-17, starting about two hours prior to the ceremonies.
These caps and gowns are the ONLY outer attire allowed for graduates. It is not an all-weather garment; inclement weather may damage clothing worn underneath. The attire is all black and quite warm, so plan your clothing under the gown accordingly.
National Anthem singer wanted for Commencement!
Each year, a Collins student is picked to sing the National Anthem at the commencement ceremony. For anyone interested, this opportunity is open to all Collins students, however, graduating seniors have priority. You must be available to audition on Thursday, February 6 at 12:00 p.m. in the Hilton classroom. Contact Carolina Sanchez by February 4 at 11:59 p.m. to be considered.
Commencement Participation
The commencement ceremony is often referred to as "graduation", but in reality, there is a difference. Commencement is a ceremony and celebration for students projected to successfully complete all of their graduation requirements by the end of Spring Quarter or those that completed the summer, fall or winter before. You will not receive a diploma at the commencement ceremony. Confirmation of degree completion will not take place until official grades are posted.*
*Please do not show up to Commencement if you are not eligible for graduation or early participation. Students (undergraduate and graduate) who participate in commencement without authorization will be fined $200.