Scholarships and Financial Aid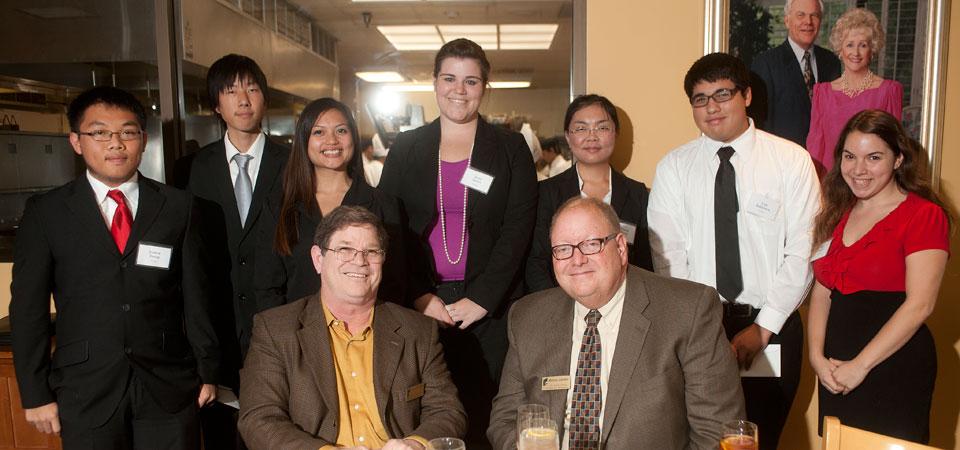 At The Collins College of Hospitality Management, we understand that the cost of education can be burdensome for many students. It is one of our top priorities to supplement the cost as much as we can. Thanks to numerous donations over the years, The Collins College has accumulated $3.5 million in endowed scholarships yielding about $100,000 every year to deserving students. In addition to College-based scholarships, Collins students have access to numerous private industry scholarships that total about $100,000 each year.
There are also a variety of scholarships and student loans available through Cal Poly Pomona and the  Office of Financial Aid.
Scholarship Information for Current Students
Up-to-date scholarship information, including Collins College based scholarships and private industry scholarships, is now available for current students on Blackboard. To view this information click  your Blackboard . Students must have a valid Bronco name and password to access Blackboard. The scholarship information is contained under the organization titled "CCHM Scholarship Opportunities."
For more information, contact Dr. Don St. Hilaire, chair of the college's scholarship committee, at (909) 869-4534 or  dsthilaire@cpp.edu.
Collins College-Based Scholarship
College-based scholarships are available to current Collins College students in each academic area of interest. The scholarships range from $500 to $5,000.
Students only need to fill out one general application to be considered for all the college-based scholarships. A panel of faculty and staff will review the applications and award scholarships to qualifying students. The Collins College general scholarship application will be available in early spring quarter.  College-based scholarships include:
Alexander Moshinsky Memorial
Americas Lodging Investment Summit
Anaheim/OC Hotel & Lodging Association
Anita L. Kramer/CLIA
Betty & Silas Wright Scholarship
CCHM Student Scholarship
Darden Award of Excellence
Darian & Rick Swig Family
Handlery Family
Harvest Auction
Hideo Amemiya Memorial
Hilton Hotels Endowed
Hospitality Financial & Tech Professionals
Lawry's Restaurants, Inc.
Leonhard-Wilson Memorial
Marriott Endowed Scholarship
Nestle Endowed Scholarship
Orange County Wine Society
Patricia & Stephen Bone
Roundtable for Food Professionals
RW Smith
Sodexo Experience the Industry
Vineyard Bank/Buster Filipi Endowed
Virginia Schoning CRA Endowed
Woodward-Graff/Dr. Ernie Simpson
Hospitality Industry Scholarships
Students also have an opportunity each year to apply for industry-based scholarships. This is a list of organizations that typically offer scholarships every year. Students are encouraged to contact these groups for more details. Industry-based scholarships include:
American Culinary Foundation
American Hotel & Lodging Educational Foundation
California Restaurant Association Educational Foundation
CMAA Student Chapter Scholarship
CLIA - California Lodging Industry Association
Golden Gate Restaurant Association
Hanldery Hotel
Hotel & Restaurant Foundation
Hyatt Hotels Fund for Minority Scholarship
IACC - International Association of Conference Centers
ISPA Foundation - Mary Tabacchi Scholarship
Marriott Scholars Program
National Restaurant Association Educational Foundation
NEWH - Network of Executive Women in Hospitality
President's Council Scholar
Share Our Strength
U.S. Travel Association
Cal Poly Pomona Scholarships