Not Giving Up
Our New Provost Talks About Her Unexpected Journey and How Universities Today Can Support Students
By Esther Chou Tanaka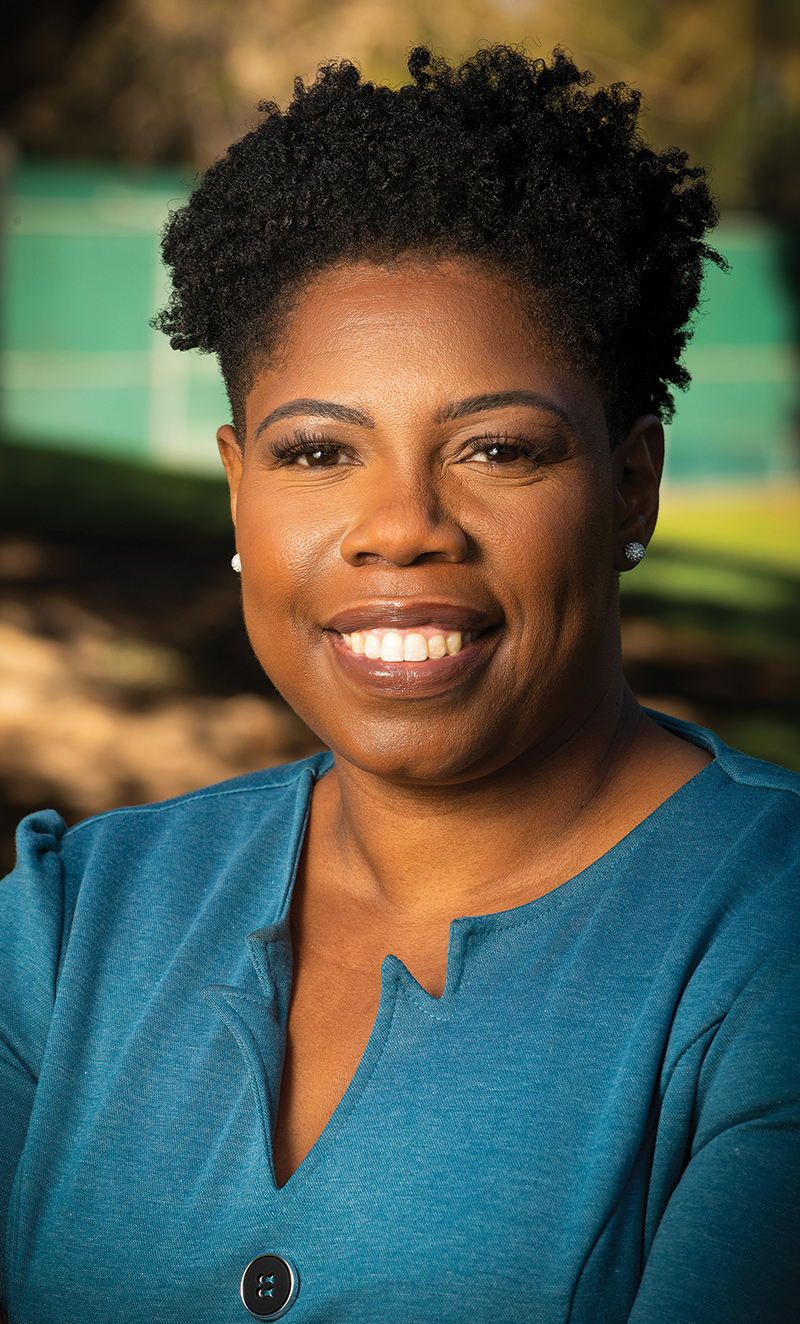 When she was a student, Jennifer Brown faced many challenges and unknowns in earning her degree and finding her place in the world. But she was able to keep forging ahead, thanks to supportive mentors who opened doors for her.
Brown joined Cal Poly Pomona this spring as vice president for academic affairs and provost and brings her personal journey of triumph and a breadth of experience in leading student success initiatives, interdisciplinary research and scholarship, and innovations in digital teaching and learning. Prior to joining the campus, Brown held leadership positions at UC Riverside and Oregon State and was a professor at Purdue University.
She completed her undergraduate education in ornamental horticulture at the University of Illinois at Urbana-Champaign and also earned her master's degree there. She holds a doctorate in horticulture with an emphasis in marketing and consumer behavior from Michigan State University.
A few weeks before her official start as provost, Brown shared her journey from student to university leader, and also her commitment to student success, closing equity gaps and breaking barriers.
Tell us about your background and how you came to study horticulture.
I'm originally from the inner city of Chicago. I started out as a civil engineering major, but a couple of obstacles led to me leaving the university. When I was in community college, a family friend introduced me to landscape architecture. When I transferred back into the University of Illinois, I discovered that my interests were suited more toward horticulture. So, although I wasn't aware of this major and career choice originally, it was one of the best decisions that I have made. I wouldn't be sitting here before you today if I had not made this decision to try something new. I think that's how I have become an advocate for helping students learn and explore different possibilities and paths, thinking about my own experience and learning over time that so many students worry about picking the right major and sticking with it.
How did you become a professor and university administrator?
I didn't go to college thinking that I could be a professor. I didn't know anyone that was a professor. During my senior year of college, I started an independent study and fell in love with asking questions, and that's how I discovered research. My advisor shared with me the prospect of graduate school. Still, I didn't think that someone like me would be accepted into graduate school. My independent study professor, Dr. Tony Endress, saw my drive and consistency with our independent study project and advocated for my acceptance into graduate school and I was accepted provisionally.
After my first term, I sailed. I earned a 4.0 GPA every semester, and that was the first time that I realized I belonged in academia.
The art of asking questions stuck with me. I loved applied research. I loved being able to solve an issue that had an immediate application to an industry or business. Before I finished my doctoral studies at Michigan State University, I saw that Purdue had an opening for an assistant professor position. The role was an assistant professor with a joint appointment in horticulture and agriculture economics. I applied and I got the job. I didn't plan it. I just figured it out as I went along. Once I became a professor, I became more intentional about my path and knew I wanted to help others do the same.
After I was tenured, I began a dean's fellow position to investigate whether distance education was the right path for the College of Agriculture. I led a 12-person taskforce that developed an 86-page white paper and five-page action plan. I was asked by the dean to become the inaugural director of distance education after we finished the action plan. That was my leap into administration.
One thing to note is that as an assistant professor, I developed a goal to become a provost. At the time, I didn't know what the provost did, and the only reason I said provost was because I was too afraid to admit that I could possibly be somebody's president. I knew that I wanted to use my talents to help people. I am honored to be the provost of Cal Poly Pomona and to use our collective talents to move student, staff and faculty success forward.
Have you said out loud that you're going to be president one day?
I want to enjoy this role and contribute as provost and that will take some time… But down the road — it is a possibility.
What are the new challenges that students face? What are the old challenges that we haven't quite solved?
What's unfortunate is that there are still so many barriers for students. However, I am excited that more institutions, including Cal Poly Pomona, want to focus on removing institutional barriers and embrace the whole student. As I was going through undergrad, people said, "Look to your left, look to your right, one of you won't be here." It was proudful. Folks boasted, "We're tough and not everyone's going to make it." Students didn't talk about the challenges or say out loud that they needed help.
Now, institutions are being reflective. Are we part of the challenges as well?
That's one of the many things that attracted me to Cal Poly Pomona — we want to knock down barriers. What I see is a very open dialogue and sense of awareness. And how brave are our students who say they're experiencing challenges, whether it's food insecurity, housing insecurity, tutoring, basic needs. I'm not saying that they broadcast that to the world. But they recognize there may be resources to help them through.
What are some of your big-picture goals as provost?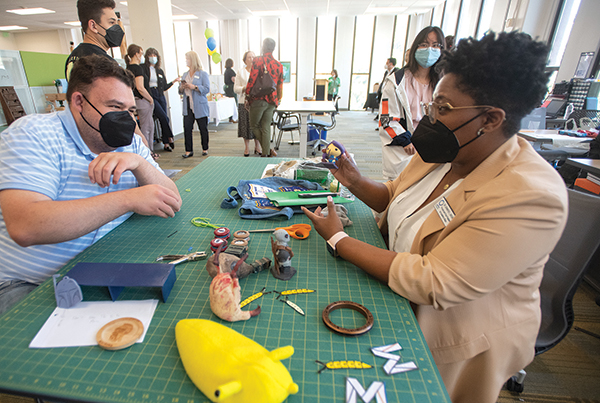 I am still learning the points of pride and challenges of Cal Poly Pomona, so my views will change as I learn more about the campus. However, I do know that student success and reducing the equity gaps are a key goal as provost. Supporting the university and the Graduation Initiative 2025 will be key to making sure that all students have equal chances to succeed and graduate. Closing the equity gaps is a top priority.
Understanding the effects of the pandemic and how students need support is pivotal. We must also understand how staff and faculty are working in this new fluid environment. The campus can't be its best self if we don't pay attention to our faculty, to our staff, as well as our students. We must have a common understanding that everyone is important and plays a great role in the institution's success. 
Therefore, supporting the campus' backbone of faculty and staff is key. Faculty development and staff professional development are very important.
Also, we have to think about how the pandemic has changed the way we work, finances are different, responsibilities are different. People are tired. There's this fluidity that's going on. I hope we can acknowledge that the world will be fluid for a little while longer. How do we preserve ourselves but also show up as our best selves at work?
Re-engaging with the university's strategic plan will require the campus to talk about the realities of the pandemic, too, so that we can reset and figure out this new world. It's going to take ingenuity and creativity, and I want to approach this from a place of compassion, empathy and care. I think when you invest in folks, they show up as their best selves. It's not investing to get something, it's more of just being a decent human being and leading with integrity.
Where do you find joy and inspiration? What keeps you going?
My faith. My daughter. Helping others. California beaches and sunshine.