Space Forward
How an Night Near Cape Canaveral Launched the Bronco Space Club
By Melanie Johnson
 An 8-year-old Michael Pham fell in love with space on a clear night near Cape Canaveral, Florida. His father, a software engineer, had taken the family with him to a conference, and it just so happened to take place during a space shuttle launch.
"If you have never seen a rocket launch, it is a real spectacle," Pham says. "Seeing the rocket during a night launch especially is amazing. The sky is pitch black and then lights up like a rising sun. The rocket is rising in silence for a little bit, and then you hear sounds and feel the vibration. It's really incredible."
That experience stayed with the Cal Poly Pomona senior studying aerospace engineering. And now, more than a dozen years after witnessing the shuttle roaring into the night sky, he and members of the club he helped establish, Bronco Space, are gearing up for their own mission: sending a CubeSat into space this summer.
Momentus, a San Jose-based space infrastructure company that offers flights to space and in-orbit services, had extra room on a planned mission and put out a competitive call in summer 2020 to universities looking to launch satellites, Pham says. The Cal Poly Pomona club answered, building the BroncoSat-1 to send into orbit.
On a Mission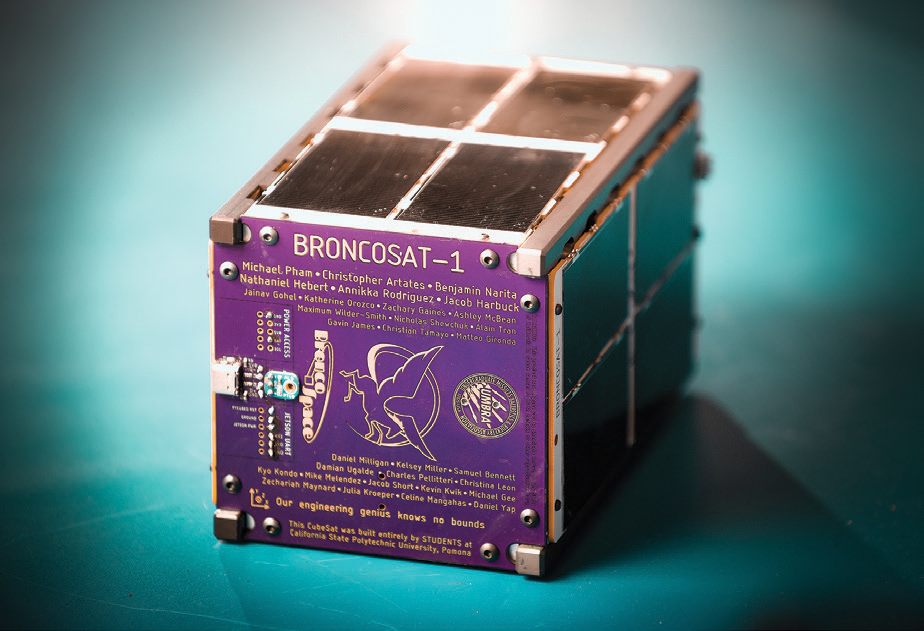 The club spent 10 months building the CubeSat, a miniature satellite, which at 1.5 units is about half the size of a loaf of bread. Each unit is approximately 10 cm x 10 cm x 10 cm in volume. The club's endeavor goes beyond just the experience, Pham says.
"BroncoSat wasn't just for us to build a satellite for the sake of it," the San Jose native says. "The mission for BroncoSat is that it is going to prove the capability of a CubeSat to run artificial intelligence and machine-learning algorithms in orbit."
In layman's terms, the students are setting out to prove that a miniature satellite equipped with a cheap off-the-shelf computer can do much more complicated data analysis than previously thought possible. This type of research is known as "edge-computing." As an example, an artificial intelligence-equipped satellite could take a set of photos of a location on the Earth from space. Then it can autonomously identify and analyze any changes that may have happened since the last time a photo was taken of that same location. Important events like fire, flood or other disasters can be quickly recognized and the authorities can be notified without needing a human to conduct a manual analysis of the data.
Perhaps more important though, BroncoSat-1 will be Cal Poly Pomona's first space mission. For the students involved, and the community at large, the launch of BroncoSat-1 will be proof that students from Cal Poly Pomona have what it takes to play an important role in the future of exploring the final frontier.
The team's methodology will be incorporated in another student project called Bronco Ember, which uses small-satellite observation technology to detect, track and report on wildfires before they get out of control. Bronco Ember won the $200,000 NASA Tech Leap Challenge competition last October, one of three groups nationally and the only undergraduate group to receive the funding.
"The decision-making that satellites can do is not as good as a human, but the premise is being able to alert humans to the fact that something is going on and they should take a closer look at it," Pham says of the observation technology.
Launching Bronco Space
When Pham came to Cal Poly Pomona as a freshman, he thought his future would be in rockets. But then, a friend asked him if he had ever heard of CubeSats.
"At the time, CPP had no real program to do them," he says. "I asked around and no one was talking about them." Pham discovered that CubeSats are a good way for universities to get involved in space opportunities and don't face as many funding and budget issues as rocketry projects do.
"CubeSats are small enough where they can ride along on other satellite missions," he says. "You don't need to own the entire rocket to go up into space. That brings the cost down for universities to be able to do their own space mission."
Though it's not rocket science, CubeSat engineering isn't easy.
The lifespan of a CubeSat is two or three years, according to Pham. "Then it will fall to earth and the atmosphere will disintegrate it."
In the past 20 years, about 200 universities around the world have launched a CubeSat into space, he says. Approximately 40 percent of them will fail. If something does go wrong, there is little or nothing students can do to fix it. But, each failure is an opportunity for learning.
Bronco Space became an official student organization in fall 2019 so students could collaborate and learn by doing. The first year was primarily pathfinding and writing project proposals. Then, the pandemic hit, and classes and activities moved online. The BroncoSat-1 team set up shop in a garage and worked at their kitchen tables.
"It was pretty difficult to virtually build a satellite," Pham says.
Eventually, the College of Engineering secured a lab in Building 13, restricting in-person work to two or three people at a time.
Pham served as Bronco Space's president for the first two years.
Now, Annikka Priya Rodriguez serves as president. The Philippines-born, Lancaster-raised senior majoring in aerospace engineering says there were just a few students involved when she joined the organization.
She and Pham went from lab team members in class to friends to collaborators on Bronco Space.
"You become Michael Pham's friend, and he draws you in," Rodriguez says.
Bronco Space now has more than 100 members working on three major projects. Pham manages the club's largest, BroncoSat-1, which has a team of 35 students. Aside from the Bronco Ember project, the organization also has Blade, a balloon launch program for freshmen students.
"One of our goals is for Cal Poly Pomona to become a space-forward university," Rodriguez says. "Before us, there were other aerospace projects, but no one was really going into space."
The Blade project includes students making mock CubeSats to create early interest for first-year engineers.
"It definitely introduces them to CubeSats, and those who have quality work and are interested in space exploration will be able to go on to the other programs where they make real CubeSats," Rodriguez says. "Space is becoming a new frontier for sure among universities."
Pham says the space industry is a cornucopia of fields that students should find appealing.
"One of the things we like to emphasize is that we try to make Bronco Space as diverse and interdisciplinary as possible," he says. "Space is thought of as an aerospace engineering playground, but we are engaging other engineering majors, computer science students and also trying to reach out to science majors. Everyone is welcome in the space industry."