Faculty Research Spotlight
Research team seeks to replicate the gecko's adhesive power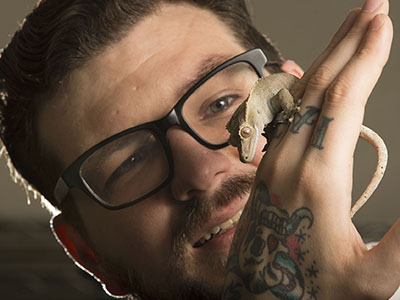 Dr. Jonathan Puthoff,
Chemical & Materials Engineering Assistant Professor
Some research is so fascinating that people may literally climb walls to be a part of it. Such is the case with the work of chemical & materials engineering assistant professor, Dr. Jonathan Puthoff, who is studying the incredible adhesion powers of the gecko.

"Geckos have evolved a superlative climbing adaptation enabling them to climb wherever they want," says Puthoff. This ability to strongly adhere to nearly any surface is a scientific wonder that could "revolutionize many technologies, if we can understand and replicate it."

Recent discoveries have found answers in the minute hairs, called setae, on the bottom of the creature's toes. "On an individual basis, the force that allows any one of these hairs to adhere to other things is very small, but when multiplied by billions of hairs, the gecko's overall sticking ability is considerable," adds Puthoff.

To further unlock the mystery, Puthoff is leading a Gecko-like Synthetic Adhesives (GSAs) research team at Cal Poly Pomona's College of Engineering. One of the students involved is Joannah Swanson, a chemical engineering major who is fascinated by the idea of designing and replicating the features of living creatures with synthetic materials.

"If we can replicate the natural characteristics of a gecko by developing similar synthetic materials, think about all of the exciting positive applications in society," says Swanson.

A potential application Puthoff envisions is the design of robots for firefighting or rescue situations that have the ability to pick things up with GSAs and then, like a gecko, instantly "shut off" the stickiness to release an object. Another possibility is a new medical bandage or patch that is sticky upon application, but can later be removed with ease.

The team is using synthetic polydimethylsiloxane (PDMS) rubber to make materials bearing microscopic gecko hairs. "If we can create usable GSAs, the benefits to society are numerous," explains Puthoff.
---
Research and innovation at Cal Poly Pomona would not be possible without partnership and support from industry, government, and our alumni. There are many opportunities for collaboration with Cal Poly Pomona, and access to research facilities and laboratories in the College of Engineering.
To find out more contact:
Dr. Ben Bahr, Associate Dean for Research & Graduate Studies,
College of Engineering at Cal Poly Pomona
bbahr@cpp.edu 
909.869.2600