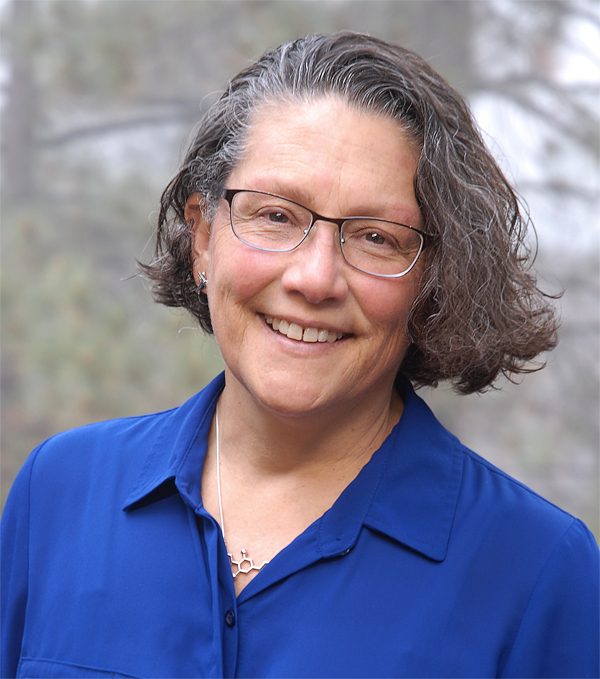 Nancy E. Buckley
Professor, Biological Sciences Department, College of Science
Email
Phone number
909.869.4057
Office location
Office hours
T | 1 PM - 3 PM TH | 1 PAM - 3 PM
Publications
Gideon W. Blumstein, Arya Parsa, Anthony K. Park, Beverly L.P. McDowell, Melissa Arroyo-Mendoza, Marie Girguis, Jill P. Adler-Moore, Jon Olson and Nancy E. Buckley (2014) Effect of Delta-9-Tetrahydrocannabinol on mouse resistance to systemic Candida albicans infection. PLoS One. 9(7): e103288, Published online July 24th, 2014.
Jessica Sung, Youssef Harfouche, Melissa De La Cruz,  Martha P. Zamora, Yan Liu,James A. Rego  and Nancy E. Buckley (2015) Garlic (Allium sativum) Stimulates Lipopolysaccharide-induced Tumor Necrosis Factor-alpha Production from J774A.1 Murine Macrophages.  Phytotherapy Research 29(2):288-94.
Kenneth Chong, Martha P. Zamora, Dileshni A. Tilakawardane, Nancy E. Buckley, James A. Rego and Yan Liu (2014) Investigation of Allicin Stability in Aqueous Garlic Extract by High Performance Liquid Chromatography Method.  Journal of Scientific Research & Reports (accepted for publication)
Nancy E. Buckley. (2008) The Peripheral Cannabinoid Receptor Knockout Mice: An update. Br J Pharmacol. 153(2):309-18.
Nancy E. Buckley. (2007) Echinacea purpurea and the immune system a layman's article for AGRICOLUMN.
Nancy E. Buckley, Diep Burbridge, Manop Buranapramest, Tanya Ferguson and Renee Y. Paau (2006) Experimental Methods to Study the Role of the Peripheral Cannabinoid Receptor in Immune Function. Methods Mol. Med. 123:19-40.
Nancy E. Buckley, Kathleen L. McCoy, Éva Mezey, Tom Bonner, Anne Zimmer, Christian C. Felder, Michelle Glass and Andreas Zimmer (2000) "Mice Deficient for the Peripheral Cannabinoid receptor were developed and demonstrated an immunomodulatory role for cannabinoids." Eur. J. Pharmacol. 396, 141-149.
Nancy E. Buckley, Stefan Hansson, Gyöngyi Harta and Éva Mezey (1998) "Expression of the Cannabinoid Receptor mRNAs During Embryonic Development in the Rat." Neuroscience 82, 1131-1149.
Other Relevant Publications:
Natalie E. Freeman-Anderson, Theresa G. Pickle, Courtney D. Netherland, Alicia Bales, Nancy E. Buckley and Douglas P. Thewke. (2008) Cannabinoid (CB2) Receptor Deficiency Reduces the Susceptibility of Macrophages to Oxidized LDL/Oxysterol-Induced Apoptosis. J. of Lipid Research (accepted).
Martin A. Storr, Catherine M. Keenan, Dominik Emmerdinger, Hong Zhang, Birol Yüce, Andrei Sibaev, Federico Massa, Nancy E. Buckley, Beat Lutz, Burkhard Göke, Stephan Brand, Kamala D. Patel, Keith A. Sharkey. (2008) Targeting endocannabinoid degradation protects against experimental colitis in mice: involvement of CB1 and CB2 receptors. J. Molecular Medicine 86:925-936.
Marnie Duncan, Abdeslam Mouihate, Ken Mackie, Catherine M. Keenan, Nancy E. Buckley, Joseph S. Davison, Kamala D. Patel, Quentin J. Pittman and Keith A. Sharkey. (2008) Cannabinoid CB2 receptors in the enteric nervous system modulate gastrointestinal contractility in lipopolysaccharide-treated rats. Am J. Physiol Gastrointest Liver Physiol. 295:78-87
Erin S. Raborn, Francine Marciano-Cabral, Nancy E. Buckley, Billy R. Martin and Guy A. Cabral. (2008) The Cannabinoid Delta-9-tetrahydrocannabinol Mediates Inhibition of Macrophage Chemotaxis to RANTES/CCL5: Linkage to the CB2 Receptor.  Journal of Neuroimmune Pharmacology 3(2):117-129.
Katarzyna Maresz, Gareth Price, Eugene D. Ponomarev, Giovanni Marsicano, J. Ludovic Croxford, Leah P. Shriver, Catherine Ledent, Xiaodong Cheng, Erica J. Carrier, Monica K. Mann, Gavin Giovannoni, Roger G. Pertwee, Takashi Yamamura, Nancy E. Buckley, Cecilia J. Hillard, Beat Lutz, David Baker, and Bonnie N. Dittel. (2007) Direct Suppression of CNS Autoimmune Inflammation Via the Cannabinoid Receptor CB1 on Neurons and CB2 on Autoreactive T Cells.  Nature Medicine 13: 492-497.
David Ziring, Bo Wei, Peter Velazquez, Matthew Schrage, Nancy E. Buckley, Jonathan Braun (2006) Formation of B and T cell subsets require the cannabinoid receptor CB2. Immunogenetics 58: 714-25.
Mohab M. Ibrahim, Megan L. Rude, Nicola J. Stagg, Heriberto P. Mata, Josephine Lai, Todd W. Vanderah, Frank Porreca, Nancy E. Buckley, Alexandros Makriyannis, T. Philip Malan Jr. (2006) CB2 cannabinoid receptor mediation of antinociception. Pain 122:36-42.
Siriporn Chuchawandul, Mika Shima, Nancy E. Buckley and Kathleen L. McCoy (2004) "Role of cannabinoid receptors in inhibiting macrophage costimulatory activity." International Immunopharmacology 4, 265-278.
Jerold S. Meyer, Theodore A. Slotkin, Nancy E. Buckley and Ratna Sircar (2000) "Receptors for Abused Drugs: Development and Plasticity." Neurotoxicology and Teratology 22, 773-784.
Zoltan Jarai, Jens A. Wagner, Karoly Varga, Kristy D. Lake, David R. Compton, Billy R. Martin, Anne M. Zimmer, Tom I. Bonner, Nancy E. Buckley, Eva Mezey, Raj K. Razdan, Andreas Zimmer, George Kunos (1999) "Cannabinoid-induced mesenteric vasoldilation through an endothelial site distinct from CB1 or CB2 receptors." Proc. Natl. Acam. Sci. 96, 14136-14141.