Conference Services - Our Facilities
Room Amenities
Details on room amenities offered are located here.
Linen Service
The conference office provides two levels of linen service depending on both guest and program needs.
Standard Service:Our standard service provides each guest with a blanket and pillow.
Premium Service:Our premium service includes both a pillow and blanket along with a complete package of linen containing one fitted sheet, a pillowcase, a towel, and a washcloth.

Cal Poly Pomona offers a variety of flexible meeting space throughout the 1,438 acre campus; including outdoor venues, technology enhanced classrooms, athletic and recreational spaces, traditional meeting rooms, and exhibit space. At Cal Poly Pomona, you truly get more than a conference room, you get a campus.
Please contact the Conference Services office to discuss the wide variety of meeting space available for your use.
Facility Highlights
Theater, capable of accommodating a variety of events, with a capacity for approximately 500 guests
2 Gymnasiums, Home to Bronco Athletics and the two-time Women's Basketball Division II National Champions
Athletic fields and outdoor venues for football, soccer, basketball, tennis, volleyball, and more.
Classroom and meeting spaces accommodating groups from 10 to 500
Many classroom spaces are technology-enhanced
Unique outdoor settings for catered events, dances, or outdoor activities
The Cal Poly Pomona Athletics department offers great sports facilities within close walking distance from the residence halls. Our sports facilities include the Kellogg Field, the Scolinos Baseball Field, 10-tennis courts and two gymnasiums. The 2,500 seat Kellogg Field is used for track & field, soccer and football. It has also been improved with things such as new grass and new fences. The 5,000 seat Kellogg Gymnasium and the Darlene-May Gymnasium offer locations for indoor supports such as basketball and volleyball.
All athletic facilities are available for conference group activities. Any group activity needs at least eight weeks of advanced notice.
The Bronco Student Center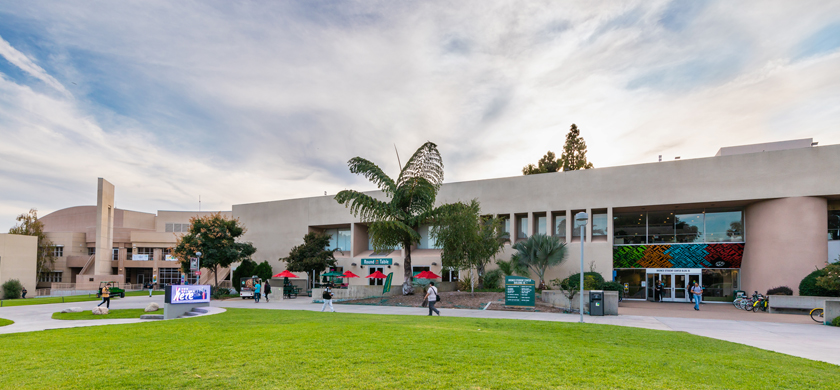 The Bronco Student Center is a centrally located meeting space for conference groups of all sizes.
The Bronco Student Center includes a:
650 seat multi-purpose room
Additional meeting and conference rooms
State-of-the-art audio visual equipment.
Visit the Bronco Student Center at http://www.asi.cpp.edu/bsc.
Cal Poly Pomona has over 15 buildings with available classrooms for conference groups. Classroom sizes range from 30 to 120 seat capacity. Requests can be made for technology enhanced rooms including computer labs, Internet accessible computers, DVD/VCR players and overhead projectors. Special requests for classrooms requires a minimum of four weeks of advanced notice.
Cal Poly Pomona's green spaces are great areas for your conference group to have a barbecue, a group meeting, or to just relax. There are many locations throughout the campus that offer a wonderful environment for your conference plans. These locations include the Rose Garden, the University Plaza, the University Quad, and the athletic fields. Special requests for reserving green space requires a minimum of four weeks advanced notice. CPP map for reference of spaces. 
The Kellogg House, constructed in 1926, was built as the west coast estate of cereal magnate, W.K. Kellogg. This historically rich house is a beautiful location for meetings, conferences, receptions, training, and workshops. The Kellogg House Pomona has hosted various university and community programs, including expert-in-residence programs, retreats, seminars and weddings.
For more information, please visit the Kellogg House at 
http://www.kellogghousepomona.com/
.
As one of the oldest established Conference Centers on the West Coast, Kellogg West has maintained a reputation over the years as a leader in this highly specialized area of the hospitality industry. The available conference spaces are highly varied in order to tailor to the specific needs of any group. This includes accommodations for groups of up to 500, a 300-seat auditorium and 16 separated conference/meeting rooms.
For more information, please visit Kellogg West at
http://www.kelloggwest.org/
.
Centerpointe Dinning Commons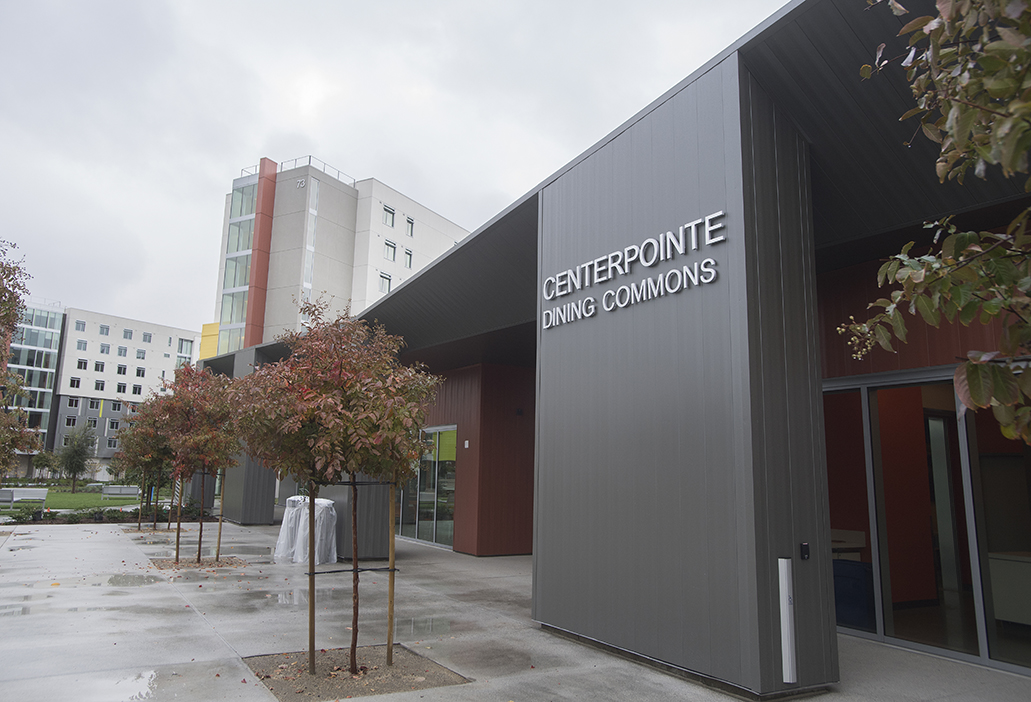 The dining room seats up to 500 people and is an excellent place to sponsor events such as dances, receptions, banquets and luncheons. This space can be utilized after regular dining hours. In the event that space is needed at a different time, the Blue Room is also available at the regular and after hours for smaller planned events such as small luncheons or meetings.

For more information, please visit the Centerpointe Dining Commons at https://www.foundation.cpp.edu/dining/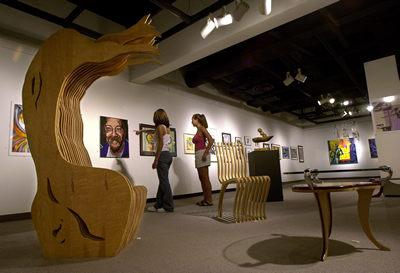 The W. Keith and Janet Kellogg Art Gallery presents a variety of exhibits with a special focus on "historical/critical interesting spanning ideological and cultural boundaries." The art gallery is open to the Cal Poly Pomona University campus community as well as the local community of Pomona, the immediate surrounding communities and the greater Los Angeles area art community. The W. Keith and Janet Kellogg Art Gallery is located in front of the ASI University Union and across the street from the library. In the less active months of summer, the art gallery is used as meeting space for conferences and other events when arranged.
For more information, please visit the W. Keith and Janet Kellogg Art Gallery at https://env.cpp.edu/kellogg/w-keith-janet-kellogg-art-gallery.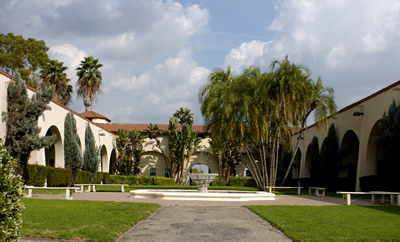 University Union Plaza was the original site of the Kellogg Arabian horse stables until the W.K. Kellogg Arabian Horse Center was built in 1974. The building was remodeled and became an extension of the University Union and a center for student organizations in 1981.
If you are interested in reserving this space, please contact Facilities Management for more information. 
The University Theatre is a full featured theater that can hold up to 516 guests. The theatre is commonly used for opening ceremonies, presentations, and various shows.
For more information, please visit the University Theatre at http://www.cpp.edu/~class/theatre-new-dance/index.shtml.