ASP Researcher Spotlight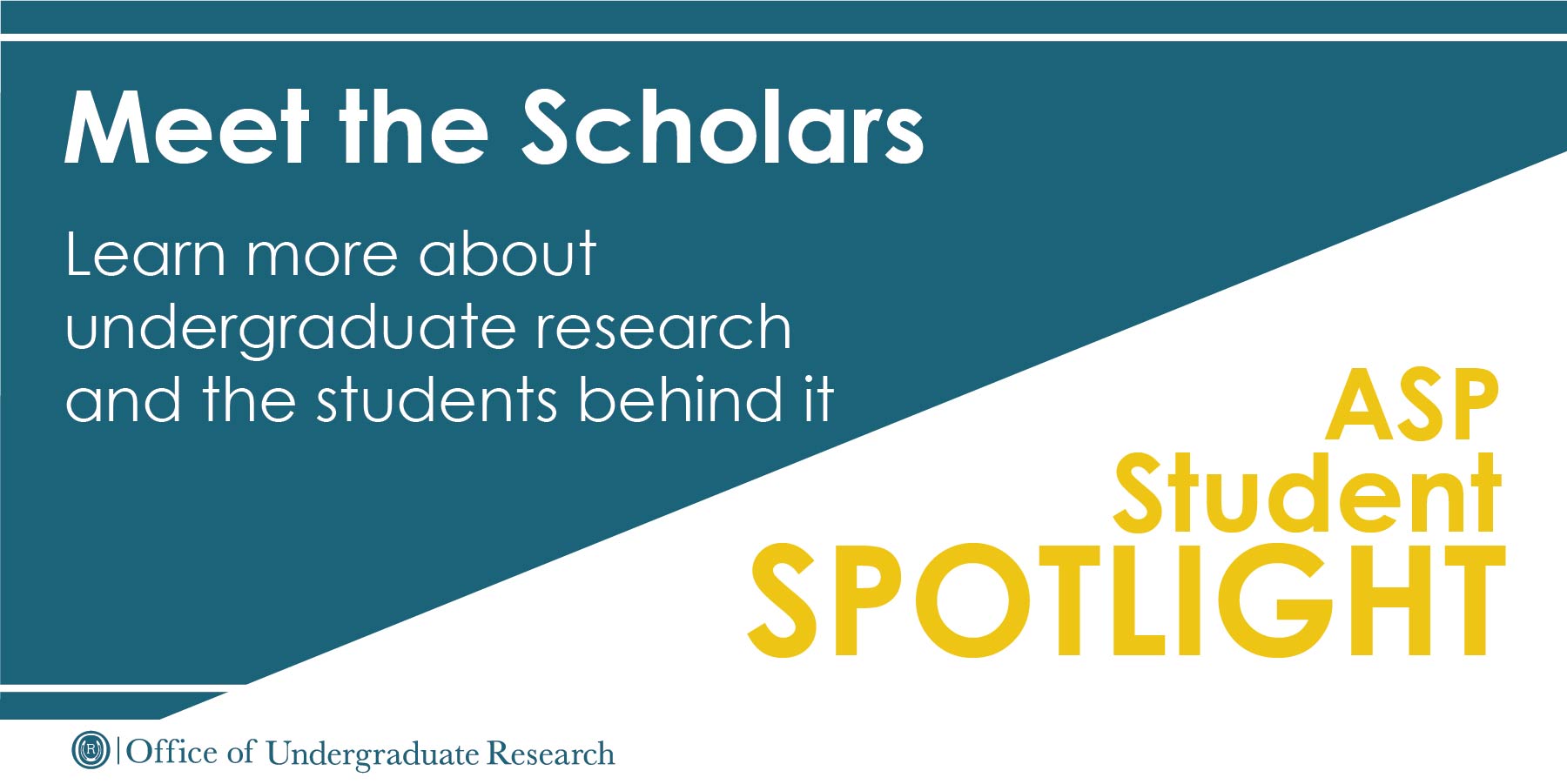 Research Spotlight provides examples of exciting new research conducted by undergraduate students in the Achieve Scholars Program. Furthermore, it showcases research from a large range of disciplines. These students are paving the way for the future by being actively involved in high-impact practices and sharing their success with other students, representing the university by presenting at conferences, and mentoring other students. The goal of Research Spotlight is to provide a platform for students to share their experiences conducting research and to inform the campus community that research is possible at any stage in a student's college career. For more information on how to get involved, please visit the how to get started page.
Click on an image below for more information
Expected Graduation: Spring 2020
Major: Biotechnology
Faculty Mentor: Dr. Jill Adler-Moore
Khadija Shafiq first learned about research towards the end of her freshman year and immediately became captivated by the prospect of creating new information. In the beginning of her sophomore year, she extensively searched through the various biology faculty research interests to determine what she found most exciting. She learned about the research projects in Dr. Adler's lab and the partnership Dr. Adler had with Molecular Express Inc. She was fascinated with the various adjuvants and vaccines the Adler Laboratory tested from Molecular Express. She was especially intrigued by the prospect of being an undergraduate whose research could directly affect the well-being of society. So when she emailed Dr. Adler about joining her research team, Khadija specifically asked to work with vaccines and was fortunate enough to immediately begin research on HSV adjuvant vaccines.
Most vaccine development for Herpes Simplex Virus (HSV) focuses on HSV-2, but the increasing incidences of HSV-1 prompted Khadija and her graduate research partner to study different adjuvant vaccines for HSV-1. The overall goal of her research project is to determine which adjuvant in a liposomal vaccine can provide the greatest protection against genital HSV-1 infections. Specifically, Khadija looks at the immune responses generated by each vaccine using viral plaque assays and cytokine assays to ultimately determine the efficacy of each adjuvant vaccine. These vaccines can then be used as candidates for clinical application.
Khadija primarily struggles with managing her time and overcoming her competitive personality. On some occasions, her research will require 30 hours of work in a week. Since she also works as a chemistry workshop facilitator and is the Secretary of Science Council, Khadija often finds it difficult to balance her extracurriculars and academics. Her rigorous research schedule helped her optimize the way she uses her time; she improved her studying habits to be maximally efficient and always asks questions when she feels like she needs help.
When she first began research, Khadija would work on collecting tissue and conducting various assays. She discovered that she could not develop familiarity with laboratory skills as quickly as she could with theoretical concepts. Sometimes she would not get expected results due to complications in using a technique. As an intrinsically competitive person, this frustrated her and regularly made her feel like a failure. However, Khadija has learned that mistakes in research are different from failure in general, that "failure" in research is important because it leads to character development and problem-solving skills. She is also able to see that there is no place for hyper competitivity in research. Everyone is a team in the science community and being the best at preparing chemical reagents or performing surgeries will not make or break someone. Research requires learning, progression, and collaboration, not perfectionism.
Although it is often exhausting to perform well in academics and extracurriculars, Khadija can maintain motivation because she knows that her efforts will lead to a significant increase in her understanding of science and may allow her to change the world. Focusing on potential positive outcomes enables her to be resilient in the face of any adversity.
Although Khadija has yet to formally present her research, she has attended various research events, conferences, and symposia. In the upcoming year, she will have several oral and poster presentations as part of LSAMP, ASP, and the Kellogg Honors College.
Khadija's ultimate goal is to leave this world better than she entered it, to remove barriers faced by underrepresented individuals and contribute to the progressing field of medicine She hopes to do this by developing a clinically-relevant drug and serving as a professor at a small university like Cal Poly Pomona. It is through research that she can develop the skills, knowledge, confidence, and collaborative expertise necessary for creating a pharmaceutical product and achieving her goals.
Khadija wants students who are interested in doing research to know that lab classes and volunteering programs are not representative of what undergraduate research will entail. Her advice is to "head into research with the mindset that you will adapt, develop, and be resilient because that will be the key to your success." If a student wants to pursue research with a specific faculty, they should go through Bronco Scholar and read about the projects that have been completed in that lab. Look through some of the professor's publications. Have an idea of what projects you may want to work on if you were to get accepted into the professor's lab. When you email a professor about joining their team, make your message respectful, concise, articulate, and passionate. Some of the key things to include in your email are your transcript and CV/resume. If your grades are subpar, be sure to explain why that is. Tell the professor why you want to join their lab. Ask someone to look over your email and be sure to sell yourself as best as you can.
Expected Graduation: Spring 2020
Major: Civil Engineering (Environmental option) with a Minor in music
Faculty Mentor: Dr. Monica Palomo
Alejandro Cerano started doing research because he believed it would be a good opportunity to set himself apart from other students so he would constantly asked his advisor to see if she had any opportunities for him.
Alejandro's work consists of water treatment. More specifically, to compare two different experiments of advanced oxidation water treatment. One involved the use of a device known as the CE 584 Advanced Oxidation. The device is a lab scale water treatment system that has water run through a UV lamp. The UV radiation from the lamp helps release free OH- radicals from hydrogen peroxide in the system. The free OH- radicals oxidize organic contaminants. The other system was glass tank placed in the sun. The UV radiation from the sun would create free radicals from the hydrogen peroxide.
One of his struggles was to try to remain calm in the event that data was not coming out as expected. Sometimes his lab would expect a certain result, but the complete opposite would happen. It was incredibly frustrating but it's paramount not to show your frustration in the lab. Not only does it make an unhealthy work environment, but those feelings are contagious and demotivate everyone.
Alejandro has presented his work in a poster presentation at CARS (Creative Activities and Research Symposium) here at Cal Poly Pomona and his partners have presented their work at other conferences as well. They have all presented as a group at the Southern California Conferences for Undergraduate Research (SCCUR) this past November in Pasadena City College.
Alejandro wants to work in the world of water treatment. The type of water treatment he is working with is very novel, but it has seen headway in the industry. He has spoken to many people at the career fair regarding that work and they were all very interested. "At the very least, it will forever be a talking point on my resume."
He advises interested students to just ask around and have a can do attitude to discover research opportunities, always maintain healthy relationships with people you're doing research with, and never wait to the last minute to print a research poster. Research never goes 100% as planned and you must be ready to improvise.
Expected Graduation: Fall 2019
Major: General Biology
Faculty Mentor: Dr. Jayson Smith
Meghan Jeffus is currently studying the temporal effects of rock overturn on the intertidal community composition. The intertidal, also known as the tide pools, are a place frequented by thousands of people a year for recreational and academic adventures. Many visitors will overturn rocks in the hopes of catching a look at some more interesting organisms. She hopes to study the effects of that additional rock overturning on short-term and long-term community composition. At her study site as well as surrounding areas in Orange County, numerous management strategies have been enacted to reduce impacts of human visitors. Meghan's research will reveal evidence of the impact of anthropomorphic overturning on the health of the intertidal community— and if additional management strategies should be implemented to maintain the health of our tide pools for years to come.
Truly, her first research project was helping a graduate student she knew with his research. She signed up to help him out in the middle of the night, out at the intertidal zone with only a headlamp and lots of layers to help keep her warm. "After that long, exhausting stretch of sitting in pools by accident and being cold the whole night— I was kind of hooked."
"With this much research practice, it was only a matter of time before I did another project of my own, which is currently where I'm at: the beginnings of my new research focused on temporal effects of turning over rocks in intertidal community composition."
One of the largest struggles she has faced in her research has been enduring such physical tasks out in the field. "I've been known all my life to be sluggish and afraid of the unknown out in less urbanized areas. A running gag throughout my research lab is just how afraid I am of the organisms and environment we conduct our research in— and while it's fun to joke, it's one of my proudest achievements." Regularly conducting research by snorkeling in the ocean, traversing the tide pools, working in the middle of the night in pitch blackness— all of these have helped her grow and develop as a person and a scientist. Thus, one of the largest struggle she continue to face is having the energy and the courage to work out in the field, but she's found every time she ties, the more she enjoys her experiences. Eventually this will seem less of a struggle than a gift.
Conducting research in of itself is difficult in its own right as well, and one of the largest struggles she's luckily avoided was being utterly stuck. "I'm lucky enough to have a very strong foundation in my peers, the others in my research lab and my mentor to aid me in any problems that arise." Any struggles she bumps into while figuring out her research question, running data, or writing conclusions, she's found she can overcome with a bit of help and a sounding board to talk to no matter what the issue. Reaching out when one needs help is difficult, but often there's people happy to help in any way they can!
Meghan has presented previous research in oral presentations. The research she conducted through the CSU Marine Biology Semester at the USC Wrigley Marine Science Center on Santa Catalina Island was presented to her peers as well as a number of faculty and staff of both CSU Long Beach as well as the USC Wrigley Center.
For the research she conducted through a CPP course on Hawaii, her group collectively presented each of their research questions and results in a Biological Sciences Seminar through the Biological Sciences Department here at CPP. They presented their findings to a number of biological sciences faculty, staff, and students.
Meghan hopes to present in the upcoming year in the Annual Science Research Symposium as well as the Ronald E. McNair Scholars Research Symposium here at CPP. "It would be an honor to present my research at additional conferences given the opportunity."
At the moment, Meghan plans on becoming a lecturing college professor in charge of her own research lab. Half the responsibility of a professor is to run a research lab with graduate students conducting regular research in their field, as well as teach courses. Thus, realizing her passion for research now only solidifies the concept of looking into the college level teaching, since she also is aware of her passion for teaching those interested in biology.
Continuing to conduct research is helping her hone her interests so that she can settle in a field she truly find engaging for her profession in the future. In order to work well as a strong professor and research mentor, Meghan wants to experience the other side of the equation and learn from teachers and mentors that she especially admires in order to implement the same ideals in her own teachings in the future. The same goes for the passion in research, learning what makes a great mentor will only aid her in becoming a fantastic mentor in her future career.
She advises students to "find something that gets you excited— or at the very least, something you haven't done before!" The beginnings of her research career began with saying "yes" to something that sounded exhausting— but was something she had never done before. An opportunity came her way and instead of thinking she could never make it in, she applied and was accepted and rolled with it. "A lot of my research experience has arisen from attempting every opportunity that comes my way as well as making plenty of long lasting connections and friendships along the way."
It never hurts to ask or talk to people. Meghan's research started with asking her biometrics TA what he was planning to do that weekend, just as conversation. It began this amazing journey, and now she's working alongside him in the same lab with her own research as an undergraduate. It may seem as a huge goal to work towards, but it's so easy to take the tiny steps and gestures to get you there in due time. Before you know it, you'll have numerous experiences under your belt, great friends and references, and a newfound passion in your field you never would have expected.
Expected Graduation: Spring 2019
Major: Food Science and Technology
Faculty Mentor: Dr. Gabriel Davidov-Pardo
Sarah Caballero first started off as a research assistant under the guidance of a master's student. She got involved by talking to the master's student about her interest in joining the lab. Sarah got involved in her current project by talking to one of her professors. "You just need to network and talk to people, whether that be current research students, graduate students, or faculty."
Sarah is currently fabricating nanoemulsions to encapsulate lutein, a fat-soluble, natural, yellow colorant, for potential incorporation into water-based food systems. The nanoemulsions are stabilized with pea-protein Maillard conjugates, which uses a common browning reaction to introduce repulsion between the droplets. The nanoemulsions' stability at the isoelectric point (pH=4.6) was compared for Maillard conjugation durations of 24, 48, and 72 hours. The stability of the emulsion droplets at various temperatures and in various salt concentrations will also be assessed. Finally, the color stability of the encapsulated lutein over time will be determined and compared with the color stability of lutein in casein (animal-origin protein)-based emulsions.
Sarah's biggest struggle has been managing her time in the lab. Some days, she runs back and forth between the lab and classes, or end up in the middle of an experiment that she's unable to complete before having to go to class. Also, there's always something more you could do in the lab, so some days it's hard to not stay late. Being in the lab has actually helped me develop better time management. She tries to schedule what she's going to do in the lab based on how much time she estimate she'll have and how much time everything takes. She also categorizes her experiments by what absolutely needs to get done that day (i.e. is time sensitive or perishable) versus what she can finish a different day.
Sarah presented at the Southern California Conferences for Undergraduate Research (SCCUR) in November 2018 at Pasadena City College.
"Research teaches me problem solving and how to design and set up experiments. These skills will be invaluable when working in research and development for food product development."
She advises students who are interested to not be afraid to ask a lot of questions. When you start, you will know very little, relatively speaking, about the research and subject matter. Research isn't so much about knowing everything, but about being able to ask the right questions.
Expected Graduation: Spring 2019
Major: Mechanical Engineering
Faculty Mentor: Dr. Reza Baghaei Lake, Dr. Ali Sharbat, and Dr. Kevin R. Anderson
Justine was taking Thermodynamics with Dr. Lakeh when he announced that he was looking for students to help him conduct research relating to renewable energy. She got very excited about it and approached the professor right after class about her interest. "I was very fortunate to have such an opportunity presented to me right when I was looking for research to participate in."
For the past year and a half, Justine has been conducting research with a team under the supervision of Dr. Lakeh, Dr. Sharbat, and Dr. Anderson. The project is called the Decentralized Renewable Off-Grid Wastewater Treatment (DROWT) and is sponsored by the Metropolitan Water District (MWD). They have been designing and building a small-scale solar powered greywater treatment system. They won 2nd place at the MWD Spring Green Expo with the Version 1 pilot and hope to keep this momentum with Version 2 of the system.
One of the biggest, but common struggles she encountered when beginning the research is the fact that she knew next to nothing about the material they were researching. They hit the ground running and it was a big game of group catch up and thankfully they had the budget for some early trial and error and a wonderful team to work with to bounce questions off. She has found every cohort for this project composed of very smart and team-oriented people. Their professors allowed them to have a lot of freedom with the way they wanted to design the system, and that meant that they had to understand as many aspects as they could of the project in a brief period so that they could started designing. Once they got the ball rolling, it was much easier to progress, and make huge progress.
The conferences Justine has presented her research at are RSCA 2017, CARS 2017, and SCCUR 2017 as an Exemplary Presentation. Events she has presented at include the MWD World Water Forum and MWD Spring Green Expo. She will also be presenting at RSCA 2018.
To undergraduates seeking research, she encourages them to look for professors researching topics they are interested in and to not hesitate to get in touch with them, even if it is just to discuss their research. "It might just be your foot in the door to doing research you want. For those preparing to participate in research for the first time, there is going to be a lot of new things thrown at you. It might take a bit to get fall into stride, but it is important to keep moving."
Expected Graduation: Spring 2020
Major:Chemical Engineering
Faculty Mentor: Dr. Vilupanur Ravi
Ho Lun had the initial idea of creating a multi-function protective coating that could be used for high temperature fuel cell in aircraft engines. Learning from his previous ASP mentor (Alex Jalbuena) that Dr. Ravi is an open-minded person who recruits students based on their dedication, he decided to start sitting-in in Dr. Ravi's weekly research meetings and eventually showcase his idea to him. In the beginning, he recommended Ho Lun to work for a senior project team, who studies the corrosion behaviors of titanium alloys for biomedical application, to learn about research. While assisting his team, he dedicated his time toward reading literature, writing a well-developed proposal and actively learning how experiments are conducted. After Spring quarter, he started an undergraduate research team to implement this idea.
Ho Lun's current research involves characterizing the corrosion and fatigue behaviors of porous alloys for low-temperature electrolysis application, and thereby determining their optimal performance according to their structure and composition. His interests of research also extend to developing protective coatings whose geometry and properties can be controlled via nano-structuring, electroplating, and inkjet printing methods.
He describes ego as being his biggest struggle. As stated earlier, his first official research project was the development of protective coatings for high temperature fuel cells application. This project only lasted 2 months because he discovered that he made an incorrect hypothesis at the beginning of his project. After discussing with Dr. Ravi and his team about this issue, they decided to switch direction before they put too much time on a project that may undermine their reputation. This was a difficult decision to make as he confessed his mistake to his teammates and mentor. Yet, considering the future impact of ego and stubbornness, he decided to face this incidentally honestly and openly. This decision was very significant in his research journey because it not only developed his necessary work ethic as a researcher, but he also stepped out of his comfort zone to become more open to different areas of research, such as low temperature water electrolysis, which later became his current research project.
He will be presenting his research in RSCA 2018, Nace Corrosion 2018 (Phoenix, AZ) and 2018 McNair Scholar Symposium (Berkeley, CA). Ho Lun's short-term research goal is to understand whether the geometry of materials (shapes, sizes, mass distribution etc) can influence their physical, mechanical and electrochemical properties. The scale of what he desires to accomplish is enormous, and therefore, he needs to focus on developing the necessary skills and knowledge to make such an influence. This goal also defines the scope of his research to focus on characterizing how porous alloys respond differently when they have different porous structures. He aspires to pursue a Ph.D. in materials engineering and become a college professor who can not only conduct research in his area of interest, but also make science and engineering knowledge accessible to the public. So becoming a good researcher is fundamental to his academic and career development.
"How? I know nothing!"- Undergraduates who haven't started their research.
From his experience as an ASP peer mentor and interaction with his peers, Ho Lun has come to understand that newcomers tend to underestimate themselves and undermine their potential because they do not understand what the professor is doing. Yet, this mindset is wrong. "First of all, no one expects you to know everything before starting a research, or you don't even need to research as you know everything already. You discover and learn simultaneously as you research. Therefore, if you are interested or even have an idea, just go and talk to the professor. Go ask the professors about their research. You are not making a commitment, simply go and know this person better. What do you got to lose? Secondly, in case you have just started to do research, keep in mind that researching is not taking a class or working for a part-time. You should not limit your research works based on hour per week, because research takes anywhere from 10 to 70 hours per week depending on your progress. You really need to spend a lot of time understanding what you are doing."
Expected Graduation: Fall 2018
Major: Food Science and Technology
Faculty Mentor: Dr. Gabriel Davidov-Pardo
Dena first began her undergraduate research when her professor had heard around that she was minoring in Nutrition and was interested in going to graduate school. She was sitting near his office one day, talking to her friends about research when he came along and overheard and casually told her he had a research project that she may be interested in. She let him know she was interested and he sent her an article to read that the project was based on, having her read and summarize it to him.
Her research involves looking at the effects that digestive enzymes have on the breakdown of emulsion delivery systems; specifically, she evaluates the effect of bile salts and pancreatin on the amount of available energy for the body to use. She also looks at the stability of emulsion delivery systems with the use of Maillard conjugates, which are a protective layer that can withstand the harsh stomach conditions in the body so that more absorption can occur in the small intestine.
Being the only person working on this project, Dena has always felt that it was harder to think critically as she was the only person that knew about the project. "When I would run into a problem, I was the only person that knew my project and the equipment used well enough. I am the type of person to bounce ideas off of people and discusses things before making an executive decision about research." She would ask her professor for help if it was conceptually related to her project, but if something were to go wrong in the lab without his presence, she would have to make the executive decision. She appreciates this aspect a lot, the fact that Dr. Davidov-Pardo was not always hovering as it allowed her to use her critical thinking skills, knowledge from class, and appropriate decision making in order to know what the next move would be. She believes that this is definitely going to be useful in graduate programs because the professors will not be there all the time, watching over you. You are expected to know the ropes and know how to critically think and resolve problems that arise in research. It is something that has to be learned through experience.
The research she is doing right now has a relationship with functional foods. Her short-term career goals are to work in the functional foods industry, holding the position of the Research and Development Food Scientist. She would like to take the vast amount of knowledge learned in undergraduate research to help form the basis for graduate programs and her future career.
Dena has presented her research as a poster at SCCUR 2017 and an oral presentation at RSCA 2018.
Advice she would give to students new to the research field as an undergraduate is to fully submerge yourself into the research community by attending workshops and conferences as much as possible and to make friends to go with. Having to fulfill workshop requirements each quarter for ASP has exposed her to a community of people that have the same goals as she does, finding it very encouraging and motivating to find like-minded individuals going through the same steps in life as she is. "The more workshops and conferences you attend, the more you will learn about graduate school and how powerful and invigorating research is!"
Expected Graduation: Spring 2018
Major: Plant Science
Faculty Mentor: Dr. Subodh Bhandari
Joseph first got involved in undergraduate research when he responded to an email from the Aerospace Engineering Department which requested Plant Science researchers for a precision agriculture project. He is a strong believer in cross-discipline collaboration as he believes that no field of study functions in complete isolation, instead they are interlinked with many others that inform and alter its dynamics.
The goal of his research is to develop an unmanned aerial vehicle (UAV) for precision agriculture (i.e., something farmers can use to quickly check on the health of their crops). A UAV, equipped with multispectral/hyperspectral cameras, is flown over a crop of interest (e.g., lettuce, citrus trees, etc.). The images are used to provide information on the quality of the plant (e.g., is it water stressed; does it need more nitrogen?). In addition to this, machine learning algorithms are used for automated assessment of the plant performance using RGB images. The results are verified on the ground through direct plant measurement using a handheld spectroradiometer, chlorophyll meter, and water potential meter. The anticipated outcome of this project is the reduced cost and complexity associated with the use of UAVs for precision agriculture so that UAVs can be cost-effectively and readily used by farmers on a routine basis for stress detection, crop management, and crop dusting without requiring too much work or initial investment on their part. The project will be helpful in site-specific management of the crops, thereby helping optimize the amount of fertilizers, pesticides, and water used, and reducing the environmental impact of modern-day agricultural production.
As a plant science student working on a massive project with a diverse group of researchers from various departments (e.g., aerospace engineering, mechanical engineering, and computer science), Joseph says his biggest struggle has been to learn technology and terminology that is quite outside the scope of his field. "Interestingly, as a teenager, I flew single-engine fixed-wing airplanes for fun and getting to be around UAVs and other aerospace nerds has been a real treat."
Joseph has presented seven poster and three oral presentations at conferences throughout the U.S., and his lab recently published two papers. He will also be traveling throughout the Midwestern States, Peru, and Costa Rica in the summer of 2018 to collaborate and share information with university researchers that are conducting similar research.
"I feel like research has always been my way of life. For me, it is not just something I do for a living and plan to do in the future, but it is a way of being. I am a student of life and the best way to learn the realities of life is by way of the scientific method. Consistently employing this tool will certainly help me succeed as a future PhD student and future researcher and faculty member."
He believes it is best to gain hands-on experience with research because many students imagine it to be something glamorous and exciting, when it often is not. "Make sure that you have a strong interest in what you decide to study and that you have bothered to develop the qualities of dedication and persistence. It is ok to look at several research projects before deciding on which one you want to participate in. There also needs to be good, positive communication between you and your faculty mentor; do not assume that because someone has a PhD that they know how to communicate properly or that they're even mentally and emotionally mature. It is best to take a class with someone so you can get a feel for their personality and communication style before joining their lab. Finally, look into programs like RISE, Achieve, McNair, and others where you may find funding for your research; it's always better to get paid to do something rather than doing it for free."
Expected Graduation: Spring 2018
Major: Industrial Engineering
Faculty Mentor: Dr. Greg V. Placencia
David's first research project was with Dr. Placencia inspecting the human factors engineering of strollers. Dr. Placencia had made a quick announcement about the project in one of his classes which left David interested and intrigued about the topic, so he decided to reach out to him after class. After a brief correspondence through e-mail, he was invited to partake in his research as an assistant.
He now researches the evaluation and Study of ergonomics/human factors engineering of stroller design and use. A critical issue for patients –children using home mechanical ventilation (HMV) and caretakers– is the mobility that allows them to live normally. Strollers are a cost-effective alternative from battery powered-wheelchairs, which can also help mitigate unwanted attention. The research project's aim is to find a way to design strollers so that it can better accommodate HMVs and other equipment that –can weight up to 65 pounds– so that it can help facilitate transportation of patients by caretakers.
He recalls his struggles with the research as small technical ones, such as deciding how to conduct the study and where to do it, since most of the data gathering was done outdoors. The challenge was tackled by creating a plan of attack and by brainstorming different ideas.
David sees himself pursing graduate school in the future, he believes that undergraduate research experience has helped him better prepare for it. "Research experience also allows me to practice skills that will surely come in handy regardless of the career path I choose."
He encourages those interested in undergraduate research to not be afraid to reach out to faculty if they are interested. Often, professors are glad students have taken interest in their projects and would most likely accept any help offered. However, he warns that depending on the project you undertake and your role in the lab, you will most likely have to learn how to manage your time efficiently.
Expected Graduation: Spring 2018
Major: Biology- Microbiology
Faculty Mentor: Dr. Jamie C. Snyder
During her second year at Cal Poly, Veneese showed interest in doing research on campus but was unsure about where to start. She stopped by the office undergraduate research, where she was provided with many resources. She then applied to the McNair program and talked to Dr. Snyder regarding joining her lab if she was to get accepted to the program (since her lab was full at the time). Dr. Snyder agreed and after getting accepted into McNair, she began working in Dr. Snyder's lab.
Veneese currently works in an environmental Virology lab under the guidance of Dr. Snyder here at Cal Poly Pomona. She started working in her lab her junior year and got the opportunity to work on an independent project. Veneese attempted to extract Sulfolobus turreted icosahedral virus (STIV) from the host Sulfolobus acidocaldarius by using various methods such as ultraviolet light. During her independent research, she only got negative results. By the end of the year, Veneese was informed that another university had solved her research question by attemping something she had never thought of. She was a little disheartened by the news because of the countless hours she had spent on her project, but it was a good lesson to learn early on. "Failure happens all the time, what matters is what I got out of the experience and I can now say that I am a lot more comfortable in a lab conducting independent research now than I was when I started." This year she is assisting a Grad student in Dr. Snyder's lab on his research regarding the creation of a genetic system comprised of shuttle vectors and series of sub clones. Her research in an environmental Virology lab uses techniques that could be transfered to her future career working in an infectious diseases/ microbiology lab. There are a lot of similarities in the devices used as well, such as a gel electrophoresis. In the future she wants to study infectious diseases in the field of biomedical Science.
The first conference that she presented her research at was the 5th Annual Cal Poly Pomona Student Research, Scholarship, & Creative Activities Conference. She did the non-competitive oral presentation because it was her first time presenting. After her REU (Research Experiences for Undergraduates) in Taiwan, she has presented her research at 2 other events/conferences: 2017 Foreign Mentor Symposium, SDSU MHIRT; and 2017 SCCUR. Her advice to anyone interested in conducting research is that it is never too early or too late. If you are interested in working with a professor to not be afraid to go to their office hours and express your interest to them. Professors love to meet students who are passionate about their field and are willing to help them grow as young scientist. In regards to REUs, never sell yourself short of an opportunity. "I had no idea that I would get into an international undergraduate program in Taiwan. If I told myself that they wouldn't choose me, or that my GPA was too low, I would have missed out on an opportunity of a life time. Believe in yourself and keep doing what you love."
Expected Graduation: Spring 2018
Major: Chemical Engineering
Faculty Mentor: Dr. Vilupanur Ravi
Alexander's research project is on determining the corrosion behavior of High Entropy Alloys to replace currently used Ni-based superalloys for jet turbines. This project involves testing both these alloys in simulated conditions and the use of electrochemical techniques. The impact of this project is to find new materials to increase the efficiency of commercial jet engines.
Alexander first got involved in research by talking to professors and friends about the projects he was interested in and eventually began attending their meetings. Although he has struggled a lot with a lot of basic social skills that comes with doing research (asking for help and helping, interacting with different people, presenting in front of a crowd, etc.) he has overcome this through a lot of practice and experience. He now has presented a research poster at CORROSION 2017, a conference where materials engineers all over the world present their current research.
His plans for the future are to work in a career where he can do the type of work he is currently doing his research on. "Testing materials, analyzing data, and a lot of these types of things that aren't present in some boring desk job." His research also focuses on materials, which have given him incite and have been a great way to further connect him with his plans for the future.
Alexander encourages those interested in seeking to participate in undergraduate research to "be proactive, talk to people, and put in the time to present good work."