Pre-Award Services
Educational workshops on various topics related to external funding
Match faculty interests with funding opportunities
Guide faculty and staff on proposal development and grant writing
Guide faculty and staff on budget preparations for proposals
Help faculty in proposal review and approval and final submission to sponsors
Review proposals to assure that they are in compliance with Federal and University policies
Review budgets to assure that they are compliant with Federal and University policies
Assemble all required certification and assurance forms; assemble final proposal, and submit
Negotiate contracts with funding agencies
Post-award administration guidance in collaboration with the Office of Grants & Contracts at the Cal Poly Foundation
Facilitate compliance with funding agencies' requirements and Cal Poly policies
Administer internal faculty scholarship funds
Life Cycle of a Proposal
Please provide at least five (5) working days for processing proposals. Staff at ORSP work on multiple proposals throughout the workweek, and sometimes must work on multiple submissions on the same day. As a result, time is needed to upload files, check for accuracy, obtain administrative signatures, and have time to process on-line corrections through web portals. Please contact ORSP through the Intent to Submit form as soon as you know you'll be working on submitting a proposal, no matter how tentative your intent to submit a proposal may be.
This image illustrates the steps from the initial proposal preparation to the final proposal submission step.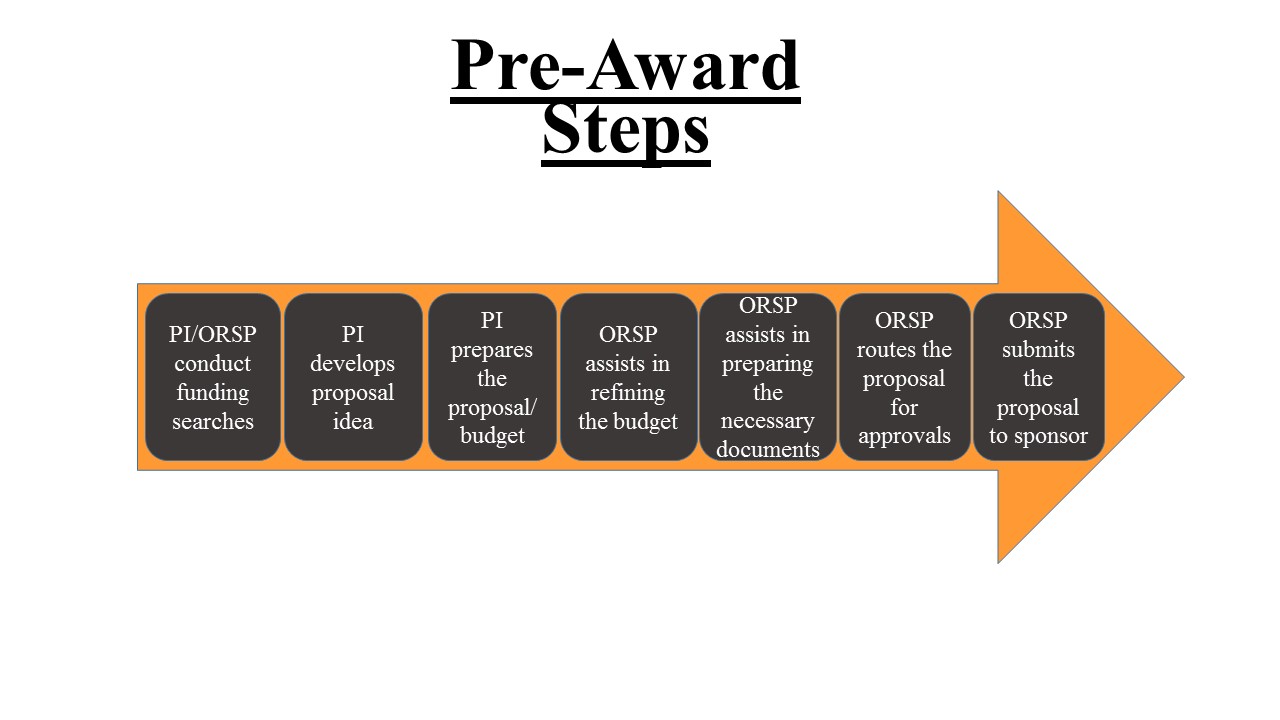 Step 1 - PI/ORSP conduct funding searches. Step 2 - PI develops proposal idea. Step 3 - PI prepares the proposal/budget. Step 4 - ORSP assists in refining the budget. Step 5 - ORSP assists in preparing the necessary documents. Step 6 - ORSP routes the proposal for approvals. Step 7 - ORSP submits the proposal to sponsor.