Safety Protocols and Facilities
We are guided by our commitment to protect the health and well-being of our campus community. The campus is aware of the changing nature of the situation and is following the recommendations from public health agencies, including the Los Angeles County Department of Public Health and the Centers for Disease Control (CDC). 
We are implementing numerous safety protocols. For example, cleaning and disinfecting is even more of a priority. Facilities staff are provided personal protective equipment (PPE), which is required when interacting with others. Extra hand-sanitizing stations are being set up throughout campus. And we will offer virtual programming and information on how to maintain a safe and clean environment. 
(Page updated 6/28/2021)
Cleaning Protocols for Work Areas and Instructional Spaces
Cal Poly Pomona has implemented cleaning protocols for sanitizing common areas and academic spaces to prevent the spread of the COVID-19 virus. The cleaning protocol levels follow recommendations from the Los Angeles County Department of Public Health (LACDPH) and the Centers for Disease Control (CDC). The current cleaning matrix is posted on the Safer Return webpage. The levels are:
Routine cleaning: Regular disinfectants will be utilized to sanitize surfaces including floors, tables, desks, counters, sinks, toilets, furniture, and equipment. Cleaning will involve dusting hard surfaces, wiping hard surfaces, disinfecting all surfaces, mopping floors, vacuuming carpets and mats, and emptying trash and recycling containers. Custodial staff members have been trained on the use of Clorox 360 electrostatic sprayers to disinfect spaces in alignment with the LACDPH cleaning matrix. Custodial staff members will wear face masks and gloves to perform duties.
Cleaning of area with possible virus exposure: Routine cleaning plus disinfection of a space occupied by a person suspected or confirmed as having COVID-19 who was in the facility within 24 hours of diagnosis. All non-porous surfaces and high-touch areas such as desks, tables, hard-backed chairs, doorknobs, light switches, computer keyboard and mouse, telephones and shared equipment will be cleaned and disinfected. Porous surfaces such as carpets and padded chairs will be cleaned with appropriate cleaning agents and disinfectants. If more than 24 hours have passed since the person diagnosed with COVID-19 has been in the facility, routine cleaning is appropriate. Custodial staff members will wear gloves, goggles face shields, gowns/coveralls and use a respirator if needed. An Environmental Protection Agency (EPA)-approved disinfectant for viral/bacterial pathogens will be used in a potential virus exposure area.
PPE Distribution Points and Supply Hubs on Campus
Face masks and gloves for the campus community are now available on the first floor of buildings. Containers of disinfectant wipes and hand sanitizer dispensers will be supplied to classrooms and teaching spaces. Additional cleaning and disinfecting materials will be available in teaching spaces to sanitize shared surfaces.
When the fall semester begins, at least 21 Personal Protective Equipment (PPE) supply hubs will be established across the campus. The hubs will contain face masks, gloves and disinfectant wipes. Each department will designate a person to retrieve supplies using an access code. Quantities in the hub are limited and any items taken from the hub will need to be logged by designated employees.
The PPE supply hub containers are expected to be delivered by June 28 and become operational on July 2. Cintas is the supply hub vendor that also will restock the containers weekly.
If supplies of PPE have been exhausted, employees should contact their department's hub designee. Designees are required to log the amount of supplies taken from the hub so PPE can be tracked and orders placed as needed.
Requests for specialized PPE can made using the COVID-19 Resource Request webpage. Specialized PPE include KN95 masks, disposable face shields, reusable face shields with eyeglass frames, face shields with drapes, masks with clear shields that allow for lip reading, masks and covers for musical instruments, and goggles.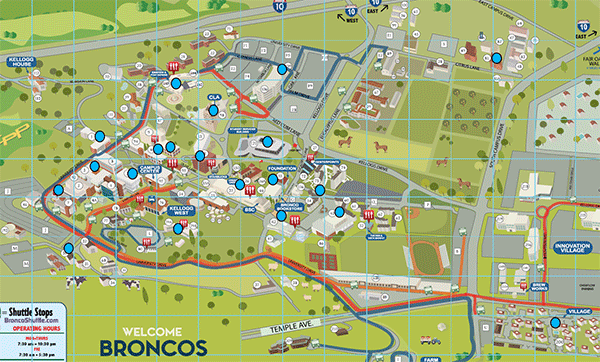 PPE Supply Hub Stations
Building 1
Science Laboratory (Building 3)
College of Letters, Arts and Social Sciences (Building 5)
College of Environmental Design (Building 7)
College of Education and Integrative Studies (Building 6)
College of Engineering (Building 9)
University Library (Building 15)
Engineering Laboratories (Building 17)
Agricultural Unit (Building 30)
Bronco Student Center (Building 35)
Bronco Recreation Intramural Complex (Building 42)
Kellogg Arena (Building 43)
Residential Suites (Building 54)
Bronco Bookstore (Building 66)
The Collins College of Hospitality Management (Building 79B)
Facilities Management (Building 81)
CLA Classrooms (Building 98C)
Police and Parking Services (Building 109)
Student Services Building (Building 121)
College of Business Administration (Building 163)
University Village (Building 200(
Hydration Stations
COVID-19 Cleaning and Disinfection
Matrix
The following cleaning and disinfection matrix coincide with the guidance provided by Los Angeles County Public Health on the cleaning and disinfection of rooms or areas occupied by those with suspected or with confirmed COVID-19. It aims at limiting the survival of the virus in key environments.
Technology Rooms
It is important to clean and disinfect work areas between use. Each room is provided with hand sanitizer, disinfecting wipes and PPE. Please follow these guidelines for appropriate cleaning/disinfecting of the space prior to departing the room.