Library
The Library will be open Monday through Thursday from 8 a.m. to 8 p.m. and on Fridays from 8 a.m. to 4:30 p.m. and will be closed on Saturdays. Sunday hours are noon to 8 p.m.
For complete information and to access library resources, visit the library website.
 (Page updated 9/9/2021)
Computer Lab Expanded Hours for Students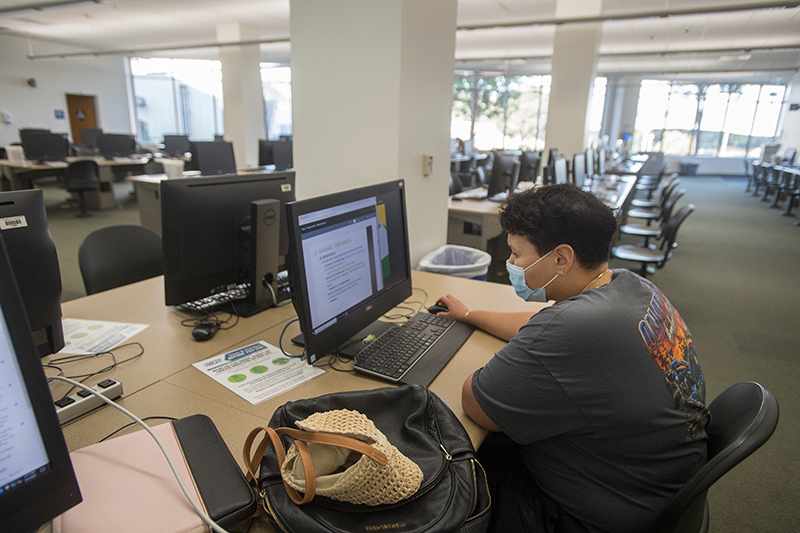 Beginning on Tuesday, Sept. 7, the Bronco Computer Lab located on the first floor of the University Library will expand its hours and be open 24 hours for six days a week. The computer lab will be open from noon on Sunday through 4:30 p.m. on Friday. The lab will be closed from 4:30 p.m. on Friday through noon on Sunday.
To access the lab, students, faculty and staff must swipe their Bronco ID.
The Bronco Computer Lab is an open lab and is not staffed. During the day and while the library is open Sunday through Friday, library student employees and library staff will walk through the lab at various times throughout the day to monitor use and to clean and disinfect computers and worksurfaces. 
The Computer Lab provides access to both Mac and PC computers and also has worktables. Students can bring their own devices or use one of the workstations in the lab.
Students may bring their own headsets with attached microphones or earphones to plug into the computers. For those without a headset, the library can loan a set to students for overnight checkout.
The Computer Lab has restrooms and emergency phones. 
Students using the lab are required to wear a mask at all times and practice social distancing when possible. 
Disinfecting wipes are available throughout the lab. Individuals should use the wipes to clean and disinfect the work surface, computer keyboard and mouse BEFORE using the workstation.
Student health ambassadors will clean and disinfect worksurfaces and computer keyboards. Facilities will provide cleaning during the early morning hours for the restrooms. 
If you have questions, please contact Pat Hawthorne, University Library Dean, via email at pthawthorne@cpp.edu or via phone at 909-869-3968.