Highlights of the 2018 Alumni Panel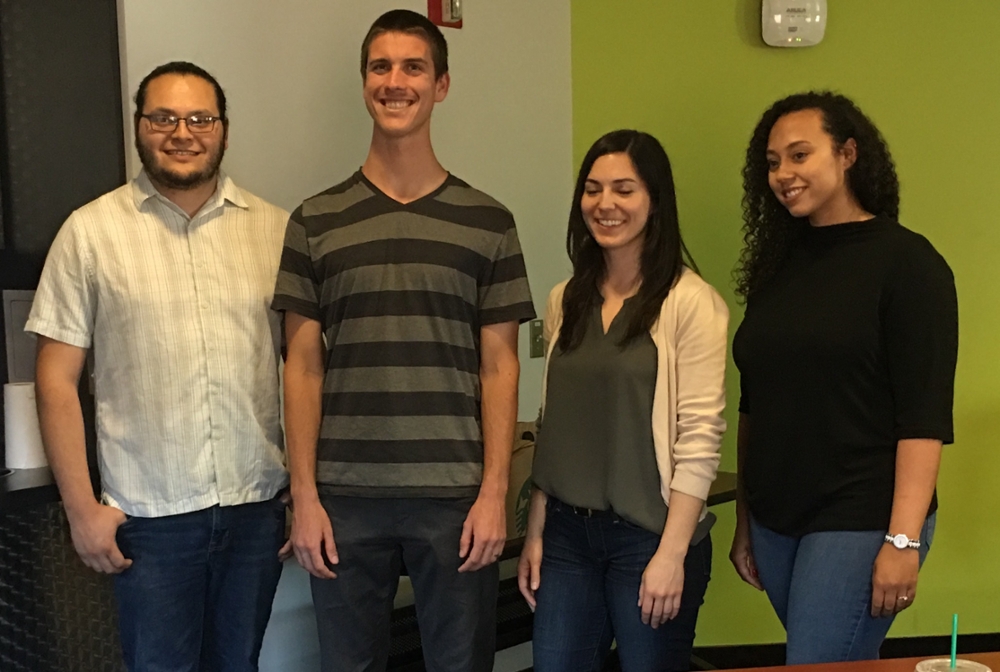 2018 Physics and Astronomy Alumni Panel brought together four recent alumni on Friday, April 13. As usual, the alumni answered questions about their careers, how their Physics degrees helped them, and their advice for the current students. Physics students, faculty, and the Dean of College of Science Dr. Alison Baski were in attendance. 
The four Physics alumni on the panel this year were:

Rachel Ulanch: Optical Engineer at Microsoft, Class of 2013

Justin Francis: Application Engineer at Supply Chain Optics, Class of 2015

Tyler Hernandez: Physics Teacher at Oaks Christian School, Class of 2012

Lindsey Kabot Hopwood: Sales Application Engineer at Fluid Components International, Class of 2014

The alumni first answered some general questions, and addressed the questions posed by the students and the faculty. 
What is your current or most recent responsibility in your job?
Tyler: I am teaching, and also working on a new Engineering education program.
Justin: Designing optical components and visiting customers
Rachel: Microsoft's augmented reality product. I am currently looking at various suppliers.
Lindsey: Talking to customers and discussing applications.
How did you find your first job?
Justin: Optical Society of Southern California meetings helped with job landing
Rachel: OSSC Meetings.
Lindsey: LinkedIn. We created a LinkedIn page in the LSAMP program. 
Tyler: Online search, Monster. Solar city. Then teaching certificate, and after that got the teaching job quickly.
What kind of professional development have you done in your job?
Rachel: CAD work.
Lindsey: Business and marketing from other colleagues on the job.
Tyler: Teaching credential and now masters on e-teaching. 
Justin: Online course at UCI extension.
What is your advice for our current students?
Lindsey: Develop communication skills.
Tyler: Do the teaching program at Cal Poly Pomona, if you are interested in teaching. Volunteer to do classroom teaching. 
Justin: Public speaking.
Rachel: Take classes in optics. Mechanical Engineering skills. Diverse projects. Learn how to explain your ideas to people with various backgrounds.
Please tell us about the interview process during a job application.
Lindsey: Explain how your physics degree apply to the job.
Rachel: Learn about the company and people who will interview you.
Tyler: Physics degree may be in black holes (laughing) Need to make the interviewer see the relevance
Rachel: At Microsoft they asked very detailed information on any item on the resume.
What could have been better at CPP?
Rachel: More presentations
Lindsey: Interview skills. Resume building support.
Then alumni took questions from the attendees. Overall, it was another great alumni event.