Chris Macias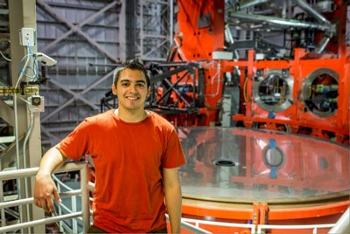 Chris is a Physics major who spent the summer of 2013 in the CAMPARE program working at the University of Arizona Steward Observatory. Not until recently did he start becoming really fascinated with astronomy and astrophysics. Once becoming part of the CAMPARE program he traveled to Tucson, Arizona, excited to enhance his knowledge of astronomy and astrophysics. This is his story
During the summer of 2013, I had the opportunity to work for the Steward Observatory at the University of Arizona. I worked with my mentor Dr. Josh Eisner and a graduate student, Steph Sallum, on taking obliquity measurements from starspots in the GJ1214b exoplanetary system. Once I first heard my project, I was not too sure of what it meant and I was eager to find out. When I arrived at The University of Arizona, I quickly realized that this university is truly THE place for astronomers.  Not only is it much darker than any other city I have ever seen, you are in reach of many different mountains with high elevation- perfect for observing.
My summer started off to a great start, I couldn't believe I was already going on my first observing run the first week I got there. I felt like a true scientist - that was an experience I will never forget. Not only did I learn a lot more about astrophysics/astronomy, but I also had to become very familiar with python, a computer programming language, which increased my computer programming skills significantly. Also, my appreciation for programming grew a lot more; it is amazing to see how much it helps with research. Besides having a great research experience during the summer of 13', traveling somewhere far away from home and living on my own was an experience in itself. To top it off, it was paid for! Oh, and I won't forget all the amazing tours (some private!) we got to go on. Seeing telescopes such as the LBT (Large Binocular Telescope) is something words cannot describe. 
All in all, my summer in Tucson, Arizona was one I will never forget. I met so many new people, friends, advisors, graduate students, astronomers, astrophysicists, and much more that were always willing to lend a hand and always good company. I am very grateful I had this opportunity and I am excited to continue on with my research.