Chrystin Green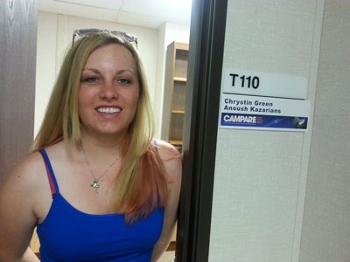 Chrystin is a physics major at Cal Poly Pomona. This upcoming year will be her junior year in the physics department. She aspires to get her PhD in physics and become a professor at a university. She has spent the last three months in Arizona doing astronomy education research with the CAMPARE 2013 program under the advisement of Gina Brissenden, Ed Prather and Colin Wallace. At the beginning of her time in Arizona she spent the month of June at Kitt Peak as a counselor for Don McCarthy's astronomy camps. This is her story. 
This summer has been full of learning opportunities, fun times, and interesting people. My summer started out with three astronomy camps with Don McCarthy as the director (He is absolutely amazing! I mean, he was the first one up and the last one to bed, and he always understood when campers were tired or upset or sick). I had the privilege of working as a counselor for each of those camps. The campers were amazing! I loved working at camp, even though it meant that I was sleep deprived to the point of sleeping wherever and whenever I got the chance (even on the floor of telescope domes). Most astronomers look at computer screens all day, but while I was at camp, observing was something that we did nightly. I cannot even count how many times and through how many telescopes I gazed upon Saturn and its moons.
By the beginning of July, when camps were over, I ventured to the University of Arizona where my research began. I had the utmost privilege to get to work with Gina, Ed, and Colin. My group was so fun, and I learned so much from each of them. Sometimes it was about the research I was doing, but other times it was about working in a group or being respectful about disagreeing with your fellow group mates. Our debates were always heated, but we all walked away still liking and respecting each other. My research with them was based on two survey questions that were asked in a General Education Astronomy 101 class. The questions were designed to find out how the students' worldviews affect how they learn and understand scientific concepts. 
Although I am sad that my time in Arizona is over, the memories, experiences and knowledge that I have accumulated this summer will stay with me forever. I have loved every minute of my time in Arizona. The CAMPARE program has solidified my ideas about becoming a professor and has made me realize that research is something that I am interested in doing. I plan to continue my research in the fall, and I look forward to my continued research and the communications with my group.