Coty Spence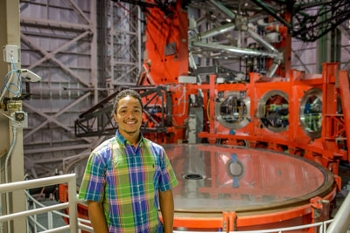 Coty Spence is a physics major who has had a strong interest in astronomy since his childhood. He spent three years at El Camino College beginning his studies in economics before moving towards engineering and eventually physics. Coty now attends UCLA and plans to obtain a Ph.D in astrophysics. In summer of 2013 Coty spent two months in Tucson doing astrochemistry research at the University of Arizona under Dr. Yancy Shirley.
During the summer of 2013, I had the privilege to spend two months in Tucson, Arizona at the famous Steward Observatory. My interest in astronomy developed as a kid merely by reading books and naturally, it led to a profound fascination of physics. After acquiring years of experience doing astrophotography, building my own 8 inch f/7 reflector telescope, and becoming president of an astronomy club, Arizona seemed like an obvious choice.
Working under Dr. Yancy Shirley I entered the world of astrochemistry. Prior to this summer I had no idea such a field of research existed. Not only is astrochemistry a real thing, but it is absolutely crucial in our march towards a greater understanding of the cosmos. My research focused on analyzing the deuterium fractionation in starless and protostellar cores in the Perseus molecular cloud using ammonia as a gas tracer. Chemical models suggest that deuteration occurs under very specific conditions and should correlate strongly with the evolution of young stars. This is the first time a deuterium fractionation study has been done that focused on one cloud and one population of star in the cloud (mostly cold, dense cores in our case). 
The research itself turned out to be quite challenging. My first week consisted of reading several papers (this was very difficult) and getting up to speed on what exactly all this astrochemistry was about. Once that was done I jumped right into a program called Class to reduce and clean up the raw radio data taken on the IRAM 30 meter telescope in Spain by Yancy and his team. After that I spent the next several weeks wrapping my head around, and attempting, graduate level physics and astronomy. This summer was a fantastic learning experience and has made me very excited for my future career in astronomy.
When I wasn't in my office doing research, I was out exploring Tucson or working out in the fantastic gym at the University of Arizona. While in Tucson I went on a few hikes in the Catalina mountains, did some indoor rock climbing, watched the Perseid meteor shower at the base of Kitt Peak, and ate a lot of great food. I grew very fond of Tucson over the summer and can definitely see myself going back there in the future.