Frank Garcia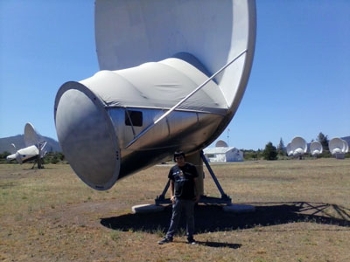 Frank Garcia is an Aerospace Engineering major at Cal Poly Pomona, with a minor and a huge interest in astronomy. He spent the summer of 2013 working through the CAMPARE program at SETI Institute. He worked with Dr. Gerry Harp, analyzing data from the Allen Telescope Array (ATA). His projects included observing blazars, quasars, and a black hole at the galactic center.
The summer of 2013 was the most memorable one to me. I got to work with Dr. Gerry Harp on material that really interests me. I started the summer by learning java programming on my own, and then I got to observe blazars, and afterwards I got to analyze data from the galactic center. The highlight of my work was when I actually got to see what I was working on. I saw the Milky Way center when I went up to the Hat Creek Radio Observatory in Northern California, of course I wouldn't want to see a blazar first hand, since it would be too bright for my eyes. There was nothing as great as being able to see the all the stars in the quiet night sky, while listening to Pink Floyd. I also got field experience while at Hat Creek, since I got to control the telescopes and observe the radio images produced.
The largest of my summer projects was imaging a gas cloud that the Allen Telescope Array (ATA) observed. That gas cloud was falling into a black hole at the center of our Milky Way galaxy, and I was able to produce many months worth of imaging. Within the next few years that gas cloud should "erupt" as it gets torn apart by the black hole. The images I produced had a lot of improvements since I first started working on them. The images that I initially started producing had a lot of "junk", until my mentor and I improved the processing scripts to filter out the baselines from the data the telescopes initially observed. The work is still an ongoing process, but then again, that is what science is all about.
Anything with the word "astro" or "space" has really caught my attention since I was little, and just thinking about the mysteries of black holes, incites that attention. And after this summer I've made up my mind that I want to further pursue astronomy research and go on to grad school. I am very thankful that I got this opportunity to work at SETI, since I never imagined myself to work in this type of environment. Being the first one in my family to go to college, and the first one to be able to have a research experience as amazing as this, is an exhilarating opportunity.
There were many opportunities to meet interesting people this summer, including Jill Tarter, who is known as the face of SETI, for which the movie Contact was based upon. I got to hang out with her for a day up in Hat Creek, and I feel inspired to one day pursue a similar career as her. There was also time to have fun at SETI, as I had a blast hanging out with the rest of the REU students, and you make long lasting friendships over the summer, whether you want to or not.