Gabriela Serna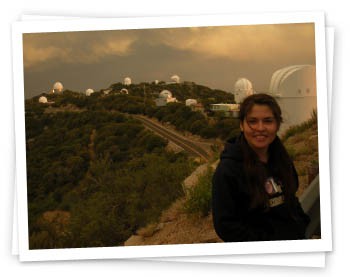 Gabriela is working on a physics major and math minor at California State University, Fullerton. Her true passion lies in astronomy and she hopes to, one day, become a professor of physics or astronomy to share her passion. In the summer of 2012, she participated in a two-part summer REU in Arizona. For the first part of the summer, she worked with Dr. McCarthy as a counselor for the Astronomy Camp at Kitt Peak National Observatory, and for the second part she worked with Dr. Prather and Dr. Brissenden at Center for Astronomy Education (CAE) in the University of Arizona. This is her story.
In the summer of 2012, I had the privilege of being a counselor for The University of Arizona Astronomy Camp directed by Dr. Don McCarthy. This is a program that invites students of various ages to learn about astronomy at Kitt Peak National Observatory. I was a counselor for three camps: Beginning, Tecnologico de Monterrey (TEC) School, (from Hermosillo, Sonora, Mexico), and Advanced Astronomy camps. I loved the experience of being able to get the students involved and interested in astronomy. I was able to help my groups of students with various tasks as well as answer questions about spectrums, constellations, moon phases, etc. Some of the girls also had questions about college and pursuing a degree in physics/astronomy, which I found myself getting excited answering, partly because they were considering physics/astronomy, and partly because, as a girl myself, I had my fair share of advice. We also visited the Pima Air and Space Museum, the Steward Obervatory Mirror Lab (where they made the 8 meter mirror for the Giant Magellan Telescope), and the Large Binocular Telescope (we had a slumber party there!). This experience was most fun and gratifying. Even though I was a counselor, I felt like I was a camper because I learned so much from Dr. McCarthy. His passion for astronomy is very contagious!
For the second half of the summer, I worked with Jeff Eckenrode (a grad student), Dr. Prather and Dr. Brissenden at the University of Arizona. This project involved analyzing students' written answers from the Lecture-Tutorials, given to them in Astro 101. We worked with rubrics which were specific to each question, and graded the answers for coherency and correctness. The goal was to see whether the coherency and correctness are correlated to students' achievement on difficult topics in Astro 101. I really like what Dr. Prather and Dr. Brissenden are doing for astronomy education. They have instilled a high-level of interactivity in their course to help the students actually learn astronomy, and not just memorize answers. I hope to become an astronomy or physics professor in the future, and I really plan on using their very effective methods! The most exciting thing that happened was that the beginning astronomy campers got the opportunity to witness the rare transit of Venus. We met up with some astrophotographers who let the students look through their equipment. This was an amazing experience. I was in awe as were many of the students!
We spent many nights up late (sometimes later than we wanted due to the eagerness of the students to keep working), in the freezing cold domes and windy outsides, but it was such a rewarding experience. I don't think I had ever seen so many stars out; we could even see the milky way. During those nights I spent gazing up at the stars (and many shooting stars), I decided I was in the right field, astronomy is definitely my passion.