Greta Cukrov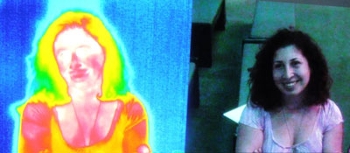 Greta is majoring in Physics and minoring in Mathematics and German at San Jose State University. She spent the summer of 2013 working at Jet Propulsion Laboratory (JPL)/Caltech sponsored by the CAMPARE program. Greta was part of the WISE (Wide-field Infrared Survey Explorer) group, where she worked with Dr. Amy Mainzer searching for the most hazardous Near Earth Objects such as asteroids and comets. This is her story:
During the summer of 2013, I had an exciting opportunity to conduct research at JPL and Infrared Processing and Analysis Center (IPAC). My purpose was to discover many more Near Earth Objects (NEOs) such as asteroids and comets. NEOs are being discovered using the thermal infrared observations from Wide-field Infrared Survey Explorer's (WISE) NEOWISE project. I analyzed over 400 objects and discovered around 40 asteroids. The results of my work were included in the paper that was submitted to the Astrophysical Journal.
The most challenging part of my research with Dr. Mainzer is to be able to distinguish an asteroid from a background noise with a naked eye. The second challenge was working with the code that was written by the WISE group in Python, since I had no background knowledge in programming. When looking at many fuzzy pixels on the screen, at times, it is very hard to identify if a bright in an image is a star, a cosmic ray, a comet or an asteroid. Also, rarely, some errors came up during the process of running the algorithm. However, we were always successful in resolving those types of issues, since there are a lot of knowledgeable people in the WISE group, who are always eager to help.
Throughout the internship, I learned a lot about Astrophysics, data analysis, image processing, and programming in Python language. The skills I learned with Dr. Mainzer will definitely be useful for me in the future. I am planning to apply to graduate schools this year in order to attain my doctorate degree. Everyone in the WISE team was very encouraging about my plans about graduate school by giving me the best advices and help. The best part of my research experience this summer was the fact that I got to work on a very interesting project with great group of people. I was given an opportunity to present my work and write reports. Besides that, I got to network with a lot of people at JPL, IPAC, and Caltech. I made a lot of friends with whom I intend to keep in touch in the future. I am very grateful to CAMPARE program for their support and the opportunity to learn more and live at Caltech!