Jill Walker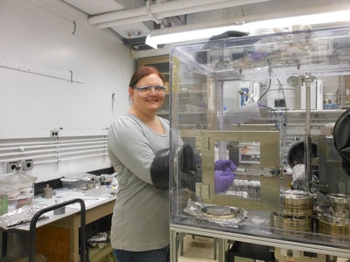 Jill is a double major in Zoology and English Language and Literature, and she spent the summer of 2013 in the CAMPARE program working at the NASA Ames Research Center. Her project, OREOcube—shorthand for ORganics Exposure in Orbit—will examine the reaction of an organic thin film with a metallic thin film catalyst in space radiation environments. Jill will pursue a PhD degree following her graduation in Spring 2014.
During the summer of 2013, I was fortunate enough to work with Dr. Richard Quinn on the OREOcube project at NASA Ames Research Center. OREOcube, an exposure experiment bound for the International Space Station, is unique in that it will allow scientists to take spectroscopy measurements of isolated reaction cells in real time; this will give us a better understanding of the nature of chemical reactions in the space radiation environment.
Most of my work this summer involved either characterizing windows that had been deposited with optical thin films or assembling the reaction cells themselves. This was a very satisfying part of the research process for me because there was a tangible, physical product to show for all of our efforts.
Films were deposited on either MgF2 or Al2O3 windows. The inorganic thin films deposited were hematite, magnetite, chromium oxide, titanium oxide, or iron-nickel; the organic thin films deposited were iron tetraphenyl porphyrin (FeTPP), isoviolanthrene (IVA), or anthrarufin. To characterize these windows, spectra were collected and recorded. The quality of these spectra, along with the quality of the windows and films themselves, determined which were selected for assembly into flight cells.
The assembly process took approximately one hour per cell and was followed by leak testing, which averaged forty minutes per cell. Although sealing is a time consuming process, over one hundred cells were sealed this summer and a significant portion of those were leak tested as well.
This internship immersed me in an intense, collaborative research environment and exposed me to the demands of a project on deadline. I found this to be an enlightening and valuable experience, and my favorite part was discovering how valued an interdisciplinary approach was; as a student with a broad foundation in many subjects, I was reassured in my decision to pursue a career in an interdisciplinary field. I am so glad and so grateful to have been a part of this program and cannot wait to apply what I've learned in my studies and my career.