Matt Young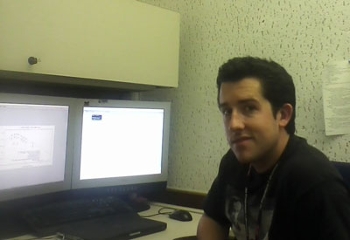 Matt is a physics major at California State University Los Angeles. Interested in physics(of course), mathematics, neuroscience, programming, and evolutionary biology among other things. During the summer of 2013 he had the privilege of working as an intern at the Jet Propulsion Laboratory in Pasadena, California. Working in the observational astronomy/astrophysics department he got hands-on experience about the day-to-day life of a research scientist.
This summer I had the great opportunity to work alongside Dr. Raghvendra Sahai in the Planetary Science/Astrophysics Division at the Jet Propulsion Laboratory. Not knowing quite what to expect before arriving at JPL I was pleasantly surprised when I got to sit down in my own office and work on projects that not only tested (and extended) my research abilities, but also helped further the scientific knowledge-base of mass loss in red giant stars.
One of Dr. Sahai's many projects is working to uncover the relationship between a star's mass loss with its temperature and luminosity (brightness). As a star ages it will undergo different phases during its evolution. For instance a star like our sun (and up to 8 times our Sun's mass) will eventually —after billions of years- end up as a red giant. As these giants age further they begin to eject some of their mass into the interstellar medium. The physical process by which this occurs is not known to date, nor is the specific point in the star's life when this process begins to accelerate. By extracting data from Spitzer (space telescope) which was observed in three globular clusters at the center of the Milky Way, I utilized a great deal of programming to analyze which stars had statistically valid data. Once finding the relevant stars I utilized more programming that created plots based on specific stellar characteristics. After fitting these relationships to equations and comparing them to previous literature I was able to see that we were on the right track to getting enough data that could help further the knowledge of red giant evolution.
The thing that was the most unexpected (and also the most enjoyable, surprisingly) part of my summer was the amount of programming I would have to perform. Before showing up at JPL I had only a minor interest in computers and computer programming but after working here for ten weeks I think I've found the next step in my academic career... software engineering/analysis. Speaking with Dr. Sahai over the telephone before my internship began I was told of a steep learning curve that I would be coming up against, man was he right. Although it was difficult at first I did manage to get the hang of it and now feel much more confident with my research abilities and programming capabilities than I could have dreamed I'd been in the beginning.
This summer has been an invaluable experience for me. So much so, that I am sad to be leaving JPL. But now that I know where and what I'd like to do I can definitely see myself returning for a fulfilling career.