Rachel Hatch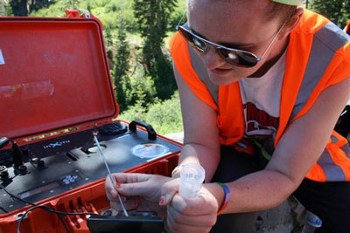 Rachel is a geology major, with an emphasis in Geophysics at Cal Poly Pomona. She spent the summer 2013 in the CAMPARE program at working at SETI/NASA Ames Research Center in Mountain View, CA. She worked with Dr. Cristina Dalle Ore on using Vims data from the Cassini mission to study one of Saturn's icy moons, Enceladus. Here is how her summer went:
This summer, I got the amazing opportunity to work as a research assistant at NASA Ames Research Center/SETI Institute in Mountain View, CA. I got to learn and experience so much in just a short ten week period here. My specific project was on the icy Saturn moon, Enceladus. I used infrared data to analyze the spectral properties (didn't even know what these were before this summer!) of Enceladus' Tiger Stripes in the south polar terrain. The Tiger Stripes on Enceladus are basically fractures which act like cryovocanoes and spew gas and ice into space! I got a chance to learn several different programs including ENVI, ISIS3, IDL, and Linux. Using those programs, I created mosaics, which act like pieces of a puzzle that the programs would fit together. I actually had a great time learning how to use each program and I feel that I'll be able to take the knowledge I've gained into my future jobs, internships, and research.
Overall, the entire summer was incredible. The other interns were great and living at the NASA Ames Lodge was so fun. We got to meet Buzz Aldrin, the 2nd man on the moon, when he came to SETI for a press conference for PayPal Galactic. It was pretty awesome just being in the presence of a guy who has literally been out of this world. One of the best trips we had was the week long trips to Hat Creek Observatory where we got to use the Allen Telescope Array! We used the 42 dishes to run experiments and look for objects in the sky. We also got to visit Lassen Volcanic National Park and look at some extremophiles and some geology (Yay geology!). I even got a chance to use the same X-Ray Diffractor that is currently on MARS, which was especially cool. But the best part of this trip was watching the movie Contact with Jill Tarter. It was so cool having her commentary going along with the movie because we learned so much more about what was going on back when SETI was just getting started.
I actually looked forward to coming into work every day and being around such intelligent people. Being in such a great learning environment, I was just hoping to soak up as much information as I could. This program has inspired me to go for my Ph.D. and makes me want to continue to do research Planetary Science. With all of the new information coming in from the different missions, it's a very exciting time to be doing planetary science! I can't thank the my mentor, and everyone involved in the CAMPARE program enough for giving this amazing opportunity!