Serge Ossipian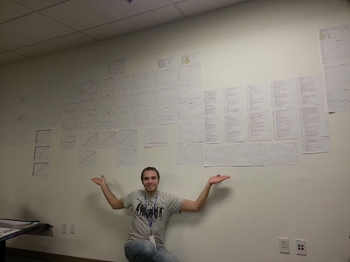 Serge is a CalPoly Pomona student majoring in Electrical Engineering and pursuing a minor in Physics. He spent the summer of 2013 working at the SETI Institute under Dr. Adrian Brown, as part of the CAMPARE program, examining snow metamorphism patterns on the northern polar regions of Mars, using a computer model. This pattern was then compared with existing CRISM (Compact Reconnaissance Imaging Spectrometer for Mars) data to assure the accuracy of the model.
During the summer of 2013, I had the pleasure of working with one of the SETI Institute scientists, Dr. Adrian Brown, who has an Electrical Engineering degree, Masters in Computer Science, and his PhD on Earth and Planetary Science. As an Electrical Engineering student, it was a great opportunity to learn from and work with someone who has such vast knowledge of fields I am interested in. I felt outside of my comfort zone when the project was introduced to me in the format of "snow metamorphism" and "Mars", which I knew absolutely nothing about. Fortunately my mentor was very helpful and understanding of this, and made sure I had enough information to read to get familiar with the science that I would be using during the summer, before I got to SETI.
The northern pole of Mars is the most dynamic part of the red planet, changing almost every day. This makes the area an interesting place for research. My project involved extrapolating meteorological data from the Mars-GCM (General Circulation Modeling) and using a computer model called SNTHERM89 to determine the change in snow grain size in the northern region. The model was initially intended for Earth conditions, so I spent the first few weeks tweaking the FORTRAN code and the input files to match Mars conditions. I changed one parameter at a time, until I was able to get acceptable results, and then moved to the next parameter. Some of the variables I played around with were atmospheric pressure, albedo, relative humidity, radiation levels, initial temperatures, initial grain size, water content, different types of soil, sub partitions of each soil and its thickness.
This summer, I met so many famous and influential scientists, made new and awesome friends, conquered some challenges, all while enjoying the beautiful bay area weather. I explored so many uncomfortable and uncharted territories, such as stepping into the field of Geophysics. It was very invigorating working with my peers, doing what they love at a place that very few people get to be. I learned a lot from the colloquium series, as SETI invited scientists every week for an hour as they talked about their research in their field. It was fascinating hearing life stories from different scientists and learning about the projects they were working on. During our week long field trip, I enjoyed seeing the Allen Telescope Array in Hat Creek, hiking up Cinder Cone while learning about rocks and volcanoes, smelling the sweet aromas of Bumpass Hell and Sulfur works and then controlling an XRD (X-Ray Diffraction) with my smartphone.
Altogether, this was an amazing summer that I shall never forget.