William Nolan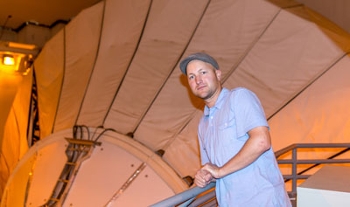 William is a physics major headed to UC Santa Cruz. He went back to school to indulge a longstanding curiosity about math and physics, and developed a keen interest in astronomy along the way. William spent the summer of 2013 in Tucson, Arizona as part of the CAMPARE program studying exoplanets via the transit method with Dr. Daniel Apai. This is his story.
This summer I was greeted with an amazing opportunity. I was given the chance to participate in research at the University of Arizona's Steward Observatory under the guidance of Dr. Daniel Apai. My research involved the use of the transit method to detect and study exoplanets (planets that orbit a star other than our sun). It is a somewhat nascent field in astronomy garnering more and more attention in recent years. The focus of much of my time here was on gathering and reducing data on the transiting exoplanet, GJ1214b, which is a super-Earth orbiting an M-dwarf star. I found the fact that you can detect a planet 40 light years away solely by examining the light curve of its parent star to be a mind-boggling concept, but there I would find myself, staring at the undeniable fingerprint of a distant planet. It was almost surreal.
My summer started with an observing run up to Mt. Graham where, along with one of Dr. Apai's graduate students, I took data at the VATT (Vatican Advanced Technology Telescope). There was no telescope operator on duty so it was a very hands-on experience, one I won't soon forget. I also took data from super-LOTIS, an automated telescope on Kitt Peak. And then began the process of making sense of it all. Ah, the programming: endless hours of frustration punctuated by brief moments of elation. As someone with no real previous research experience, I found the autonomy of the process at times overwhelming, but ultimately quite rewarding. Research doesn't come with a solutions manual. I was forced to think through problems and come up with my own solution.
The summer also featured quite a few outings that were really quite fascinating. We toured the mirror lab on the campus where some of the most sophisticated telescopic mirrors in the world are crafted. At the time of our visit they were working on one for the Giant Magellan telescope down in Chile. I also got to tour several of the telescopes on Kitt Peak including the Mayall 4-meter, and headed back to Mt. Graham for a chance to nose around the LBT (Large Binocular Telescope). That was pretty incredible. Dr. John Beiging even arranged a special viewing of some rare astronomy books housed at the university library. I was able page through an almost four hundred-year-old book containing Kepler's Rudolphine tables, and they even had a copy of Newton's Principia Mathematica. It was amazing. I'm truly grateful to CAMPARE and everyone ate Steward Observatory for making this summer possible.