CAMPARE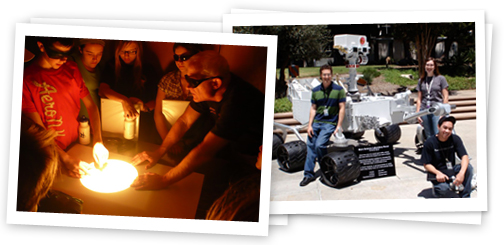 Program Description
Participate in cutting edge research in astronomy, planetary and space science, astrobiology, and astronomy education and public outreach at one of eleven world-class research institutions. The CAMPARE program is a network of community colleges and comprehensive universities in California from which students are recruited to participate in undergraduate research projects for 10 weeks in the summer. Students are paid a stipend, and travel and housing expenses are included.
To learn more about the research opportunities offered by the CAMPARE program, visit our CAMPARE research opportunities pages (navigation at right).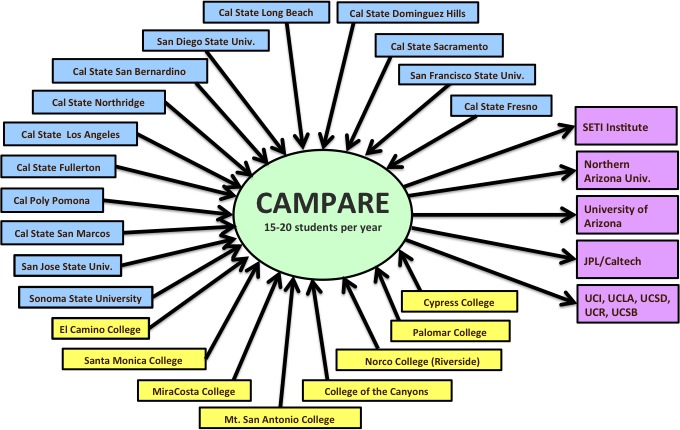 Program Details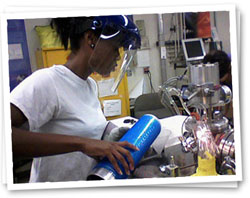 What is it?
Students will work for 10 weeks in the summer with scientists at one of 11 world-class research institutions on projects spanning the fields of astronomy, planetary and space science, astrobiology, and astronomy education and public outreach.
Selected students will receive a $5000 stipend for the full 10 weeks. In addition, participants will be provided with housing and travel reimbursement up to $300 for travel from home or campus to the relevant research site.
Who should apply?
Applicants must be United States Citizens or Permanent Residents and at least 18 years of age by the beginning of the program. Applicants must be enrolled in one of the CAMPARE participating institutions at the time of their application. Participants may not have graduated from their 4-year institution before the beginning of the summer internship, but community college students may be in the process of transferring to a 4-year institution.
To be eligible for the program, applicants must have completed a full year of college-level physics by Summer 2016. Preference will be given to students with additional physics coursework. For additional details of expectations and requirements for each site, visit the CAMPARE Research Opportunities pages.
When and How to Apply
Applications will be open December 7, 2015 through February 1, 2016. To apply to the program, fill out the Online Application Form.  In addition, you must ask two faculty members (or others familiar with your academic or work background) to submit letters of reference using the link on the application instructions page.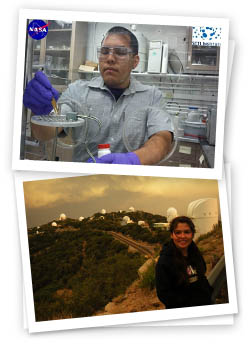 Indicate their names, addresses, phone numbers, and e-mail addresses in your on-line application where appropriate. It is your responsibility to confirm that these letters have been sent and failure to obtain these two letters will render your application incomplete and lead to its rejection without review.
Successful students will be notified in March. The research program runs Monday, June 13th to Friday, August 19th 2016 (10 weeks). The dates of the education/public outreach program at the University of Arizona will determined by the dates of Astronomy Camp and in consultation with the Director, Dr. Don McCarthy.
Contact Information
If you have any questions about the program, please contact the CAMPARE Director, Professor Rudolph.
This material is based upon work supported by the National Science Foundation under Grant No. AST-1322432.