Payment Plan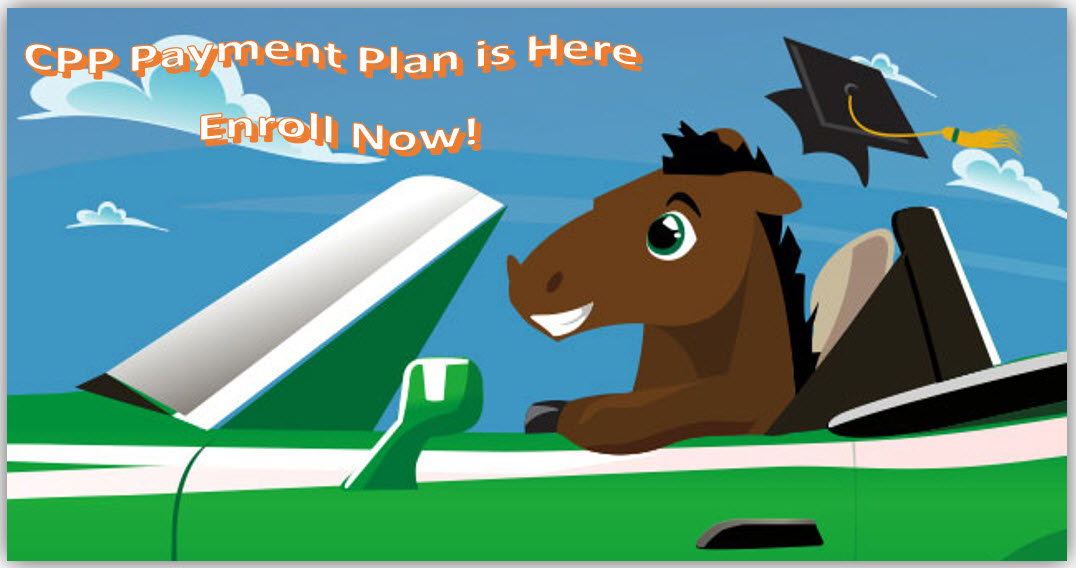 WELCOME TO YOUR CPP PAYMENT PLANS!
CPP payment plans make it easy to plan, budget and pay tuition payments on-time, interest-free, and without any surprises. Students and authorized users can enroll in an available plan and make payments via direct debit from your bank account or by using Visa, MasterCard, Discover or AmericanExpress.
Your Payment Plan Options:

Payments can be made from your bank account (electronic transfer/ACH) or using a credit or debit card. Payments made using your bank account will not incur extra fees. Credit card payments will have an additional 2.75% fee added to your total payment.
All payment plans have a $35.00 enrollment fee.
1. CPP Payment Plan Fall 2020 Due Dates
2. How to sign up for Payment Plans - Students
3. How to sign up for Payment Plans - Parent or Authorized Users
4. Payment Plan Enrollment Step-by-Step Instructions
5. Making a One-Time Payment on a Student Account
6. Can I enroll in a plan before I have an account balance for the semester?
7. Can I still enroll in a plan if I have Financial Aid?
8. What payment methods can I use when enrolling in my CPP payment plan?
9. Can I pay by cash if I signed up for a payment plan?
10. When will my payments post to my student account?
11. Can my family or other authorized users have access to my Student Account?
The CSU makes every effort to keep student costs to a minimum. Fees listed in published schedules or student accounts may need to be increased when public funding is inadequate. Therefore, CSU must reserve the right, even after fees are initially charged or initial fee payments are made, to increase or modify any listed fees.  All listed fees, other than mandatory systemwide fees, are subject to change without notice, until the date when instruction for a particular semester or quarter has begun.  All CSU listed fees should be regarded as 
estimates
 that are subject to change upon approval by the Board of Trustees, the Chancellor, or the Presidents, as appropriate.  Changes in mandatory systemwide fees will be made in accordance with the requirements of the Working Families Student Fee Transparency and Accountability Act (Sections 66028 - 66028.6 of the Education Code)