Payment Plan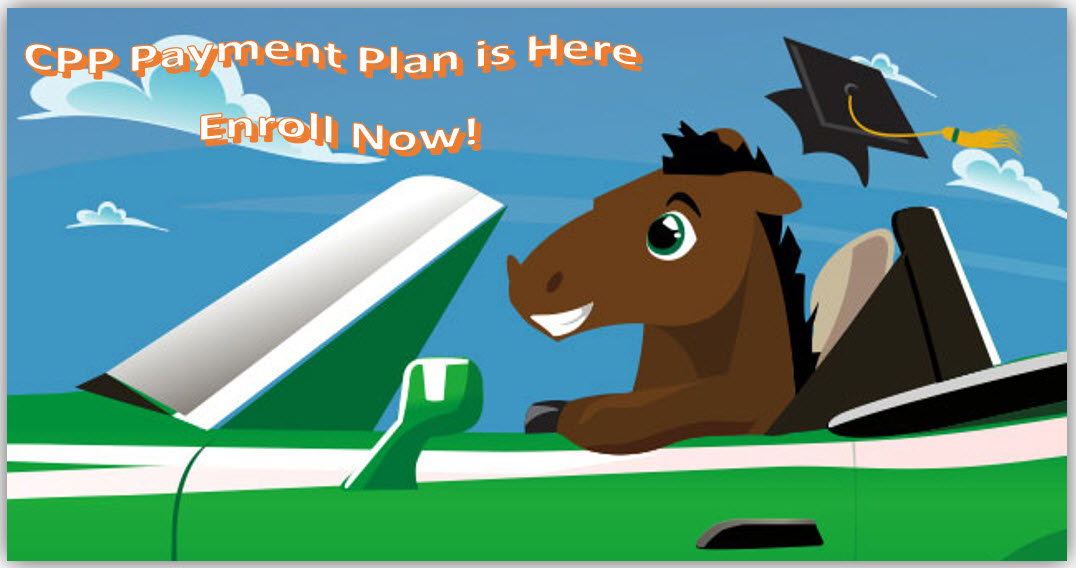 WELCOME TO YOUR CPP PAYMENT PLANS!
CPP payment plans make it easy to plan, budget and pay tuition payments on-time, interest-free, and without any surprises. Students and authorized users can enroll in an available plan and make payments via direct debit from your bank account or by using Visa, MasterCard, Discover or AmericanExpress.
Your Payment Plan Options:

Payments can be made from your bank account (electronic transfer/ACH) or using a credit or debit card. Payments made using your bank account will not incur extra fees. Credit card payments will have an additional 2.75% fee added to your total payment.
All payment plans have a $35.00 enrollment fee.
Fall 2021 Plan
| | |
| --- | --- |
| 03/30/2021 – 04/15/2021 | Down Payment + 5 |
|  4/16/2021 – 5/15/2021 | Down Payment + 4 |
| 5/16/2021 – 6/15/2021 | Down Payment + 3 |
| 6/16/2021 – 7/15/2021 | Down Payment + 2 |
| 7/16/2021 – 8/15/2021 | Down Payment + 1 |
2. How to sign up for Payment Plans - Students
3. How to sign up for Payment Plans - Parent or Authorized Users
Students must grant parents or other payers access by setting them up as an Authorized User following the steps below. Authorized users may view student account activity, make payments, and set up payment plans.
Visit "https://www.cpp.edu/student-accounting/" site and click on "Enroll in a Payment Plan" link.  
Click the Authorized Users link in the My Account menu.
Click Add Authorized User near the bottom of the window.

Enter the email address of your authorized user.
An automated email including a link, username and temporary password will be sent. Your authorized user will use this information to log in and set up his/her profile.
After set up, all authorized users making tuition payments on your behalf will access the system directly through the dedicated Authorized User access. (add Authorized User link here)
**Please be aware that parents or authorized users will not have access to invoices or payment options until they are added to your account. Authorized users will not be able to view any other student information from this access.
Separate Authorized Users
If a student has two parents who would each like to pay separately on a plan, it is suggested that the student sign up for the plan initially and then give access to each parent as an authorized user. Each parent will pay his or her agreed upon portion of the plan each month
4. Payment Plan Enrollment Step-by-Step Instructions
   Enrolling in CPP Payment Plan
During the enrollment period for payment plans, follow the instructions below:
Visit "

https://www.cpp.edu/student-accounting/

" site and click on "Enroll in a Payment Plan

"

 link. 

Click 

Payment Plans

 tab

Click 

Enroll Now

Select the 

Term

, review and select an available plan

Click 

Continue

You will see a summary of charges and credits that are eligible for the plan

Click 

Display Payment Schedule

. Payment amounts and due dates will display

Click 

Continue

In the Payment Method list, select the preferred payment method. Options are:

New Electronic Check

Credit or debit card

Previously stored information
If scheduled payments are required, the $35.00 enrollment fee will be charged immediately, and monthly payments will automatically post on the due dates. 
Read the Payment Plan Agreement

Click

 I Agree 

Click 

Continue

Read the ACH agreement and click the, 

"I agree to the above terms and conditions

" box

Click 

Continue 
Additional charges, adjustments or payments on the student account that occur after enrollment in a payment plan may result in an adjustment to your plan. If this occurs, an email will be sent explaining the effect on the payment plan amounts.
More details at
https://www.cpp.edu/student-accounting/tutorial/payment_plan_intructions.pdf
5. Making a One-Time Payment on a Student Account
Visit "https://www.cpp.edu/student-accounting/" site and click on "Enroll in a Payment Plan" link.  
On the My Account tab, click Make a Payment.
View your current balance, and click Make a Payment
Click the checkbox beside the term for which you are paying;enter the payment amount

Click Continue.

Select the payment method (electronic check or credit card) click Select.

Follow the prompts to enter your account info and process the payment.
Payment Plans Support number: 833-269-3675
Students and their authorized users can call this dedicated phone line for further assistance during payment plan enrollment, management, as well as for any support needed throughout the semester.
6. Can I enroll in a plan before I have an account balance for the semester?
Absolutely! With this payment plan, you can select the estimated payment plan. This allows you to enter in an estimated amount for tuition and make your first payment. If your account balance changes once you have registered for classes, the system will automatically update your payment plan balance.
7. Can I still enroll in a plan if I have Financial Aid?
Yes! At enrollment, the payment plan is calculated on the balance owed after all payments and/or financial aid credits are deducted from the amount due. Financial aid awarded after the initiation of the plan reduces all installments equally.
8. What payment methods can I use when enrolling in my CPP payment plan?
You can sign up for a payment plan and pay via electronic check, credit or debit card. There is a 2.75% service fee for credit or debit card payments on the total amount you are paying.
9. Can I pay by cash if I signed up for a payment plan?
Payments by cash can be made at the Cashier's office and will reduce your plan amount automatically.
10. When will my payments post to my student account?
Your payments are posted as soon as a payment is processed successfully. It should only take a few minutes.
11. Can my family or other authorized users have access to my Student Account?
Students may setup authorized users to view their billing information and/or their student bill on his or her behalf. Please note that, in accordance with FERPA, this does not allow the authorized user to view the student's academic records, course schedule, or other personal information. Authorized users may view student account activity, make payments, and set up payment plans.
Students cannot make payments toward a plan set up by an authorized user. If your authorized user enrolled in the plan, you can see it, but the authorized user must make the payments.  Payments thru BroncoDirect will reduce your plan amount automatically
The CSU makes every effort to keep student costs to a minimum. Fees listed in published schedules or student accounts may need to be increased when public funding is inadequate. Therefore, CSU must reserve the right, even after fees are initially charged or initial fee payments are made, to increase or modify any listed fees.  All listed fees, other than mandatory systemwide fees, are subject to change without notice, until the date when instruction for a particular semester or quarter has begun.  All CSU listed fees should be regarded as 
estimates
 that are subject to change upon approval by the Board of Trustees, the Chancellor, or the Presidents, as appropriate.  Changes in mandatory systemwide fees will be made in accordance with the requirements of the Working Families Student Fee Transparency and Accountability Act (Sections 66028 - 66028.6 of the Education Code)