Photo Contest Overview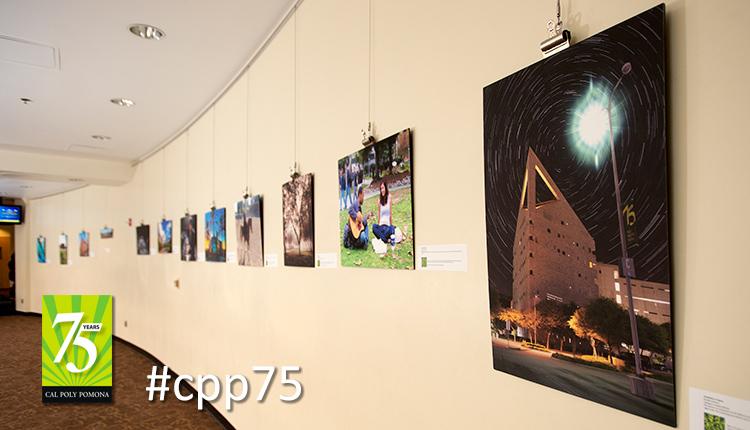 The 75th Anniversary Photo Contest asked for the best photos representing Cal Poly Pomona. The top 15 were displayed in the Bronco Student Center's art gallery in January, and three 3 photos winning the online vote each received a $50 prize.
More than 500 entries were received, and the images show off the beauty of the natural landscape, the excitement of college life, unique architecture, and of course, the many animals that live on campus.
A panel of faculty and staff judges reviewed all the entries and selected 15 photographs for the exhibit. Judges included professors Wayne Rowe and Lorena Turner; university photographer Tom Zasadzinski; Ani Markarian, graphic designer, Michelle Magcalas, online support specialist; and Esther Chou Tanaka, senior communications specialist.
In January, the campus community voted online for their favorite photograph from the exhibit. The top three fan favorite photos each won a $50 Bronco Bucks gift card.
The winning entries are:
Campus Beauty
"October Morning" by Sarah Mansoor
"The Majestic Library" by Orlando Ortiz
"Toward a Bright Future" by Khanh Nga *Winner of online vote*
"Oscillation in Space" by Neil Johnson *Winner of online vote*
"Cactus" by Andrew Paige

Campus Life
"Trilogy" by Robert Brett
"Graceful Resolution" by Spencer Fennik *Winner of online vote*
"The Autumn Muse" by Rhett Villanueva
"Aqua Poly" by Lauren Guteirrez
"Breakfast for the Family" by Darren Isomoto
This is Cal Poly Pomona
"Art Deco Architecture" by Robert Brett
"Focus" by Corey Armend
"A Broader Horizon" by Zoran Liu Moy
"Professor on Piano" by Trevor Henderson
"Welcome to Cal Poly Pomona" by Darren Isomoto