Mission, Vision & Values
Mission
Cal Poly Pomona's mission is to advance learning and knowledge by linking theory and practice in all disciplines, and to prepare students for lifelong learning, leadership and careers in a changing multicultural world.
The Vision of Cal Poly Pomona
California State Polytechnic University Pomona will be recognized as a national leader in polytechnic education, where hands‐on learning is the foundation of a broad‐based educational experience. Our graduates will be distinguished by their understanding of theory, the ability to think critically and the capacity to apply that knowledge in a real‐world setting. Cal Poly Pomona will embrace change, through teaching, learning, and scholarship that continually addresses the needs of a diverse culture and a dynamic economy. Cal Poly Pomona will be a model of a learning‐centered university in all aspects of campus life. The mission of the university will be rooted in our core values:
Core Values
Polytechnic Identity: We take great pride in our polytechnic identity, realizing our exclusive role in higher education. Cal Poly Pomona is responsible to its constituents by providing quality instruction in the unique programs that distinguish the university.
Academic Quality: We are committed to academic rigor and excellence in our teaching, learning, and scholarship. A Cal Poly Pomona education transforms prepared students into successful alumni.
Learn By Doing: We are distinguished by our active, hands‐on approach to learning, both in and out of the classroom.
Teacher-Scholars: We are committed to producing and supporting faculty teacher‐scholars. Developing state‐of‐the‐art facilities will allow faculty to collaborate with students so as to generate knowledge and develop real‐world solutions.
Environmental Sustainability: We recognize our responsibilities to the global community and value the importance of applying and advancing sustainable practices in the classroom and on our campus.
Celebration of Diversity: Cal Poly Pomona embraces diversity as a core value, ensuring that the campus community reflects the state and region it serves.
Learning Outcomes
Through participating in curricular and co-curricular learning opportunities, the graduates of California State Polytechnic University, Pomona, will develop competencies to become:
Practitioners: Equipped with a foundation for growth and professional success
communication skills - using verbal, written, visual and listening skills to communicate persuasively and coherently
interpersonal skills - demonstrating teamwork and leadership skills to achieve common goals
disciplinary learning - applying, integrating, and adapting fundamental information, concepts, theories and methods in their principal disciplines
Integrative Thinkers: Able to apply their knowledge and skills to future challenges and opportunities
critical thinking - thinking clearly and logically to evaluate ideas, analyze and interpret information, and draw inferences through reasoning
problem solving - identifying, formulating, , investigating, and solving quantitative and qualitative problems effectively and creatively
information literacy - locating, assessing, using and communicating qualitative, quantitative and scientific information, among a wide variety of sources, methods, and tools
integrating and transferring learning - making connections across disciplines and between current and new knowledge, and applying that knowledge in professional and community life
Model Leaders: Taking an active role as a citizen in a diverse multicultural environment
ethical understanding - applying ethical considerations in professional, personal and social life
liberal learning - demonstrating knowledge and appreciation of the physical and natural world, and of the development and legacies of diverse world cultures
global citizenship - understanding the responsibilities of being a global citizen and the role of civic engagement in fostering a democratic society
intentional learning - employing self-knowledge of the social and cognitive factors influencing their learning to engage in ongoing reflection and exploration for the purpose of personal development
lifelong learning - pursuing educational interests from previous learning outside classroom requirements indicating intellectual curiosity, energy, and passion in the expansion of knowledge, understanding, and abilities.
Cal Poly Pomona launched a new strategic planning initiative in winter quarter 2016. The Strategic Planning website has been launched, giving the campus community an opportunity to share vital input as Cal Poly Pomona charts a course for the next several years.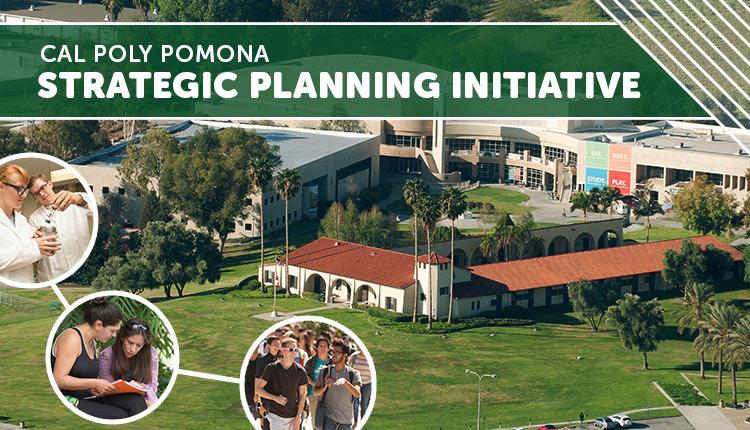 This is Cal Poly Pomona
Discover the university's core principles in this campaign video.
Ask Billy