Shri Shantinath Endowed Chair in Ahimsa Studies
The Shri Shantinath Endowed Chair was established in the Fall 2020 in the College of Letters, Arts, and Social Sciences at Cal Poly Pomona to advance the work of Ahimsa Center in social justice and common good anchored in nonviolence and its positive attributes.  The inaugural chair was held by Dr. Tara Sethia (2020-2022).  The current chair is Dr. Aishwary Kumar (2022-.).
The name Shantinath literally means "master or protector of peace." Within the Jain tradition, Shri Shantinath is revered as one of the twenty-four spiritual teachers, who having overcome the passions of anger, greed, ego, and deceit, showed the path to eternal peace by being an embodiment and exemplar of nonviolence. A 14th century (1397C.E) biographical manuscript titled, Shāntinātha Charitra, handwritten in Sanskrit on palm leaves and illustrated with miniature paintings by the author Ajit Prabhsuri is regarded a global treasure by UNESCO for its artistic and literary rendering of Shri Shantinath's universal message of peace and amity with all. Thus, this name of the endowed Chair will serve as a constant reminder that the goal of ahimsa is peace: peace within, peace without, and peace for all.  The establishment of this chair will not only ensure the continuation and advancement of the Ahimsa Center programs on our campus in perpetuity, but it will do so for the realization of that goal—peace for all.
The chair is endowed by the generous donors, Prem and Sandhya Jain, Jasvant and Meera Modi, and Bipin and Rekha Shah.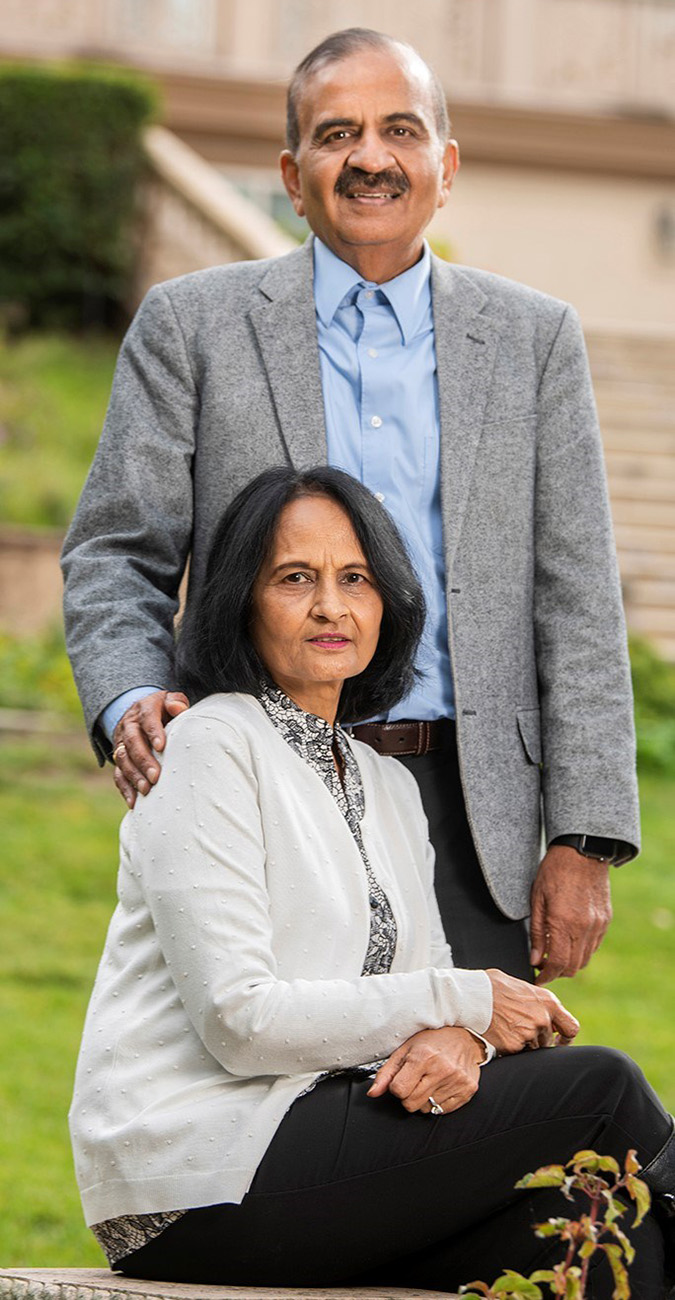 Prem and Sandhya Jain
Prem Jain is the CEO and Co-founder of Pensando Systems, a cloud and enterprise data center startup in the SF Bay area. He has served as the President of JAINA, JCNC, and currently chairs JITO, USA. Together with his wife, Sandhya, their two sons, and their spouses, they have started the Jain Family Foundation to support projects that align with values of non-violence, compassion, and service. Prem and Sandhya are actively involved with the Jain community in the US and India and support many initiatives for their benefit. They have endowed chairs at UC Davis, the University of Wisconsin at Madison, and other universities. The Jains are active hikers and love to spend their spare time with their grandchildren.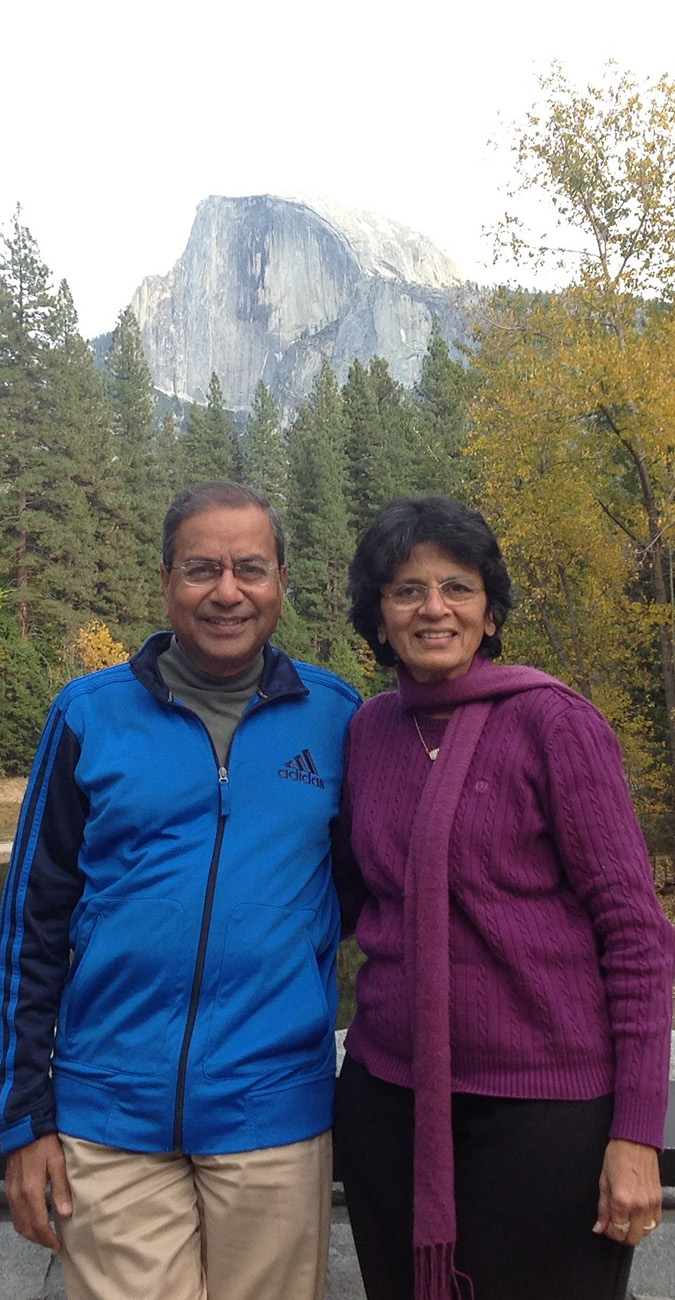 Bipin and Rekha Shah
Bipin Shah is the CEO of Kovair Soft-ware in the SF Bay area. He and his wife, Rekha, live in Lafayette, CA. They have been active in the Jain Center of Northern California, which has also been the recipient of their significant philanthropic contributions to date. In addition, they have supported many educational initiatives anchored in Jain values of ahimsa such as the en-dowed chaired positions in Jain Studies at Florida International University, University of North Texas, and the University of Wisconsin at Madison. They have also sponsored a Plant-based Food Curriculum at Cal Poly Pomona, and support several rural educational initiatives in India. The Shahs have a son, two daughters, and four grandchildren.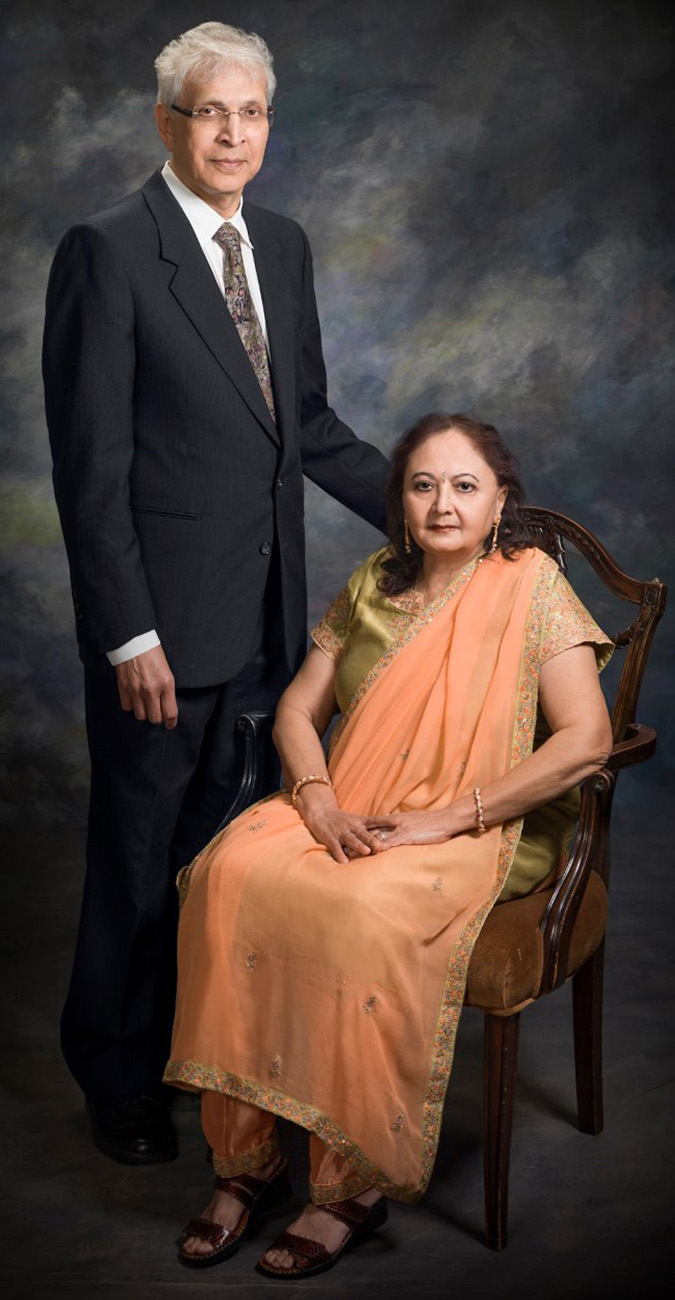 Jasvant and Meera Modi
Dr. Jasvant Modi is a gastroenterologist by profession. Currently, he is in the healthcare business. Dr. Modi has been involved with national and local Jain organizations in leadership roles. His wife, Meera Modi, is also a medical doctor. Their philanthropic initiatives are wide-ranging. Drs. Modi has been involved in supporting more than a dozen endowed chair/professorships in Jain Studies on UC, CSU, and other campuses in the US. They support scores of NGOs and non-profits devoted to education, medical services, women's empowerment, rural development, art, religion, policies and culture both in the US and India. They live in La Canada and have a son and a daughter.