Inaugural Tara and Nirmal Sethia Annual Ahimsa Lecture
Event Info
Date:
April 21, 2023
Time:
4:00pm to 6:30pm
Location:
Kellogg West Conference Center – Dining Room B & C
Ahimsa and Constructive Resistance
by
Stellan Vinthagen
Mohandas K. Gandhi relied on ahimsa in his struggle for India's freedom. In this context, he argued, ahimsa meant not only nonviolent resistance to British colonial rule, but more importantly, a simultaneous commitment to a "constructive program" for building and sustaining a self-governing, and self-reliant India.
Embracing this broader notion of nonviolence, Professor Vinthagen in this presentation will develop the concept and strategy of "constructive resistance." Based on his forthcoming book, Constructive Resistance (co-authored with Sorensen and Johansen), he will illustrate this by drawing upon some of the recent radical movements which fully integrate the construction of nonviolent alternatives with nonviolent resistance to violence.
Reception will follow the Lecture.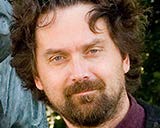 Stellan Vinthagen is Professor of Sociology and Endowed Chair in the Study of Nonviolent Direct Action and Civil Resistance at the University of Massachusetts, Amherst. He leads the Resistance Studies Group at the University of Gothenburg, Sweden and is a co-founder of the Resistance Studies Network, and Editor of the Journal of Resistance Studies.
Vinthagen is a prolific scholar and has published a dozen books and more than hundred articles on resistance power, nonviolent action, and social change. His latest books are Conceptualizing 'Every Day Resistance' (2020) and Constructive Resistance forthcoming (Summer 2023). Vinthagen holds a Ph.D. in Peace and Development Research from the University of Gothenburg, Sweden.
As an activist, Vinthagen has participated in more than thirty nonviolent civil disobedience actions, for which he has cumulatively served more than one year in prison. He is one of the initiators of the European Plowshares Movement which advocates active resistance to war. He is a co-founder of Ship to Gaza Sweden, a coalition member of the Freedom Flotilla to Gaza.
He divides his time between Sweden and the USA. For more, click here.
For questions please visit our
Contact
 page.