Alternative Transportation Committee
About 
Cal Poly Pomona (CPP) operates under a shared governance philosophy — where each member of the community (whether faculty, student, staff, or administrator) has an opportunity to weigh in on matters of policy and procedure. Transportation access, safety and sustainable transportation options have long been critical concerns for the campus.
The purpose of the Alternative Transportation Committee (ATC) is to assist the University in identifying and prioritizing recommended opportunities to improve pedestrian, bicycling, transit and other non-single occupancy vehicle commute modes. It is our goal to provide members of the campus community equal access to mobility options and to help overcome barriers to its use. The Committee shall be responsible for analyzing and evaluating the campus' existing transportation programs and challenges and recommending plans and strategies to increase equitable access, and cost-effective and sustainable transportation options. This Committee shall remain independent from existing campus parking committees. 
News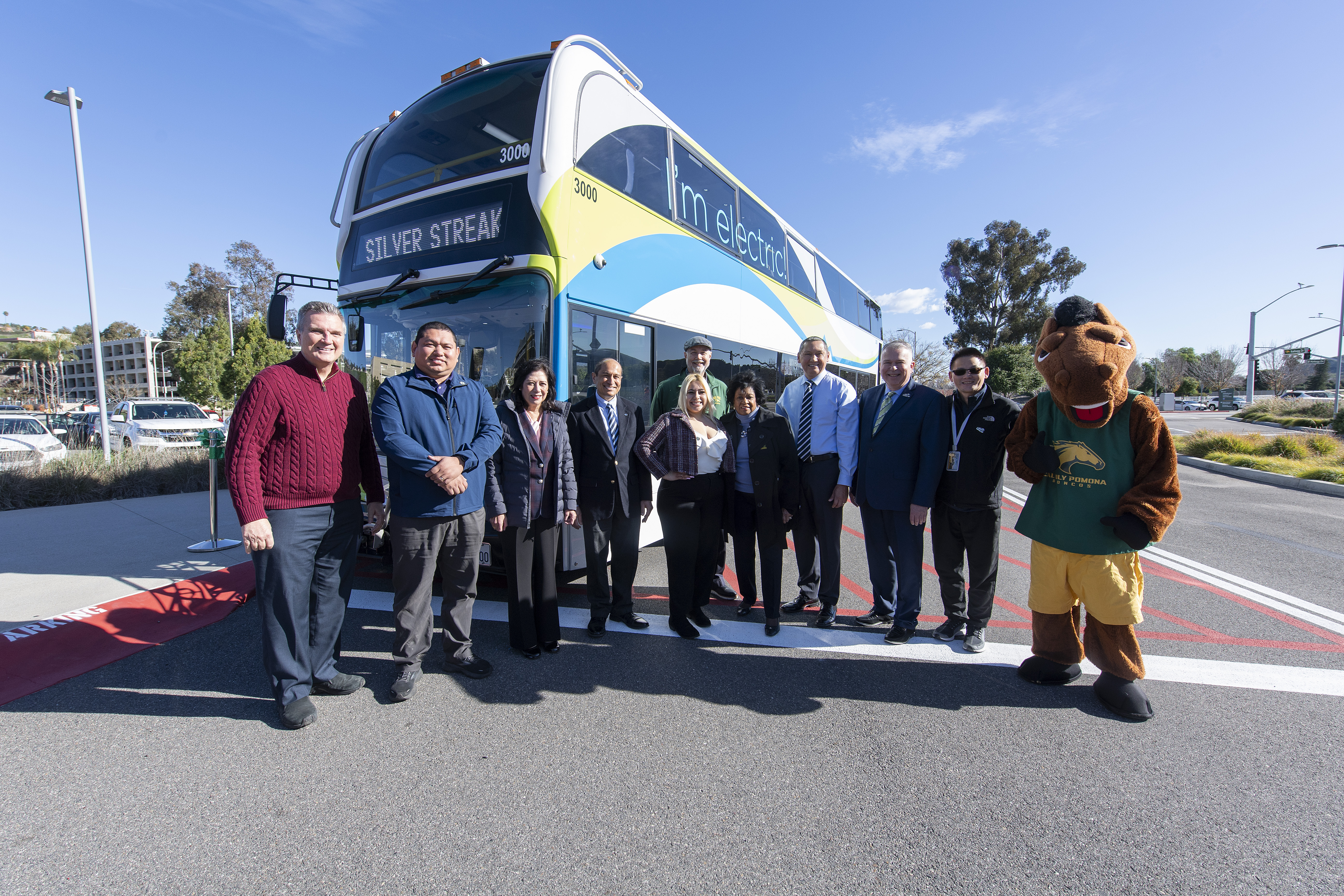 Silver Streak Initiates Campus Route: Foothill Transit and the university officially unveiled the new bus stop for the popular Silver Streak rapid bus line in front of the Student Services Building on Jan. 23. With the Class Pass, all CPP students can ride the Silver Streak for free — as well as any other local bus line operated by Foothill Transit. The Silver Streak is a premium rapid bus line that serves downtown Los Angeles, El Monte, West Covina, Pomona, and Montclair. From this new stop in front of CPP's Student Services Building, you'll be in downtown Los Angeles within an hour. The Silver Streak runs 24/7, with trips between 7 a.m. and 7 p.m. on weekdays stopping at Cal Poly Pomona as part of a pilot program. Faculty and staff can also take advantage of the new stop and purchase passes at the Games Room Box Office in the Bronco Student Center (Building 35-1110) or directly with Foothill Transit. Fares range from $1.75 per trip to $60 for a 31-day monthly pass for unlimited trips. Should ridership demand warrant, the service may be expanded in the future. The full bus schedule and map is on the Foothill Transit website. Silver Streak buses run on clean-fuel technology, are fast, reliable, have fewer stops, and feature bike racks to make traveling easy. This partnership initiative helps us advance our campus sustainability goals and to support basic needs for our students.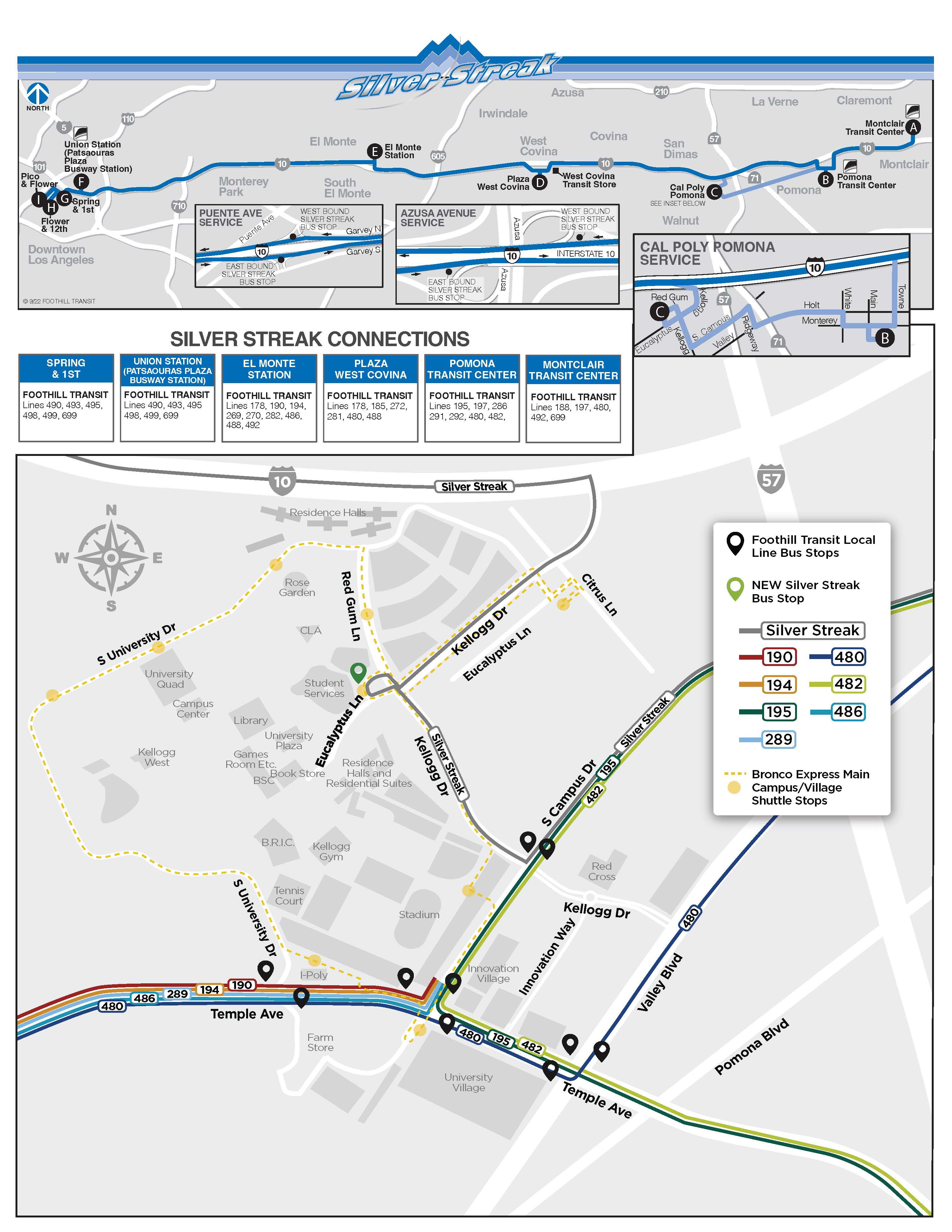 Class Pass Pilot Program: Cal Poly Pomona and Foothill Transit have teamed up to bring students the Class Pass. The Class Pass is a two-year pilot program, beginning in the fall 2021 semester, that gives currently enrolled students free and unlimited rides on Foothill Transit Local and Silver Streak buses all year long.
Events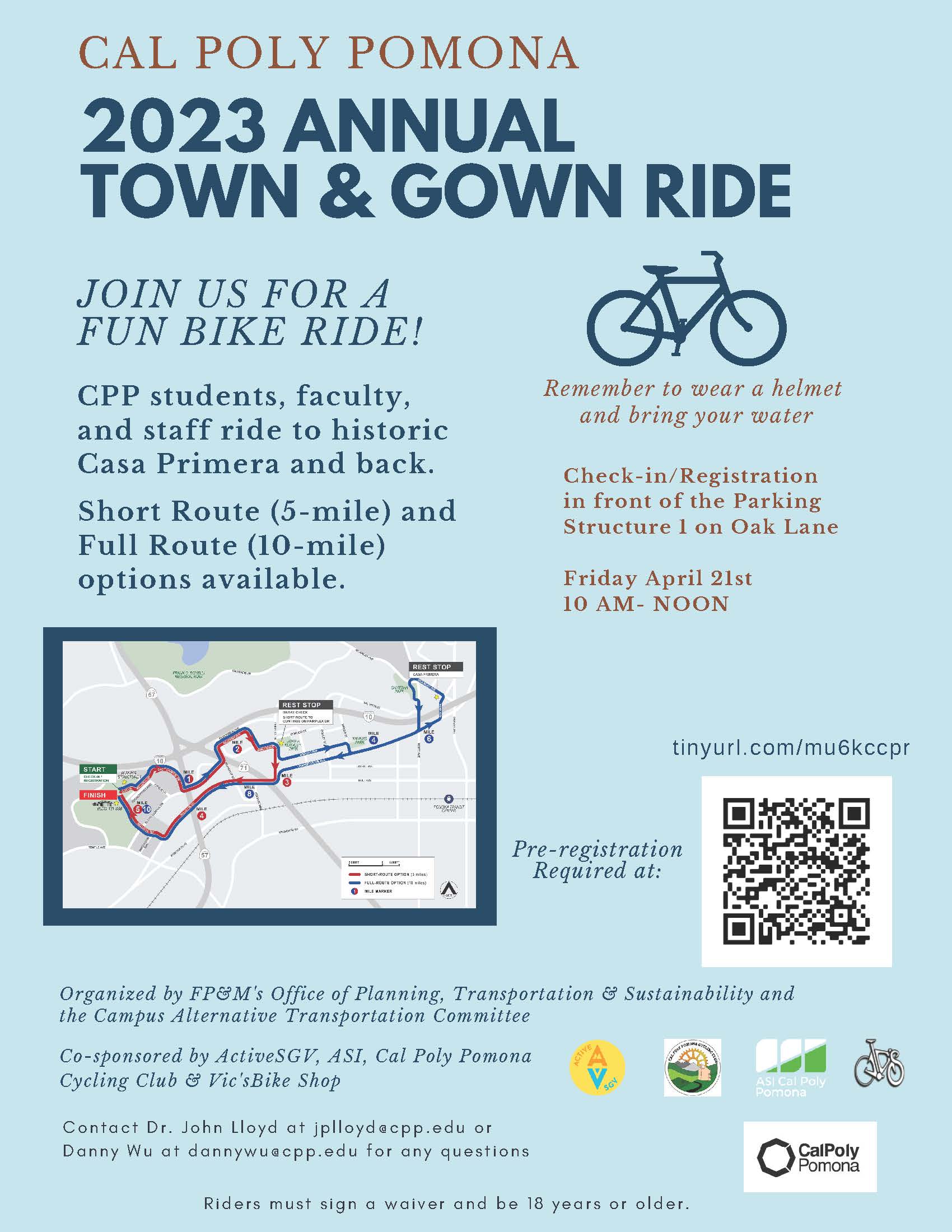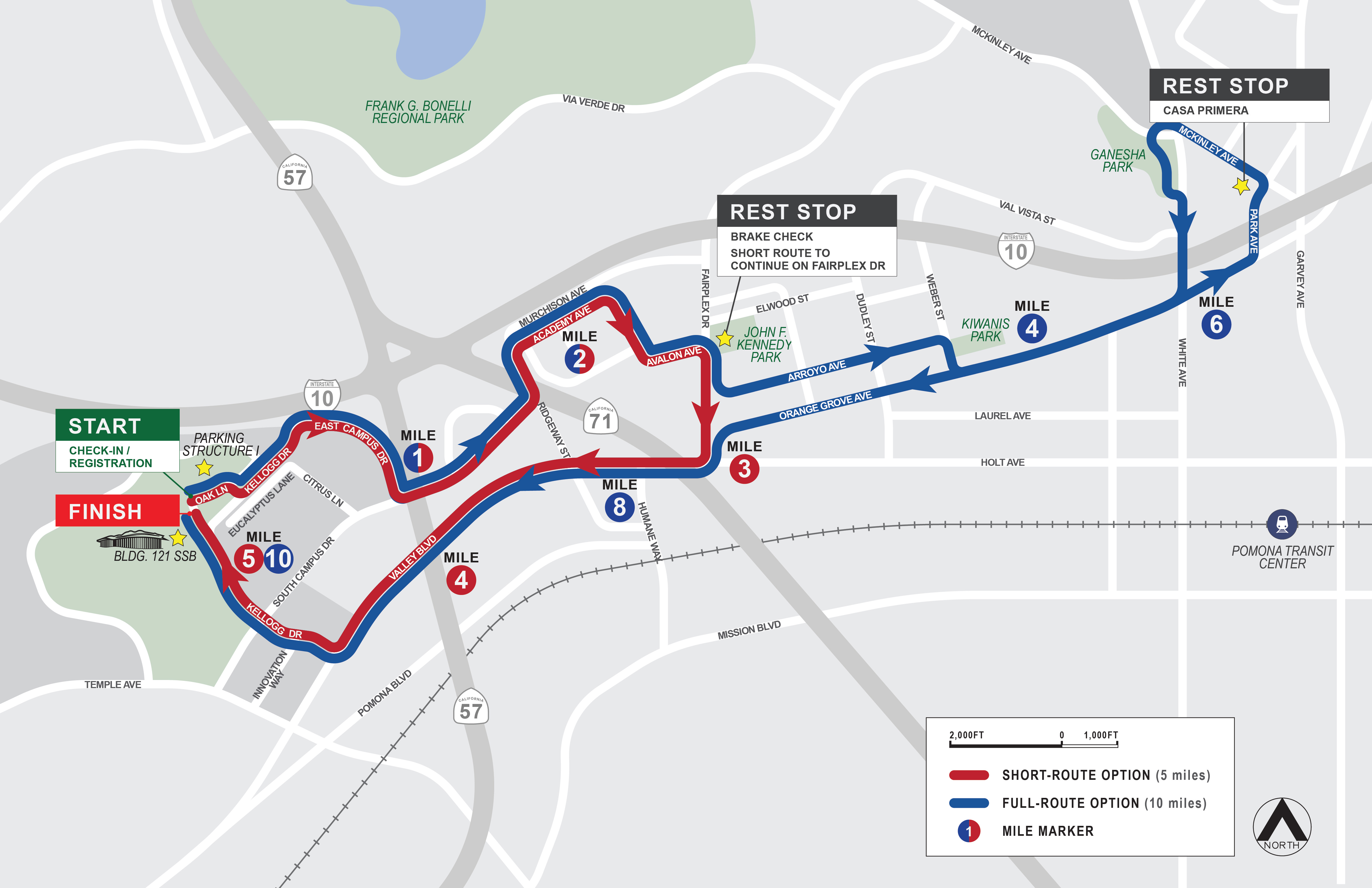 2023 Town & Gown Bike Ride: The annual ride through the streets of Pomona is scheduled for April 21. Participants can take in a leisurely bike ride with fellow students, faculty and staff through different neighborhoods in the City of Pomona (must be 18 years or older). Town & Gown, which helps kick off campus-wide Earth Week events from April 16 to April 22, highlights the deep connections between the university and the city. Town & Gown is organized by FP&M's Office of Campus Planning, Transportation & Sustainability and the university's Alternative Transportation Committee.
ATC History
Since May 2017, CPP has had a standing Transportation Advisory Committee (TAC) that has been charged with a similar role and function at the University. The purpose of the TAC has been to advise the University on issues, priorities, and policies related to campus transportation. This Committee originated as an Associated Students Inc. (ASI) ad hoc TAC in response to Alternative Transportation resolutions passed by the ASI Senate and the Academic Senate, respectively. The members of the TAC voted unanimously to support a more permanent, campus-wide iteration of the Committee, after consultation with the President's Office and both the ASI Senate and Academic Senate. In March 2020, the CSU Chancellor's Office issued a new policy requiring all campuses to form an Alternative Transportation Committee with additional membership requirements and roles.  Draft Bylaws were drafted in late 2020 to formally merge re-constitute the TAC as the new ATC. The new ATC will take effect in Fall 2021, after approval of the Academic Senate and ASI Senate, with AY 2020-21 being a transition period.
Committee Composition
The standing Committee will be comprised of eleven (11) members, including 9 voting member and 2 non-voting members, and consists of:
Two (2) students - recommended by the President, and/or Associated Students, Inc.; 1-year term (may be reappointed)
Two (2) faculty - recommended by the Academic Senate; 2-year term (may be reappointed)
Two (2) staff representatives; 2-year term (may be reappointed)
Executive Director of Transportation & Planning - Chairperson; Ex-Officio; indefinite term
Parking Director - Ex-Officio; indefinite term
Sustainability Coordinator - Ex-Officio; indefinite term
One (1) representative from the Chancellor's Office - designated by the Chancellor's Office, non-voting member; indefinite term
<optional> Local transportation agency representatives; Ex-Officio, non-voting member; indefinite term
Membership as a voting member requires a formal process; however, participation in Committee activities is not limited to members.  Active participants who are not members are called "friends" of a committee. "Friends of the Committee" comprise of interested campus stakeholders who serve in a non-voting capacity and must be nominated by the Chairperson.
Responsibility
Among other activities, the Committee will:
Facilitate the discussion of sustainable transportation options to and from campus;
Facilitate education and awareness of transportation services on campus;
Provide guidance to the University based on feedback from students, faculty, and staff regarding transportation matters;
Develop a report of the campus' transportation needs and recommendations to increase bicycle, pedestrian and transit commute mode share and improve campus user and visitor experience;
Provide representation on the Campus Master Plan Committee and input on the transportation elements of the Campus Master Plan, and monitor implementation of those elements;
Provide input to the development of the campus Transportation Demand Management (TDM) Plan, which is aimed at reducing single occupancy vehicles (SOV) usage and vehicle miles traveled (VMT) to campus;
Evaluate the effectiveness of the campus' TDM strategies through cost/benefit analysis and hourly utilization of various transportation modes;
Identify and recommend TDM strategies to prioritize for campus investment and help request/seek funding for those strategies;
Use campus transportation performance data to recommend new programs and/or changes in strategy;
Assist in determining the need for the construction of new parking assets or improvement of existing parking assets;
In the event a new parking improvement and/or facility is needed, provide a letter to confirm the recommendation of the ATC;
Prepare annual report to the President and University Cabinet, and periodic updates to the ASI Senate, Academic Senate and Staff Council.
Authority
Education Code Section 89721(i) requires campus parking operations to be self-supporting.
Education Code Section 89701(b)(4) requires the campus to form an Alternative Transportation Committee, and investigate and consider alternative transportation strategies as determined by that committee before any funds can be allocated for the construction of parking facilities.