ASI Announces Newly Elected Senators
March 19, 2021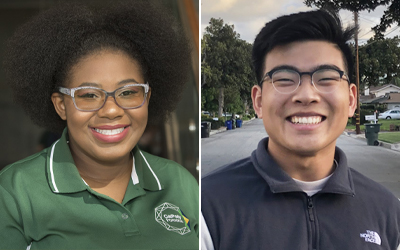 Hospitality management students LaShelle Hudson and Nicholas Lau have been elected as new Associated Students, Inc. (ASI) student leaders for the 2021-2022 academic year. 
Hudson is the new ASI senator at large for Cal Poly Pomona's Multicultural Council, the umbrella organization for over 30 cultural clubs on campus. Currently, a third-year hospitality student expected to graduate in Fall 2023, she is very involved with campus programs and organizations as a Bronco Ambassador, a member of the Food & Beverage Professionals and Food Science Society student organizations, and is part of the university's Reading, Advising and Mentoring Program.
Lau will be The Collins College's ASI Senator next academic year. The first-year hospitality student expected to graduate in spring 2024 is a member of the National Society of Minorities in Hospitality student organization and is excited to get more involved at CPP.
View the 2021 ASI election results here.