Guy Fieri Presents Student with $25,000 Grant
June 18, 2021
Video Courtesy of Medium Rare
Cal Poly Pomona undergraduate Matthew Delaney (hospitality management, '22) was one of six students nation-wide to receive a $25,000 grant during Guy's Restaurant Reboot Presented by LendingTree, a virtual event about reshaping the future of the hospitality industry and celebrating restaurants across America, The live-streamed primetime special hosted by industry icon Guy Fieri aired on June 12, 2021 and aimed at inspiring the next generation of restaurant entrepreneurs by awarding a total of $300,000 in financial support via the "Help Rebuild Restaurants Grant."
"The hospitality industry is as resilient as any, but this past year has been a challenge like we've never seen. Guy's Restaurant Reboot Presented by LendingTree is all about great people and companies coming together to inspire and encourage the future of our restaurants and the hard-working entrepreneurs behind them," said Fieri. 
Created in partnership between Fieri and the National Restaurant Association Educational Foundation & California Restaurant Foundation, a total of $300,000 in bottom-line financial support was awarded to 6 students and five restaurant owners across the country and the grants were generously funded by the event's founding partners.
Currently director of operations and grand opening trainer for Chick-Fil-A, Delaney dreams of one day owning and operating his own franchise with the company.
"I haven't found a single other restaurant that takes care of their employees the way they do, has the ambitions that they do, and [with my career, I want to] take care of the community around me through Chick-fil-A," he said.
Delaney must stand out from the crowd of franchisee applicants to reach his goal and plans to do so by pursuing a graduate degree and having no debt to his name. His $25,000 grant, sponsored by GrubHub, will go toward a master's in human resources or leadership development to further his career without taking out loans. 
"I think that you are exactly what our industry needs – someone that goes to school with the ambition and the drive and the desire to really get involve," said Fieri. "This scholarship from the GrubHub team is going to help you out a lot and let you focus on what you really need to do, which is eventually get over there and own your Chick-fil-A.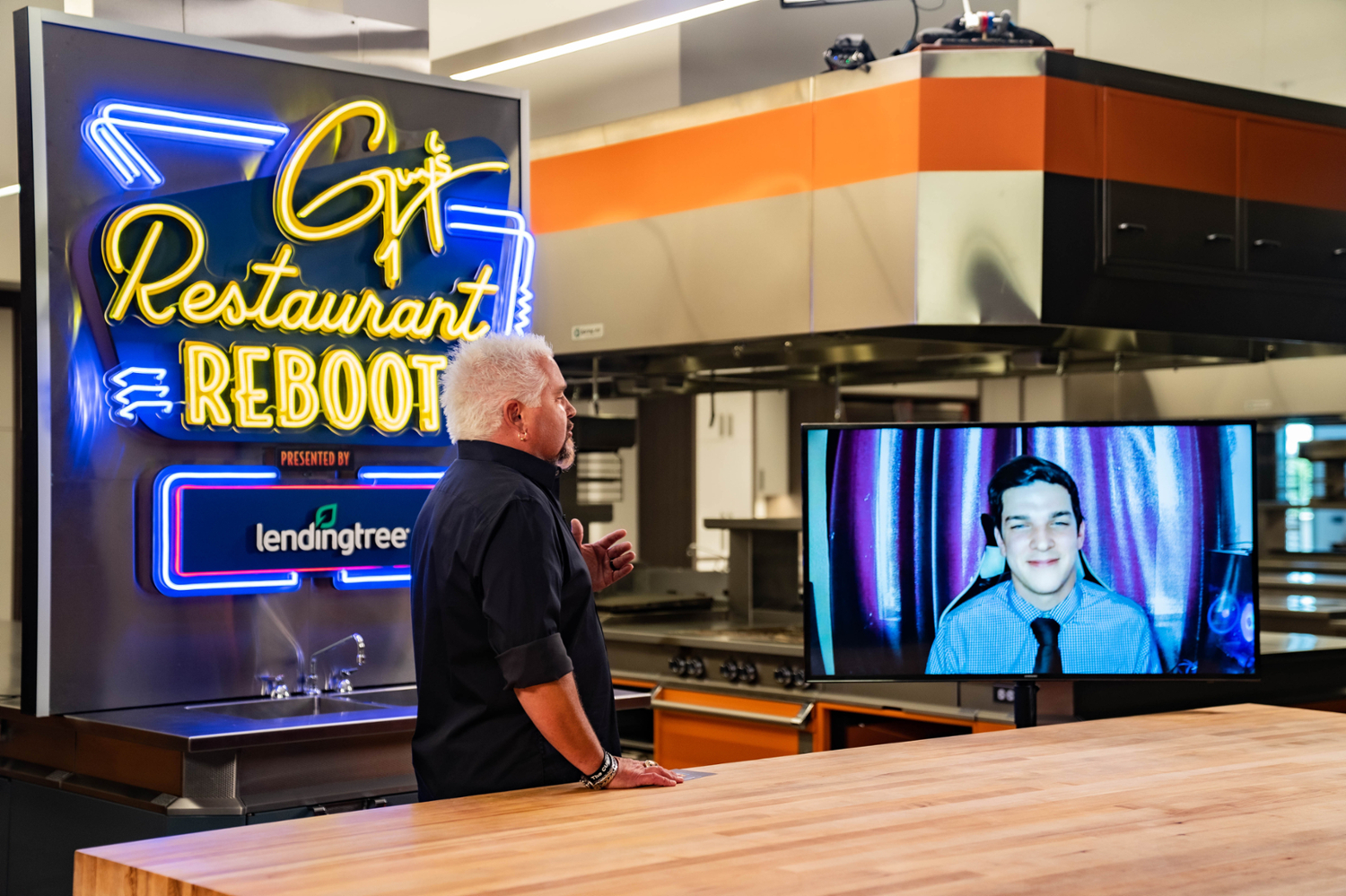 Image Courtesy of Medium Rare
---
Media Mentions
Broadcast
Online
Print
Guy Fieri, who raised $25 million for restaurant relief in 2020, gives around $300,000 away during Guy's Restaurant Reboot (Source: Nation's Restaurant News - Jun 14, 2021)
Guy Fieri, who raised $25 million for restaurant relief in 2020, gives around $300,000 away during Guy's Restaurant Reboot (Source: Restaurant Hospitality - Jun 14, 2021)
Food; Guy Fieri awards grants, scholarships to SoCal residents (Source: The Sun - Jun 15, 2021)
Food; Guy Fieri awards grants, scholarships to SoCal residents (Source: Redlands Daily Facts - Jun 15, 2021)
Food; Guy Fieri awards grants, scholarships to SoCal residents (Source: Press Enterprise (Riverside, CA) - Jun 15, 2021)
Food; Guy Fieri awards grants, scholarships to SoCal residents (Source: Inland Valley Daily Bulletin - Jun 15, 2021