International CHRIE Pays Tribute to Dr. Lea R. Dopson at 75th Annual Conference in Washington, D.C.
August 8, 2022
International CHRIE, which is the global leader in hospitality and tourism education and research, celebrated its 75th Anniversary at its Annual Conference, "Celebrating Our Past and Welcoming Our Future" from August 3 - 6, 2022, in Washington, D.C.. Throughout her career, the late Dr. Lea R. Dopson was an active member of ICHRIE and served as President of the Board of Directors from 2021 until her passing in April 2022. During the conference, ICHRIE twice recognized Dr. Dopson's significant contributions as it posthumously named Dr. Dopson as this year's Howard B. Meek honoree as well as awarded the Collins College student chapter with the Eta Sigma Delta (ESD) Chapter of Distinction. ICHRIE further honored Dr. Dopson by unanimously voting to rename the ESD award going forward as the Dr. Lea R. Dopson Eta Sigma Delta Chapter of Distinction Award.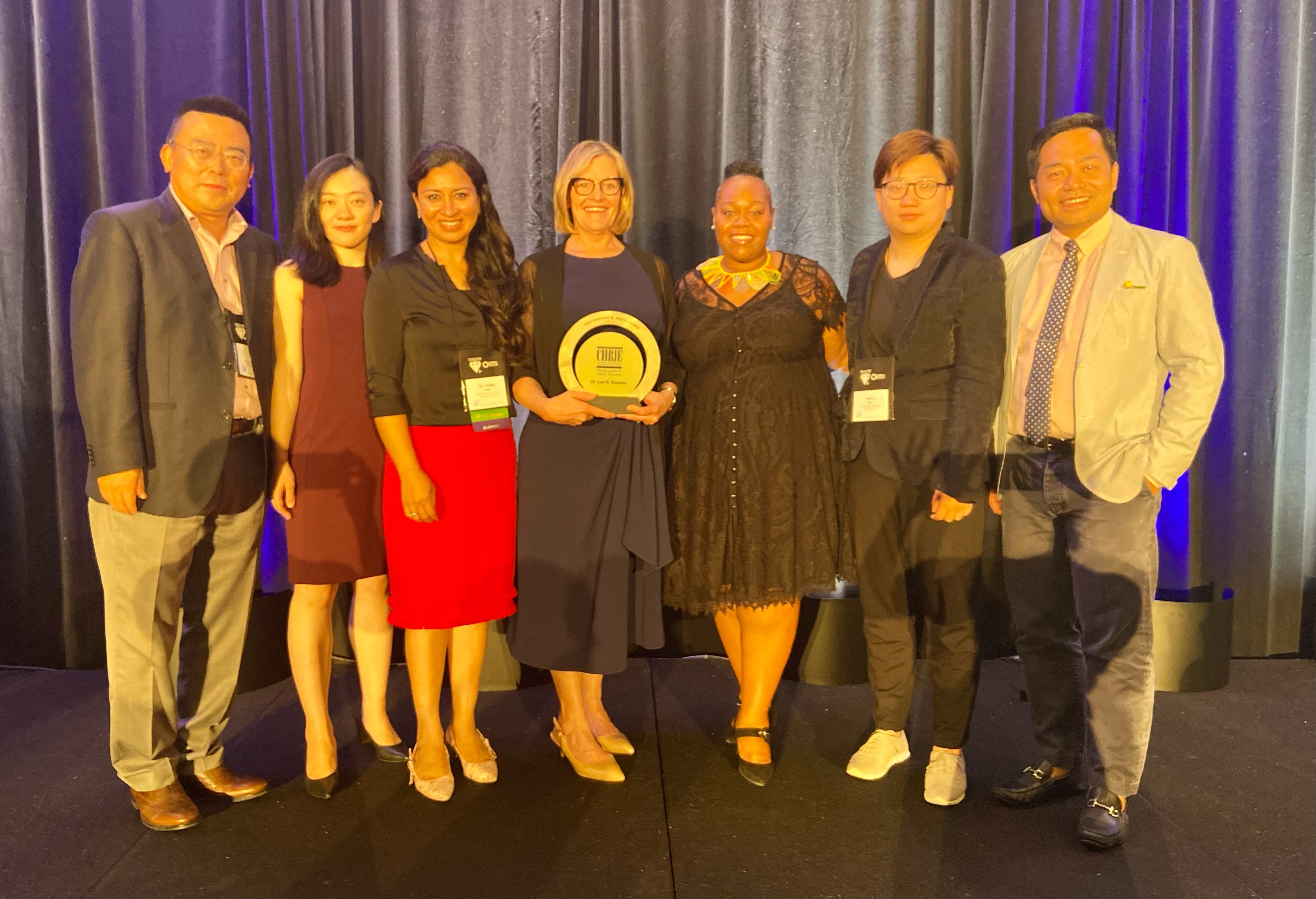 The Howard B. Meek award is the highest individual recognition a member of International CHRIE may receive and recognizes an International CHRIE member's lifetime contributions and outstanding service both to hospitality education and to International CHRIE. Dr. Margie Ferree Jones, Collins College Interim Dean, while accepting the award along with her Cal Poly Pomona colleagues shared, "For Lea, ICHRIE was a part of the fabric of whom she was. In the 1990s you might have labeled Lea a CHRIE early adopter. She was an ESD student member, regular conference presenter, and early career chapter leader. When she returned in 2014 to be the Dean at the CPP Collins College we could see that a better label for this part of her career might be an ICHRIE fanatic and influencer. While it is the end of an era it is also an opportunity to honor her legacy with the many great memories of her tireless commitment to hospitality and tourism education. "

Dr. E'Lisha Fogle, Assistant Professor of The Collins College said, "My colleagues and I were honored to attend ICHRIE 2022 and even more so to accept the Howard D. Meek Award on Lea's behalf. In doing so, I think I speak for all Collins College faculty in saying that we will do our best to honor her memory everyday through our continued commitment and service to our students and industry. Her spirit will inspire us to remain #hospitalitystrong!"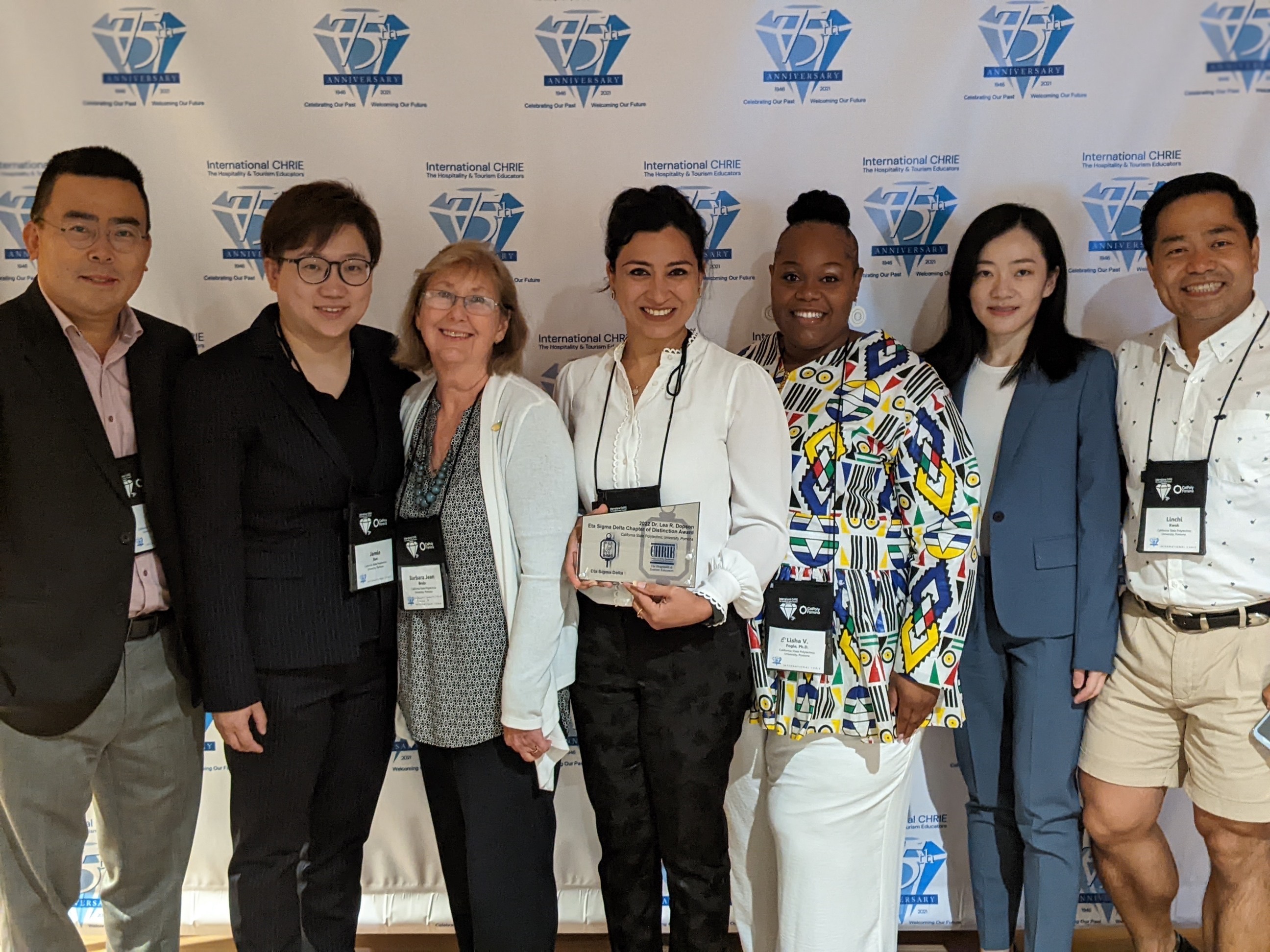 The ESD Chapter of Distinction Award recognizes a student chapter of ESD for their outstanding academic achievement, meritorious service and demonstrated professionalism. The points of honor for an Eta Sigma Delta member are creativity, diversity, equity and inclusion, ethics, excellence, leadership, and service. Dr. Dopson was a strong advocate for ESD as she saw it as gateway to further connect students to industry opportunities. Dr. Neha Singh, Director of Graduate Studies for The Collins College, accepted the 2022 Lea R. Dopson Chapter of Distinction Award on behalf of the College's student chapter.

Collins College was well represented at ICHRIE including Dr. Margie Ferree Jones, Dr. Myong Jae (MJ) Lee, Dr. Neha Singh, Dr. Linchi Kwok, Dr. Jie (Jamie) Sun, Dr. Li Ge, and Dr. E'Lisha V. Fogle as well as Barbara Jean Bruin, Lecturer Emeritus.