Donald B. Ayres, III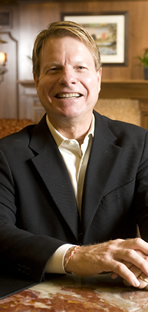 Donald B. Ayres, III

Principal - Ayres Hotels
Upon entering the family's hotel business in 1986, Don focused on operations as the company grew its hotel portfolio. Past responsibilities include branding, corporate marketing/sales collateral and rate strategy, and communicating the essence of Ayres Hotels of Southern California. He has carefully developed and fostered a work culture from within the organization that motivates management and team members to practice the company's core values of caring about people, valuing teamwork, and delivering results. Most recently, Don participated in the continued growth and success of Ayres Hotels through hotel development efforts, while maintaining a role in the management company of Ayres Hotel. He continues to split his time between the two roles.
A 1980 graduate of USC, Don resides in Orange County with his wife Sandra and their two sons.
Company Profile
In 1905, Frank Ayres moved west from Ohio to California and founded Frank H. Ayres & Son to develop land throughout Los Angeles County. Later, he and his son Don Ayres, Sr., and grandson Don Ayres, Jr. met the pent-up housing demand of post-World War II Los Angeles, eventually earning a well-deserved reputation as one of Southern California's most imaginative developers.
For nearly a century, the Ayres Family has been a powerful force in the coming-of-age of Los Angeles and Southern California, developing subdivision communities and literally breaking new ground in the building of more than 30,000 residences to accommodate buyers eager to own their own homes.
In 1984, the family added hospitality to its core competencies, and currently has built, and owns and operates, 20 European-style boutique hotels in Southern California.
Joining Chairman Don Jr. to carry on the family legacy are daughter Allyson Ayres, and sons Doug Ayres, Don Ayres III, and Bruce Ayres. Today, the members of the Ayres family are actively involved in the evolution and growth of the business that began almost 100 years ago.