Thomas M. Goff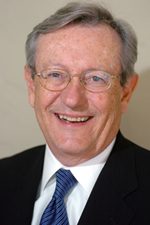 Thomas M. Goff

Principal Bernstein Private Wealth Management
Mr. Goff enjoyed a long career specializing as a financial consultant to the hospitality industry. He spent 15 years as a Senior Principal at Laventhol & Horwath and was also a Senior Vice President at Robert Charles Lesser & Co. Mr. Goff joined Bernstein Private Wealth Management in 1994 and is currently a Principal in the company.
Mr. Goff currently serves as Chairman of the Investment Committee for the Cal Poly Pomona Foundation. He is also Chairman Emeritus of the Board for WISE Senior Services and has served on boards of various Los Angeles community organizations.
Company Profile
Bernstein Private Wealth Management, a unit of AllianceBernstein L.P., provides investment research and management services globally for individuals, families, foundations, and endowments.
The Bernstein firm was founded in 1967 to manage assets for private investors. Its mission soon grew to include investment research and institutional asset management. Private investors remain a central focus of the firm. As of December 2015, private clients accounted for a significant proportion of their approximate $500 billion in assets under management at AllianceBernstein L.P.
The firm is one of the world's largest investment advisory and discretionary money management companies, and manages global stock and bond portfolios for many of the most prominent private investors and institutions in the United States and around the world.