Cadence University Program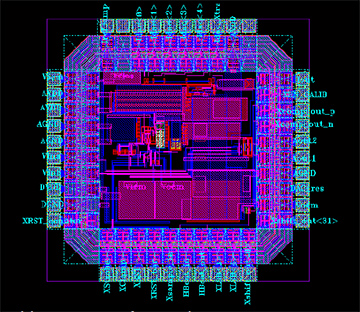 Welcome to the home page of the Cadence Users Group at Cal Poly Pomona. Students obtain practical experience in advanced electronics design using state-of-the-art CAD tools, computing and laboratory facilities.
Cadence products used in classes in the ECE Department
ECE 109/L- Intr. to Electrical Engineering/Lab
ECE 207/L- Network Analysis I /Lab
ECE 209/L- Network Analysis II /Lab
ECE220/L Electronic Devices and Circuits /Lab
ECE 307/L- Network Analysis III /Lab
ECE325/L - Electronic Design of Digital Circuits /Lab
ECE 405/L- Communication Systems /Lab
ECE 415/L - Digital Design using Verilog /Lab
ECE 424L - State Machine Desing using VHDL Lab
ECE 418 - Integrated Circuit: Design & Fabrication
ECE 423 - VLSI Circuit Design
ECE 400 - Special Problems - NASA PAIR Team Project
EGR 481/EGR 482 - Senior Project Design /Lab
EGR 558 - Computer Arithmetic
EGR 594 - FPGA Design Lab
EGR 691/692 - Master's Project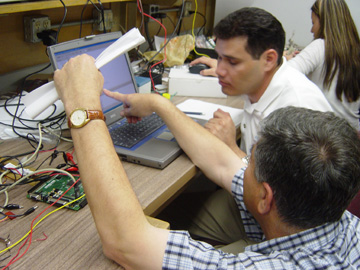 Cadence products used in research in the ECE Department
Dr. Yi Cheng - Computer Vision
Dr. Yi Cheng - Hardware/Software Co-Design
Dr. Yi Cheng & Dr. Meng-Lai Yin - DNA Sequence Matching
Dr. Halima El Naga
Dr. Saeed Monemi
Dr. Rajan Chandra
Dr. Toma Sacco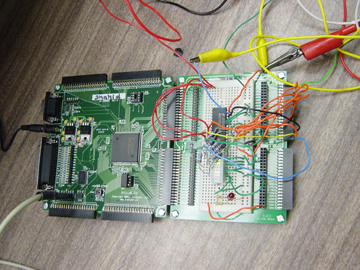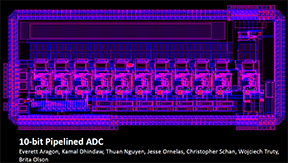 Test chip containing CTIA, current reference and comparator
By: Iain Chalmers, Anthony Drake, LiChun Huang, Alexander McKee, Charles Ritenour, Ron Salloum
Advisor: Brita Olson
See also Cadence at CMOSedu and Tutorials.
Cadence is a registered trademark of Cadence Design Systems, Inc.
2655 Seely Avenue, San Jose, CA , 95134
Phone: 408.943.1234
Fax: 408.428.5001
Responsible party for the site: prnelson@cpp.edu
Electrical & Computer Engineering Department
Date last updated: February 6, 2017